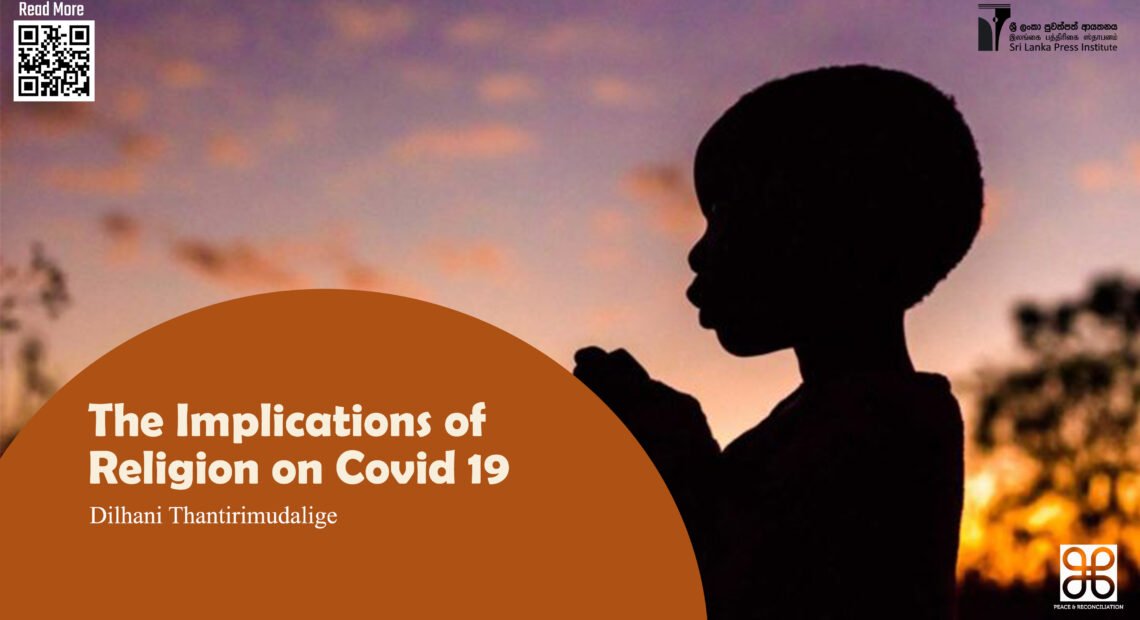 The Implications of Religion on Covid 19
Dilhani Thantirimudalige
The most frequently used words of 2020 are Covid, Quarantine, and Lockdown. Due to Covid, the world has been shattered and perplexed with uncertainty. Some have hit rock bottom as regular activities are halted. The natural and most common instinct of people at a time like this is to seek the favour of their gods. The earliest studies on humans have revealed that belief in a god is an integral part of our existence. Establishing a connection with the divine, supernatural and all-knowing is a deep desire within humans, be it to beat a virus or succeed at business.
Religion is the means of receiving fulfillment of the spirit and mind by demonstrating faith and good works that will please God and man at the same time. "Let Covid leave" is the plea of every global citizen, be it a Buddhist, Hindu, Christian or Muslim.
Covid 19 is called a Pandemic because it has no boundaries. The virus has spread worldwide claiming the lives of millions across the nations of the world, leaving fear and doubt in its wake. Could this be a result of God's wrath on mankind? There are different opinions on this According to some, Covid 19 is an element created in a laboratory. Some say it is a global conspiracy and a strategy of pharmaceutical giants. Some even think it is a political invention. The ardently religious say that this pandemic is an apocalyptic sign of the end times. Some wonder if this could even be a second chance for people to change their lives.
The Impact of Tradition
Sri Lanka managed to control the situation with a minimum number of deaths (13) in the first wave of Covid 19. However the ripple of the second wave is widening with deaths day by day and thousands of infected cases being reported, not only in the Western Province but island wide. More people are beginning to practice age-old practices and rituals, seeking protection from a higher power. In light of this, it is no wonder that the Hon Minister of Health PavitraWanniarachchi performed the ritual of throwing holy water to flowing waters, with great faith. She definitely pleased the radically traditional thinkers in her camp, if not also the majority who have been liberated from such practices and depend on modern science.
The anthropologist Moerman calls it the "meaning response", a model that accounts for how cultural and social beliefs and practices lead to "real improvement in human wellbeing. Another study done in Harvard Medical School reveals that neurobiological mechanisms respond to religious rituals when performed to alleviate illness. Researchers are increasingly agreeing that faith in itself plays a role in promoting health. This is probably the reason for the minister to be firm and confident in saying that Covid 19 is not socialized yet and thus we desperately want to join her in believing so.
The Impact of Prayer
Natural calamities such as disasters and diseases throughout the ages have manifested the urge and will for religiosity. Prayer is the most common way of dealing with adversities that are beyond control. In a study done by Coppen2020, a search was run for the word "prayer" on Google which spiraled in April 2020. Also searches for the terms God and Allah gives enough evidence for intensified engagement in prayer and soul searching activities. Prayer.com a prayer app and website has been fully engaged in attracting newcomers to the site. This is a huge shift from the behavior of people in the last four decades of significant decline in religious affiliations especially in countries such as the UK, France and Italy.
In Sri Lanka Buddhist religious devotees listen to pirith throughout the day and practice mindfulness, while Catholics recite the rosary and Christians read special portions of scripture such as Psalm 91 which assures protection against every evil. Chantingmantras and practicing yoga meditation along with reciting hymns and sounding the scared OM are some of the ways Hindu devotees spend their time in spiritual devotion. Covid or no Covid, Islamic devotees say Salat (prayer) fivetimes each day. Even under restrictions of movement and religious institutions being closed to the public, faith and hope is not lost.
Religion as a Coping Mechanism
Religion and religious practice have helped people across the nations for the most part as a coping mechanism especially with the upkeep of one's mental health. Some European literature mentions the role of religion in coping with epidemics and contagious diseases such as the Black Death and Spanish Flu in the same manner that we have sought to cope with the novel Covid 19.
Religious narratives always help to think beyond the current conditions of space and time, and accept the emergence of multiple worldviews. Under these conditions people develop positivity which can limit the emotional damage or curb the sense of trauma of an adverse event. This is an era like no other, where a leader from another country makes a statement about the implications of Covid and Sri Lanka is able to respond unanimously because the problem is universal. For instance the burial rites of those who die of Covid are denied. The persistent cry of the Islamic devotees of not being able to perform the last religious rites and far worse – letting their dead be cremated is by and large the common cry of Christians too. When Ursula Von Leyen, President of the European Commission very rightly said "a global pandemic requires a world effort to end it – none of us will be safe until everyone is safe", it sounds like a new path of philosophy we all need to follow no matter what our religion is.
Reference
The views and opinions expressed in this publication are those of the authors. They do not purport to reflect the opinions or views of the Sri Lanka Press Institute.