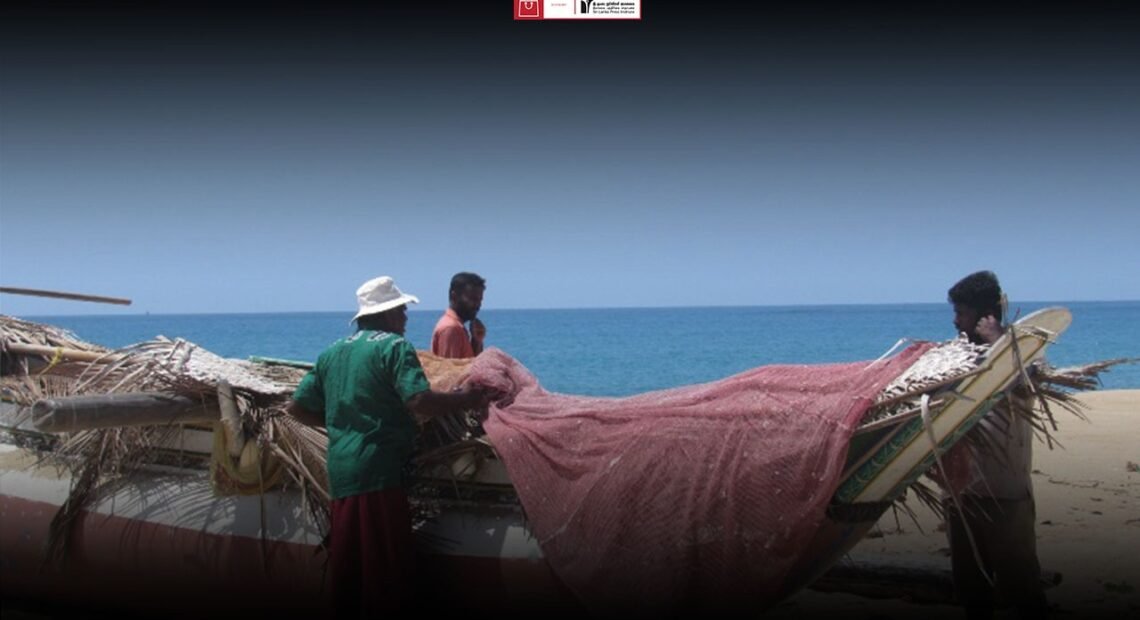 People Reluctant to Buy Fish in the East
V. Sakthivel
Fishermen fighting for their livelihoods
"I have been in the seafood business for over 20 years, having been in Kaluthavalai. At present people do not come to me to buy fish as some dead sea creatures are being washed ashore, after a ship burnt in the Western seas of Sri Lanka. My business is buying and selling fish. With the money I get from my business I support my family every day. I eagerly wait for customers with cut fish but no one seems to becoming. My house's hearth will burn only if I sell.
The government should soon inform the public whether these fish can be consumed or not. If this uncertain situation continues then what will be the fate of small fish traders selling marine fish like us? Thangavadivelu, who sells marine fish, expresses his frustration.
The main industries in the Batticaloa district are agriculture, fisheries, and animal husbandry. More than a thousand people make a living from fishing in Sri Lanka's second-largest lagoon, the Batticaloa Lagoon, the Bay of Bengal, and other fishponds.
Fishermen say parts of Sri Lanka have witnessed dead sea creatures washed ashore after the X-pressPearl ship caught fire in the western seas. The public is skeptical about it. This is the reason why people are refraining from eating seafood. Concerns have been raised that the livelihoods of small fish vendors such as Thangavadivel, who sell marine fish, have been completely affected during this period.
A kind of panic has arisen in the minds of the people as the carcasses of sea turtles have washed ashore. Although the industry experts have taken the dead turtles for investigation, they have not yet released the results of their findings. People will also be enlightened if those officials provide clarity and proper explanations regarding the tested dead turtles. As a result, our business of selling marine fish has been completely affected. Our only livelihood is the fish business, the fishermen lament.
We noticed in the media recently that the Fisheries Minister had said that the news about dead turtles was not true, the published photos were taken elsewhere. But dead turtles and dolphins have been stranded on the east coast of our area, including Kalutawalai, Ondachchimadam, Krankulam, and Pandiruppu. In this situation, the Fisheries Ministry should provide proper explanations to the people, says K. Tamilputhalvan, who has been selling marine fish for 9 years.
I have been in the fish business for many years and people have now suddenly stopped consuming seafood. The relevant authorities have not yet commented as to whether people can eat seafood or not. Thus, our industry is becoming more and more vulnerable, says A. Jayaseelan, another businessman.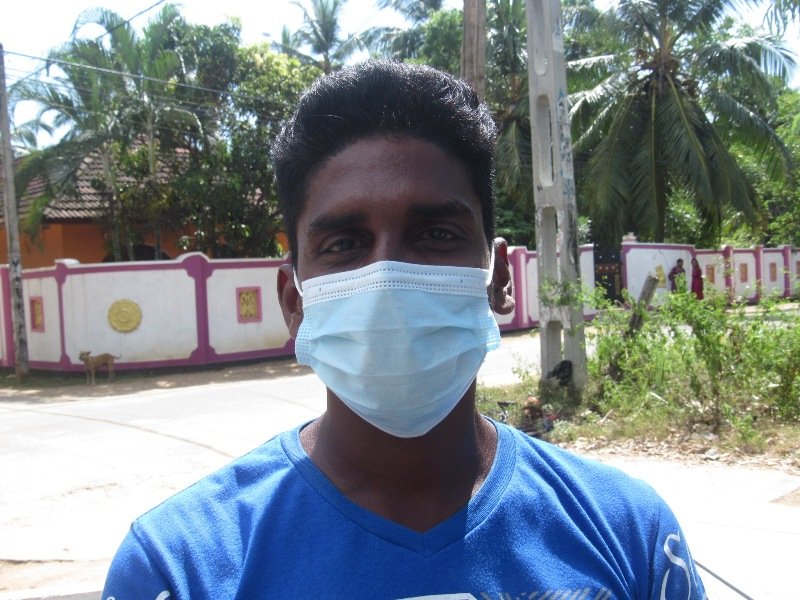 The catch in our seas has been very, very low in recent times. In this situation, people are afraid to buy even the small quantity of fish caught in our nets after the ship X-pressPearl caught fire. As a result, more than 250 fishing families in our Kaluwanchikudi alone have lost their livelihoods at present. We see and hear through the media that the government is providing assistance to the fishermen who are thus affected. The Secretary of the Kaluwanchikudi Fishermen's Association, M. Pradeesparan requested the government to take action to extend that assistance to these affected families also.
Fishermen have now anchored their boats and canoes on the shore and we could also observe what is available in their fish stalls.
I have been involved in coastal fishing for over 25 years. Previously our business was going on very well. We are currently in the aftermath of a shipwreck in the South and we are also in a state of panic as the sea creatures are stranded on the shore. In this situation, people and other traders do not come to us to buy fish. So, the authorities involved in the research should come out with the result of whether we can eat sea fish or not., says E. Prasanthan, who is also engaged in coastal fishing. He also says that a firm decision should be made in this regard.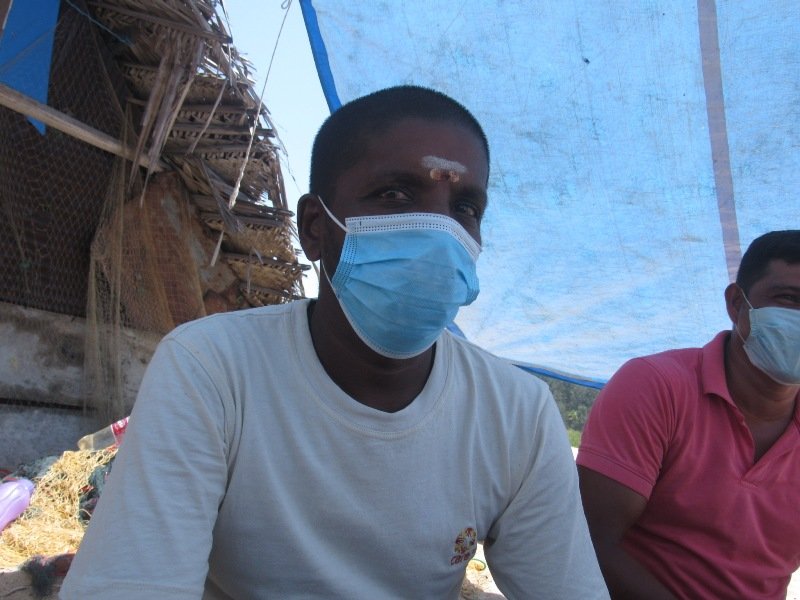 I am currently 60 years old and I have been engaged in fishing for 40 years. In my experience, marine life has never been so dead in the past. Our families tell us not to go fishing. I do not know why the government has not said anything so far as to whether people can consume marine fish or not, says Sellaiya Ramalingam, President of Kaluthawalai Fishermen's Co-operative Society.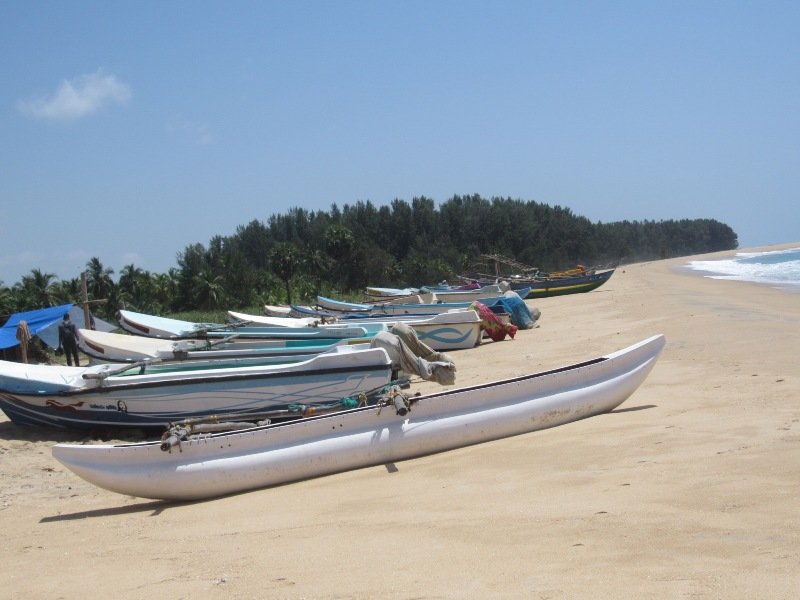 Fishermen are seen as a group that has been unable to come out and do business due to the current lockdown situation, with marine life dying and stranding after the X-press Pearl ship disaster. Many people, especially those who go fishing on boats, those who go to help them, those who load and unload fish, wholesalers, local retail traders, drivers, net weavers, shore net-pullers, etc are all affected by the current situation.
The Eastern Province is a place that exports marine fish to the outlying areas and abroad. But at present, as people are afraid to buy and consume sea fish, fishermen have also reduced their involvement in the industry. This has affected the local economy as well as the national economy, said Buhari Mohammad, Executive Director of the Eastern Community Development Center in Batticaloa.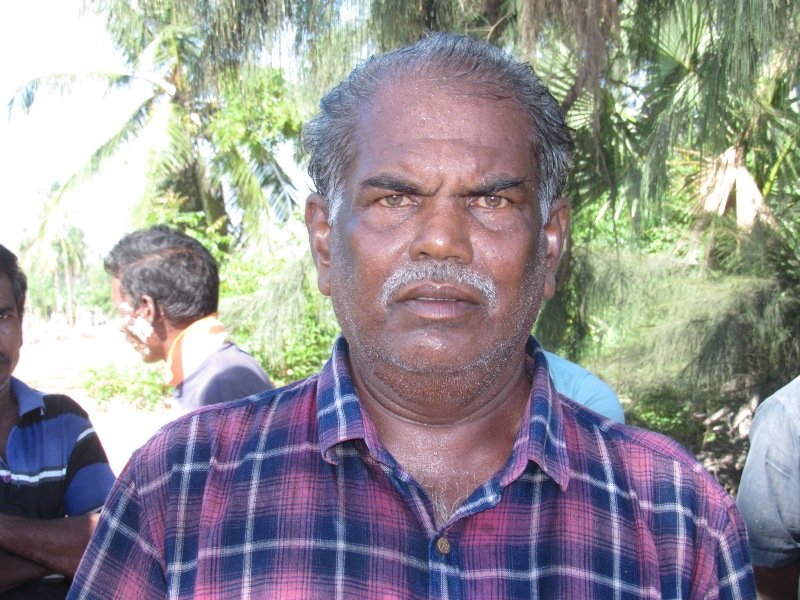 Thus, those who fish in the sea and those who buy and sell the fish in this situation express their opinions…. People who have been buying seafood for so long say "we have been consuming seafood and now we have stopped buying it as the sea creatures are dying, we are afraid to consume seafood nowadays".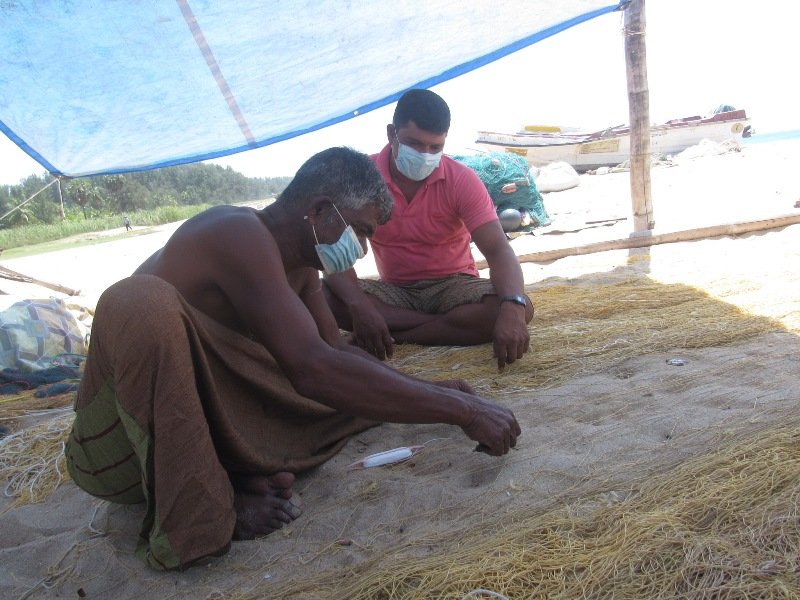 We have not yet issued any notice to the people and fishermen not to fish in the sea and not to eat seafood. Even during the lockdown period, we did not impose any restrictions on the fishing sector. We had granted permission to fish and trade in fish. I have been on duty from 8 am to 10 pm from the office with direct contact with the fishermen. Our Minister has said that there is no problem with fishing and eating sea fish. No notice has been issued by our department that seafood should not be consumed in Batticaloa or anywhere in Sri Lanka. The ministry and the department have not imposed any restrictions, but the people themselves are refusing to buy fish out of panic. We have not imposed any restrictions on the fishermen to engage in fishing activities, they can do their business freely. We have neither given any advisory to people not to eat seafood, said Rukshan Cruz, Assistant Director, Batticaloa District, Fisheries Department.
The Covid-19 situation has had a major impact on the fisheries sector. In this situation, the blaze and drowning of the X-press Pearl ship and the emissions from it, have caused massive environmental pollution and due to this, the marine resources have been affected. As a result, fishing and seafood consumption is low. Both Covid-19 and the shipwreck have had a devastating effect on the lives and economy of fishermen.
Fishing plays a major role next to agriculture in the economic situation of Batticaloa. It is now obvious that this contribution is greatly diminishing. At present, it is not possible to move to another province. This has led to more adverse effects. The experts are of the view that awareness needs to be raised among the people to overcome this.
So, to make the lives of the people who depend on fishing prosperous, those concerned authorities should take immediate action to make people aware of issues related to eating seafood. It is hoped that the authorities will release the cause of death of marine life to clear the doubts of the people.
கிழக்கில் கடல் மீன்களைக் கொள்வனவு செய்யத் தயங்கும் மக்கள்; வாழ்வாதாரத்திற்காகப் போராடும் மீனவர்கள்!
නැගෙනහිර ප්‍රදේශයෙන් මාළු මිලදී ගැනීමට ජනතාව පසුබටවෙයි
The views and opinions expressed in this publication are those of the authors. They do not purport to reflect the opinions or views of the Sri Lanka Press Institute.