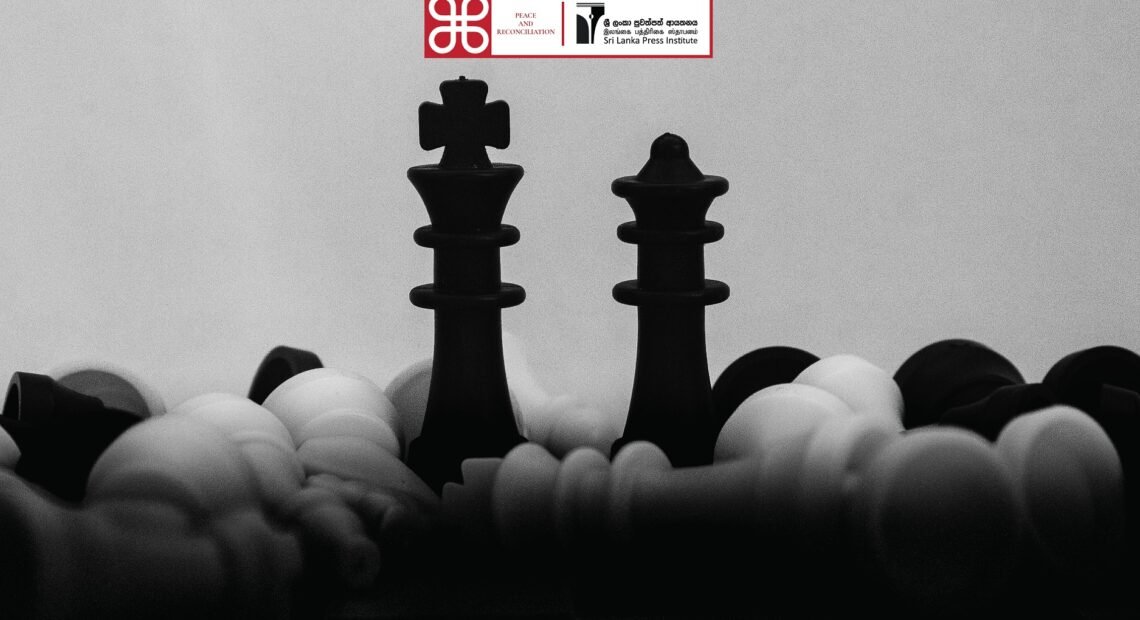 A Father, a Lover, and a War
Nimal Abeysinghe
Army soldiers were war heroes for the Sinhalese, and Tamil rebels were heroes for the Tamils during the 30- year-long civil war in Sri Lanka. There was a bitter dispute between the majority Sinhala and minority Tamil communities. A friend of mine in the Army told me two stories that proved the kind-heartedness of some people who lived on the opposing sides of the war.
Even though I was able to confirm the authenticity of one story, I wasn't able to find the necessary personnel to confirm the other.
The two stories are about two groups of kind-hearted people who value and follow coexistence and reconciliation. Actual names and locations of the individuals involved are not mentioned to avoid backlash from racial and religious extremists in our society.
It was the year 1997, a horrific time with the war ravaging in the north. Our protagonist is an Army soldier who had studied up to G.C.E. Ordinary Level. His educational qualifications are mentioned here to compare this less educated man's attitudes with the so-called academics who are still trying to fan the sparks of racism. 
Our protagonist and his colleagues were fighting in the north when they were suddenly attacked by terrorists. They returned fire and launched a search operation in the village from where they suspected the terrorists had come.
Our soldier, who went door-to-door searching for terrorists, found a crying toddler among dead bodies. He quickly put aside everything and held the baby with both his hands. The baby was a girl. He was incredibly expecting to add a girl to his family, which consisted of two sons. He felt great fatherly love in his heart towards the girl. Even the platoon chief didn't say a word when he came out of the house carrying the baby.
He brought the girl to his house in Nawagattegama in the Puttalam district. We are not going to mention how he did it. His wife welcomed the baby girl with overwhelming love. Even the two boys were happy to see a sister had been sent by the gods.
For fifteen years, the girl was raised and schooled in his village. Neighbours and villagers did not dare to ask him about the girl. 
Despite whatever ethnicity the child belonged to by birth, she is now wholly a Sinhalese. In a few years, the soldier was to retire. Meanwhile, one of his sons has already enlisted in the Army. The soldier and his family loved the girl so much that they doubted something might happen to her by keeping her in the village any longer. So they left their house and moved to Vavuniya.
The important thing here is that the soldier and his family still love her and protect her as she is one of their children. She is 24 years old now and happily married. So isn't this true coexistence and reconciliation?
The author went to the soldier's village and confirmed the story further by meeting with his close relatives and through a phone call with the soldier's son. They all were full of humanity without any racial or religious hatred. They have proven that with their actions. 
The second story is also related to the Army, and it is more astonishing than the first one, perhaps.
A soldier who was stationed in the north used to look at a young Tamil girl who used to pass through his post. No matter how hard he was looking, she didn't even care to glance back at him. Time was passing, and the girl kept on crossing the post as usual. The young soldier looked at her inquiringly; she didn't give any hint back at him. But one day, she unexpectedly looked at him with a lovely smile. The smile would turn into a romantic relationship between them. His friends were against this relationship. They claimed that she was a member of the terrorist organization, and she fell in love with him to obtain military information. He was head over heels in love and did not believe it.
His friends suspected their relationship. Some of them terminated their friendship with him and even suspected him. But their love remained unchanged. 
Time passed, and the young soldier was transferred to a camp in a different location. Their relationship came to a standstill. However, their love remained deep in their hearts.
War is a dreadful catastrophe. No one can predict when someone is going to be a victim. Proving that bitter truth, our protagonist Army soldier was captured by the terrorists.
They took him to a terrorist prison camp and detained him in a cell. One of his ankles was fixed to a post with a chain. He was slightly freed only for the toilet. They gave him food twice a day. Sometimes it was brought by a female cadre. They, too, spoke harshly to him. He was frequently insulted in filthy words and got attacked with wooden poles. He avoided even looking at them in fear of beating.
He was looking away as usual when his plate of food slipped into the cell one day. But suddenly, he was surprised to hear a familiar voice. So he looked up. He was surprised by what he saw. His fiancée was standing in front of him holding a gun, wearing a terrorist uniform with a cyanide capsule hanging from her neck. She hushed him by putting the finger on her lips and quickly went away. Even though she brought him food several times, she did not speak a word with him.
One day, at midnight, he found the door of his prison cell was open. He thought that was the end of him. He looked away without saying a word. The female cadre opened the door and unlocked his shackles too. He looked at her. To his surprise, it was his former girlfriend. She kept her index finger on her lips and signed him to be silent. Then she grabbed his hand and escaped from the camp. 
They came to a lagoon where she put him into a canoe and started paddling it without saying a word. When they were near the other side of the lagoon, she started talking. She said she had been enlisted to the organization by force. Then she asked him to quickly get off the canoe and run to a safer place. She bade farewell to him and started paddling back to the darkness from where she came. The helpless man was looking at the woman he loved rowing the canoe for some time with astonishment. She moved only a short distance across the lagoon and bit the cyanide capsule she was wearing on her neck. The following day the canoe floated back to the terrorist camp with her dead body in it. 
Even though we have only read these kinds of stories in books, these stories indicate they are not imaginary. Some people sacrifice their lives in the name of true love. How beautiful this world can be if love prevails in an environment free from racism!
The views and opinions expressed in this publication are those of the authors. They do not purport to reflect the opinions or views of the Sri Lanka Press Institute.