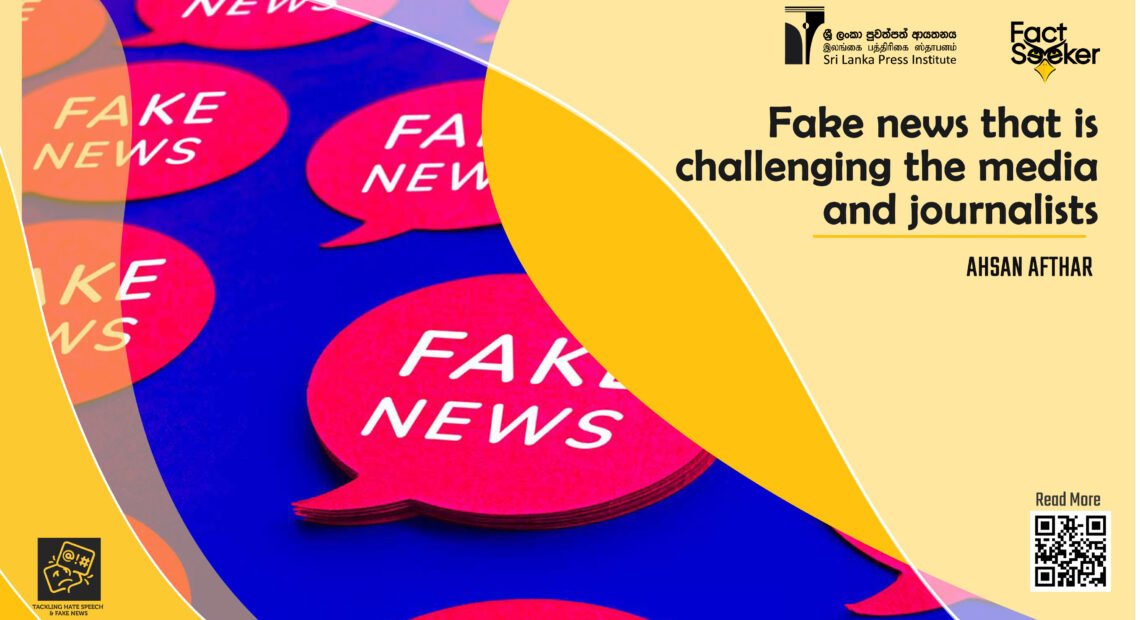 Fake news that is challenging the media and journalists
AHSAN AFTHAR
The fake-news menace we face today is a huge testimony to the fact that technology is not in the same pace as it is in rapidly evolving to deal with its safety. Research on fake news that adversely affects the smooth running of the Internet and the lack of knowledge to deal with it is the reason for its spread, analysts say.
Researches
Reports say there are currently 1.2 million Facebook accounts in Sri Lanka that are fake. Most of these accounts and pages are run for humor, racism, business and sexual purposes. A recent study by the Center for Policy Alternative in the Western Province found that 61.5 percent of Facebook users complained about fake news.
The study found that the reason for the rapid spread of fake news was the lack of media knowledge, ie the ability to analyze critically with what appears in the media, despite being relatively educated public.
Challenge to journalists
Journalists face greater difficulty in dealing with fake news. As senior journalist K.M. Rasool points out that one reason for it is that fake news is created in a very subtle manner that makes it difficult to verify the authenticity of such news.
K.M. Rasool has been researching and reporting on fake news, published locally and internationally, for the past several years. Commenting on his experience of encountering fake news in his media career, he said, "Fake news is now indistinguishable from lying. As these messages are sensitively reported they strike the minds of the readers instantly and their next choice is to share it
Sri Lanka does not have the expertise to handle fake news like in some foreign countries. As they are published in a subtle manner, even for journalists it is a challenge to identify that the messages shared on Facebook as true or lies. The immediate reaction of the public is to believe it and share their opinion without verification.
Although there are a few organizations that are involved in identifying and reporting fake news, they are slow in doing so. The situation will get worse if journalists are not knowledgeable enough about fake news. According to recent studies more and more fake news that came out were of political nature. Although awareness seminars and workshops are regularly conducted in Sri Lanka in this regard, the lessons taught in them are not being followed and implemented," Rasool says.
Fake news becoming a culture
Some fake news, deeply ingrained in the minds of the people becomes traditional truths that are believed over the time. For example there is a belief in society that AIDS is an incurable disease. But the opinion of doctors is that there is a cure for every diseases including this.
Commenting on this, Hans Billimoria, Director, Grassroots Trust, said, "Lack of basic education related to sex in school and other educational projects in Sri Lanka is the root cause of such belief. And to prevent fake news related to sex and sexually transmitted diseases, not to go along with such fake news, only proper sex education will stand the test of time," he said.
Further, fake nude photos and videos of popular cinema actors and actresses are circulating on the internet from time to time and there is a tendency for people to believe them as true. In the case of Sri Lanka, this has happened in the name of politicians as well.
Recently, former MP Hirunika Premachandra regretted that her phone conversation had been fraudulently recorded and distorted and warned that she would take legal action against more than 20 YouTube channels that released it. She vowed to teach a legal lesson against miscreants who published fake news about her personal and family affair.
Fake news in the name of digital newspapers
During the lockdown period due to the corona virus, newspapers did not appear in print but in digital form. With the availability of free electronic magazines (e-paper) on the Internet, these were easily replaced by fake news in the name of newspapers.
Fake news was published in the names of Metro News, Vidivelli, Virakesari and Tinakkural to the embarrassment of the editorial board of those newspapers. This created a situation where readers were confused. It was immediately necessary to post a report on the website of these newspapers claiming that it was fake news.
Such fake news was widely circulated in mid-May this year. Fake news was designed and distributed using logos of various Tamil language newspapers falsely attributing them to President Gotabhaya Rajapaksa and Samagi Jana Balawegaya leader Sajith Premadasa. This posed a serious challenge not only to politicians but also to the press as well and confused readers. This has tarnished the reputation of the press, according to a statement issued by the press. The manager of the digital division of one of the newspapers said that he had lodged a complaint with the Police Department's Computer Crime Investigation Division against those who spread fake news using the name of the newspaper.
The effects of fake news
"Fake news is a big challenge we face, especially on social media sites. There are many instances where lay people believed it to be true because the matter was shared without confirming its authenticity. In addition, there are many instances where one party is affected by the news, says independent journalist Kalavarshni Kanakaratnam.
She added, "There are ways and means nowadays to ensure the credibility of Information, pictures and videos. As soon as a matter comes out, the general public will not be checking it. So first the publisher must sufficiently confirm the authenticity before publishing them. It is my observation that if journalists in particular are reminded regularly to follow these practices the fake news can be controlled to some extent by frequently pointing out how serious the consequence would be. It is important to remember that we must always question the accused and the claimant to ensure that accurate information is provided to the public."
What should you do if you find fake news?
When such fake news is shared, people need to be aware of it and try to find out its authenticity. When fake news appeared in the name of his newspaper M.B.M. Fairoos the chief editor of Vidivelli, in his article provides us with the following advices:
Do not share all the information you get. Select and share only the information that others need. Think before you share.
Observe whether the available information has been published by official source.
When news is shared in the name of a newspaper/magazine, keep an eye on the magazine's logo, date of publication, and fonts used. If in doubt, contact the press office.
Follow the news of recognized radio, television and internet in the country.
If you cannot confirm the information, find out if the information has been published in the mainstream media. If not, seek the help of officials and journalists familiar to you.
Creating and sharing fake news is a punishable offense. Remember that all of your social media posts are monitored.
Please do not be one of those who spread fake news.
The views and opinions expressed in this publication are those of the authors. They do not purport to reflect the opinions or views of the Sri Lanka Press Institute.