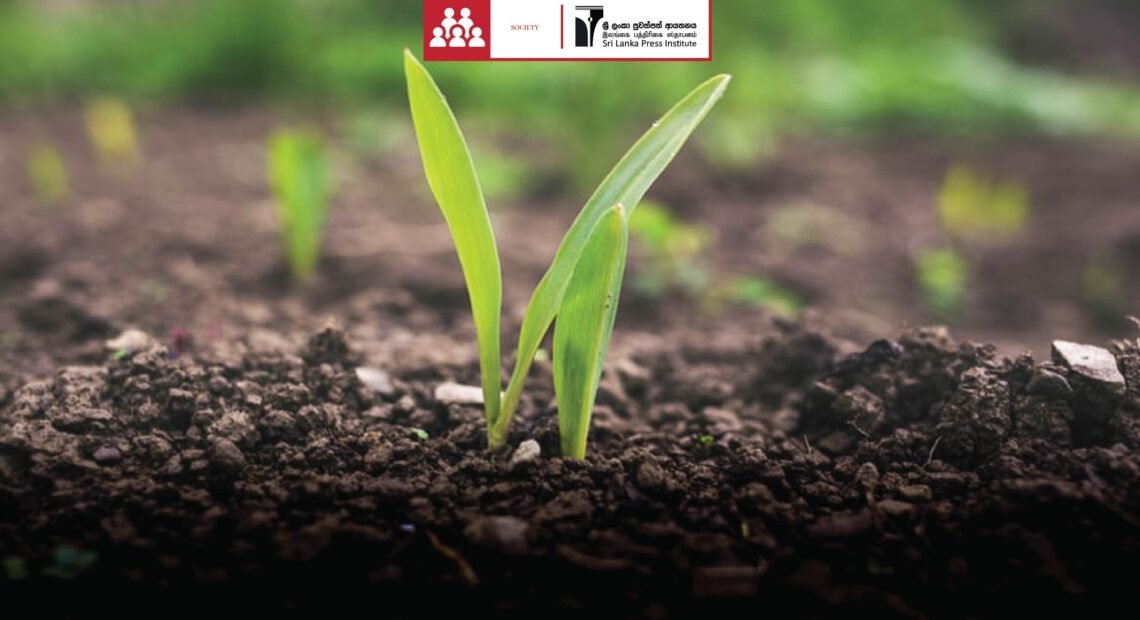 Agriculture in the North in Crisis due to Corona Lockdown
N. Mathiyalakan
"I sold the bananas grown in my garden at nothing less than Rs. 40 per kilo during the same period last year. Today it cannot be marketed for even Rs. 20. I now have 500 to 600 kgs of sour bananas, 300 kg of idarai bananas, and 400 kg of curry bananas. If they are not marketed this week, they will rot. Then I will have to feed them to animals."
A banana planter in the Vanni describes his plight. His story is just one example of the difficulties of farmers and producers affected by the Corona travel ban. Their livelihoods have been called into question by the inability to market their products, which they have borrowed and invested heavily in.
Due to the travel ban imposed to control Corona, farmers to daily laborers have faced a major economic crisis. On one hand, it is a pity that even the harvested agricultural produce is being destroyed by the inability to market it. And the devastation caused by the storms that blew in during May. When we are hit on both sides how do we recover from it? The farmers of the Northern Province shed tears.
Due to the inability to market the harvest in a timely manner, their agricultural produce is stored in tonnes in their homes and barns. As a result, farmers are left with no choice but to leave their crops ready for the harvest in trees themselves due to lack of space to store. Therefore, most of the crops remain unharvested on the trees. They rot and become animal feed, farmers describe their plight.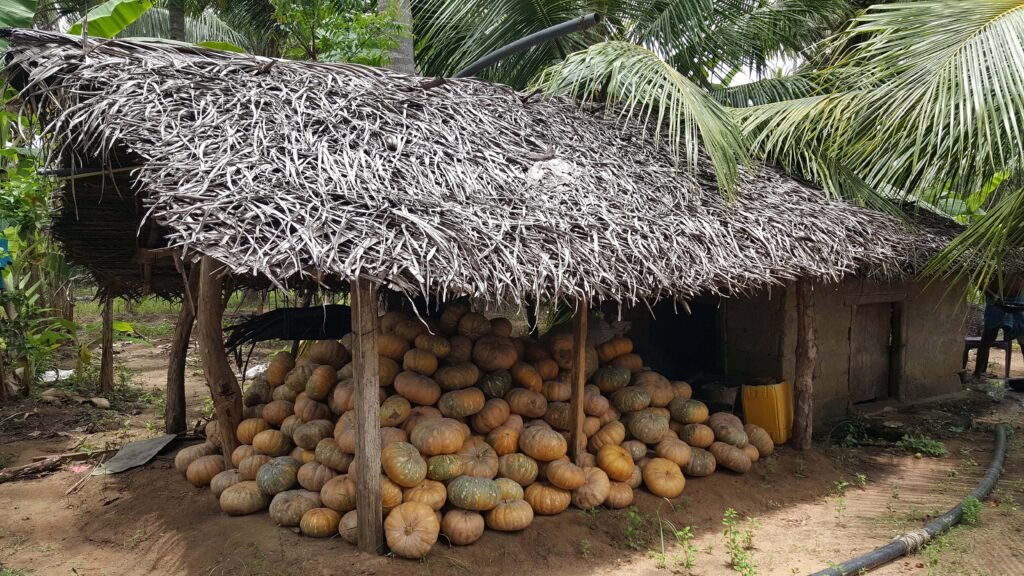 Meanwhile, the condition of plantation crops such as papaya and banana has been severely affected by strong winds on May 25 and 26. In the Northern Province alone, farmers, who have suffered a loss of several million due to the devastation, do not know how to deal with the added loss.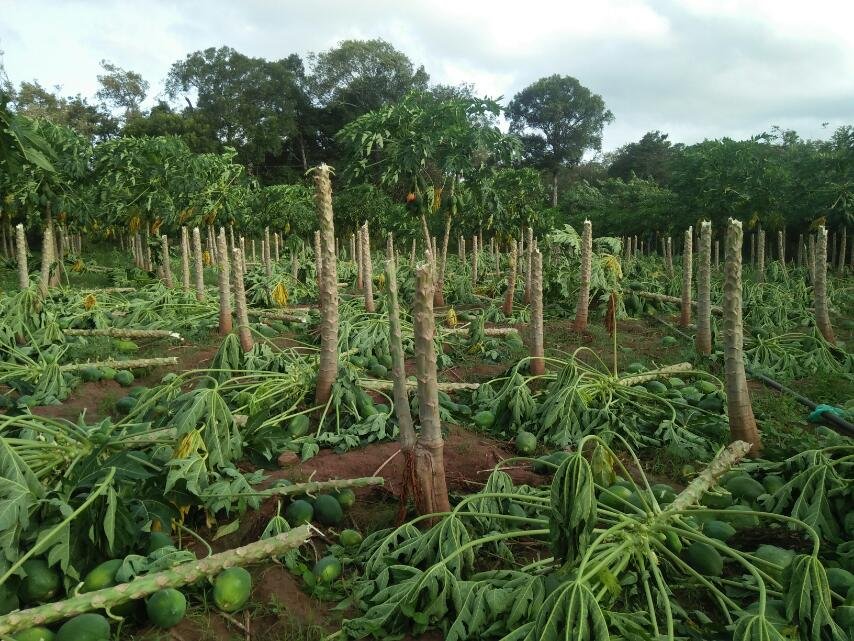 Arulnathan Yudhanan, a 42-year-old farmer from Mulankavil who is involved in banana cultivation, is struggling to figure out how to recover from the tragedy. His story is pathetic:
"I am engaged in banana cultivation on 4 acres of land. The damage caused by the severe wind storm was minimal as my garden was located in the middle. However, during the same period last year, we marketed sour, idarai and curry bananas at not less than Rs. 40 per kg. But today it could not be marketed for even 20 rupees. I currently have 500 kg to 600 kg of sour, 300 kg of idarai, and 400 kg of curry banana. If it is not sold this week, we will have to feed them to animals", he said.
Like him, many farmers in the Vanni are in dire straits, unable to market their produce.
This is not just the case for bananas. Arulnathan also mentions the tragedy that befell the pumpkin industry;
"There are 4000kgs  of pumpkins. We used to sell it for Rs. 35  per kilo. When we complained that there is no market opportunity at present to the district secretary, he arranged with a company who agreed to buy them at Rs.15 per kg. But when he came into town the company was asking for Rs. 13 a kilo instead. Moreover, they were adamant that they would only select large-sized good-looking fruit only. Therefore, the pumpkins could not be marketed," he said.
Meanwhile, we questioned John, secretary of the Ganesha Farmers' Co-operative Society, who works to safeguard the interests of farmers in the Mulankavil area. "What did you do to safeguard the interests of these distressed farmers?".
"Our region is currently in danger of large quantities of harvested produce getting destroyed since there is no market opportunity. At the same time, 35 acres of papaya plantations and 29 acres to 32 acres of banana plantations have been destroyed due to the Yas storm. Farmers are facing massive devastation and some farmers are in despair. So, we are in touch with the relevant parties and trying to rectify this," he replied.
Similarly, in Nedunkerny, Kumaraswamy Idhaya Suthanthiran, who has been involved in papaya cultivation for 10 years, shared his experiences with us:
"Thousands of papaya plantations have been destroyed by elephants three times. I have repeatedly planted and produced them. 200 to 250 papaya trees have been completely uprooted due to the recent storm, and I do not know how to recover from it," he lamented.
At the same time, the loss to Durairasa Tamilchelvan alone, who suffered heavy losses as more than 700 papaya trees were uprooted and destroyed in Nedunkerny, is over Rs.800,000. "How am I going to repay the loan I received? How will my livelihood move on anymore?" he grieves.
At the same time in Kilinochchi, there are 200,000 kgs of pumpkins and here there are another 75,000 kgs. Some opportunists come here and ask for Rs. 10 per kilo.
Not only this, even those involved in the cultivation of passion fruit are in deep trouble. We spoke to Sellan Jayarasa, who is engaged in large-scale passion fruit cultivation in the Puliyankulam area. This is his story;
"We normally harvest 700 to 800 kg of passion fruit every five days. We have not harvested any for the past 10 days because we are unable to market them. The other thing is merchants who come here are not even asking for half the price. Last year it went up to Rs. 400 per kilo and gradually decreased to Rs. 150. But from April they are demanding Rs. 70 and now Rs. 50. The cost of pumping water cannot even be covered by this. Thus, the harvest is completely abandoned." This is the story that Sellan Jayaraja tells us in frustration!
At the same time, Chandrakumar Divakaran, a farmer from Palampasi, was engaged in planting 600 papaya trees. He says not even 200 papaya trees survived the storm. Due to the strong winds and rains, the harvests that were carried out in a hurry, could not be sold for even for Rs. 10 today even though they were sold at Rs, 40 earlier. Now they are rotting", he says.
When we contacted the Mannar, Kilinochchi, and Vavuniya District Secretariat officials, they said, "The damage caused by the storm is currently being assessed. Reports on the extent of the damage will be sent to the relevant ministries and action will be taken accordingly."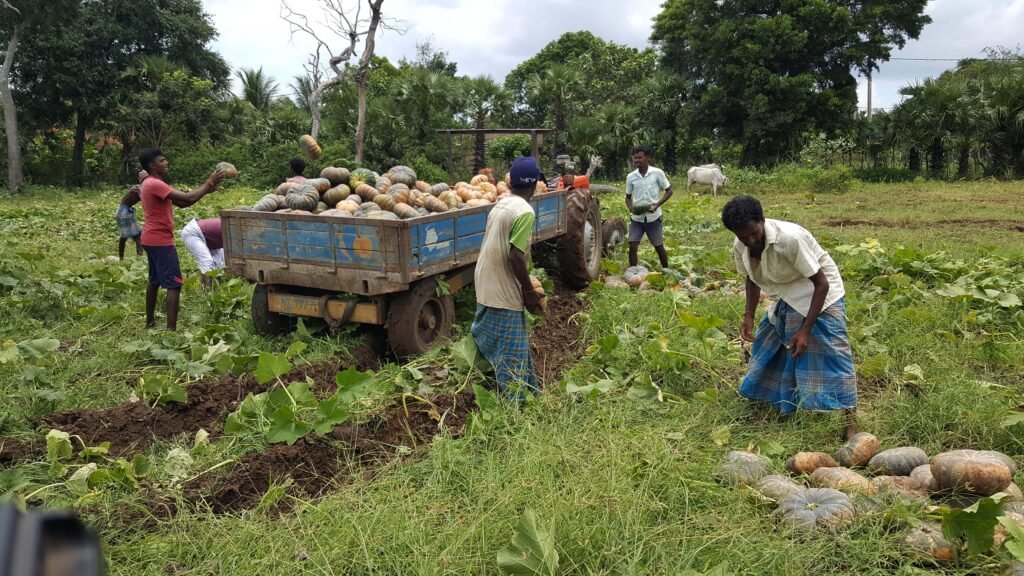 But it is the Corona lockdown that has hit northern farmers hard. They have lost their livelihoods due to the lack of any creative ways to market their stagnant products. Their confidence in the future is also declining. Thus, the future of the growing agricultural sector, which is the backbone of the economy of the North, is also in question.
Marketing/selling is a big problem, especially for those who are involved in small-scale production. The government needs to provide necessary assistance for the recovery of the affected farmers. At the same time, the government needs to devise a mechanism to market the products without wasting them under such conditions in the future.
The views and opinions expressed in this publication are those of the authors. They do not purport to reflect the opinions or views of the Sri Lanka Press Institute.