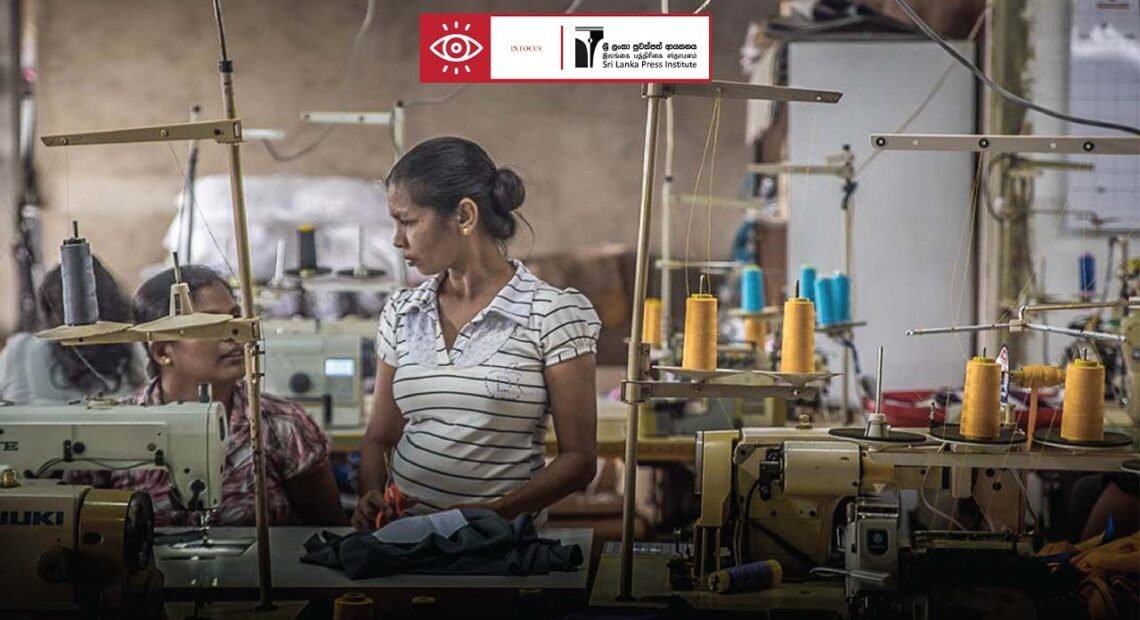 Garment Factories: Fueled by Exploitation and Gender Discrimination
Kamanthi Wickramasinghe 
Long working hours sans lunch breaks or intermittent rests to meet an overwhelming number of targets in a largely unfriendly working environment sums up what a garment factory worker goes through on a daily basis. But this is just a fraction of the larger picture. Even though the Asia-Pacific region is known as the 'clothing factory of the world' as it accounts for 60 per cent of the world's total apparel exports, the rights and wellbeing of female workers have largely been ignored. 
Gender Imbalance at a Disadvantage
Sri Lanka's apparel sector was one of the first industries to grasp the opportunities presented by the open economic policy in the 1970s. Late President Ranasinghe Premadasa has been credited for his 200 Garment Factory programme that provided employment for youth and women. Today Sri Lanka's textile and apparel industry employs over 350,000 workers directly and out of them, a majority are women. 
According to a report published by the International Labour Organisation (ILO) to understand how the pandemic has impacted garment factory workers in the Asia and Pacific region, a majority of garment factory workers in the region too are women (35 million). Therefore, roughly one in seven women in Pakistan and Sri Lanka are employed in the sector. Even though the opening of garment factories during late President Premadasa's tenure did provide employment for women in rural areas, changing industry patterns and global industry demands meant that more workers needed to be recruited. 
At the time workers earned a minimum of Rs. 2000 per month. Today the monthly minimum wage is only Rs. 13,500, far below what is needed to survive. From this amount, they have to pay for boarding fees including utility bills, buy food and essentials and send money home. But with emerging trends and competitiveness, employers didn't prioritize workers' demands and expectations. What resulted was the birth of a workforce that was ready to work at any cost to send money back home or put food on the table. In the event of an illness or pregnancy, workers would rather opt to work than go on unpaid leave. 
Rights Dismissed
Unlike men, women in Sri Lanka and the greater population in South Asia have been pressured by patriarchal ideologies for centuries. Therefore at one point working was a big no-no. But with discussions on equality, women did get a chance to not only work but dominate the workplace. However, unlike a white-collar job, a garment factory worker requires minimal educational qualifications. But once inside a factory they are thrown into turbulent waters and only the smartest can survive. Even though they are promised higher wages, sometimes they are even exempt from their allowances and bonuses as well.
Fulfilling the daily quota is a must, be it 200 bundles of bra cups or 1000 buttons on some shirts. But this takes a toll on their health status. In order to meet the targets, workers skip lunch breaks and even avoid drinking water to cut down on the time taken to use the washrooms. As a result, many suffer from malnutrition and dehydration. This is the same irrespective of whether a worker is pregnant, sick or fit to work. Further, occupational health hazards are a regular occurrence from puncture injuries to musculoskeletal issues and frequent lower back pain due to poor ergonomics. 
Back in their boarding houses, which is usually a room shared by four to five workers, one barely has room to move. Stacking clothes on one end, a gas cooker on the other and a mirror on one side, workers often sleep in shifts as four or five of them cannot sleep together at the same time. Alleged cases of harassment and gender-based violence too have been reported from time to time. 
Ripple Effects of the Pandemic
Unfortunately, come COVID-19, garment factory workers went from the frying pan into the fire. With growing uncertainties, factory management decided to function on half the capacity. But this also meant that those who had the opportunity to continue work had double their workload with pay cuts sans allowances and bonuses. According to a report by the Clean Clothes Campaign, garment factory workers didn't get any wages while they were in lockdown although they 'supposedly' got paid for the 19 days that they worked in March. Another survey done by Sri Lanka Apparel Exporters Association confirms that manufacturers were unable to pay salaries for six months following the lockdown. Therefore it has been estimated that workers lost a total of roughly 40% of their normal wages, a total of USD 24.05 million between March to May. The report also states that even though the government allocated an Rs. 5000 monthly relief payment to those impacted by the curfew, many garment factory workers didn't receive it since their employers didn't send them home.
On the other hand, workers who did return home were inconvenienced as many claimed that they didn't receive their monthly income. A year later, garment factories are still working at half the capacity while few factories have closed down. Many were transformed to quarantine centres. Since daycare centres remained closed, working parents were at a disadvantage. So were pregnant women who either didn't get maternity benefits or were dismissed from work. Apart from these issues, the apparel sector had no time to start all over again. As the country's economy had already slumped it meant that one of the contributors to the GDP had to function since the tourism industry was also at a standstill. Therefore there was no choice for apparel manufacturers. 
In an unfortunate turn of events, a COVID cluster emerged from garment factories putting the lives of the remaining workforce in danger. While quarantine measures took time to be expedited, militarisation approaches weren't satisfactory. Garment workers were allegedly taken to faraway quarantine centres, mothers were separated from children and there had been no proper coordination to conduct PCR tests on them. With mounting uncertainties, garment factory workers demanded equal treatment for them as well as for the rest of the citizenry. Subsequently, factory workers were requested to adhere to safety guidelines and continue operations by maintaining a bio-security bubble. 
Equal Rights: A Needle in a Haystack?
Even after stitching hem after hem or attaching a button after button, these workers are pressured with larger-than-life problems. Coping with daily emotional abuse, workplace harassment, stigma and discrimination is a challenge in itself. Those recruited through manpower agencies go through worse scenarios. The least that employers could do is establish a friendly working environment. Some of the main players in the industry cater to major brands such as Nike, Calvin Klein etc., but not everybody knows what the average garment worker has to go through for high profile models to wear those branded outfits. In the backdrop of the pandemic, the ILO has drafted a policy framework on four international Labour standards which includes stimulating the economy and employment, supporting enterprises, jobs and incomes, protecting workers in the workplace and relying on social dialogue for solutions. Even though the textile industry dates back to the 1960s, the apparel industry in Sri Lanka flourished after 1977. But 44 years later, it is quite unfortunate to see that the female garment factory worker is fighting a lost cause to achieve equal rights.
The views and opinions expressed in this publication are those of the authors. They do not purport to reflect the opinions or views of the Sri Lanka Press Institute.