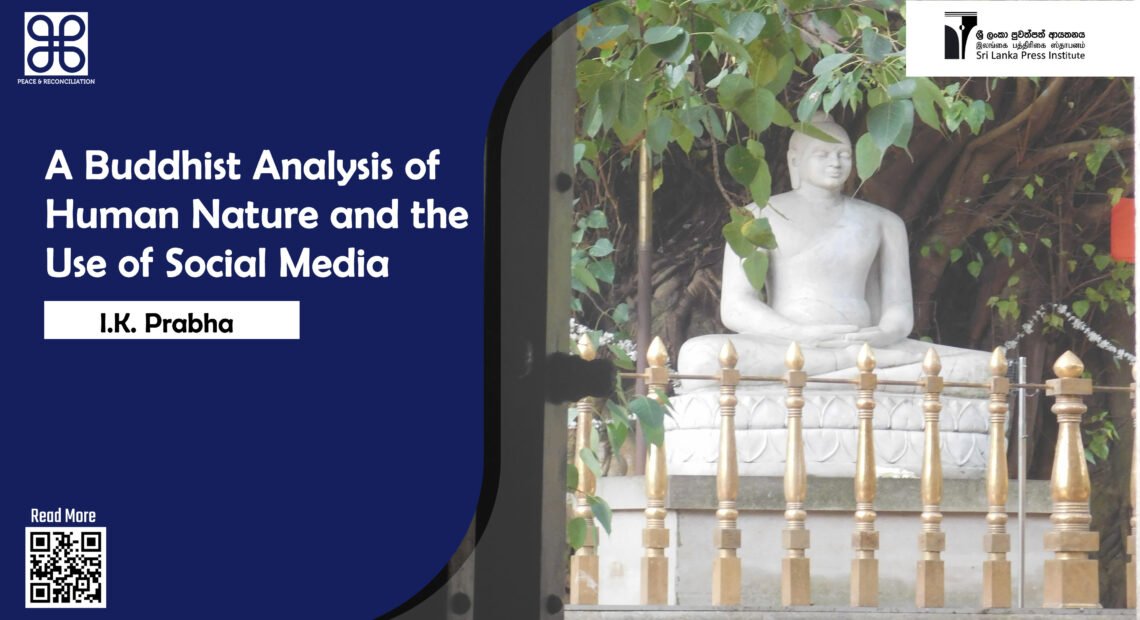 A Buddhist Analysis of Human Nature and the Use of Social Media
I.K. Prabha
"Attanan Upamang Kathwa, Nahaneiya Naghathaye"
(අත්තානං උපමං කත්වා, නහනෙයිය නඝාතයේ)
A person should refrain from persecuting others by himself
It is the doctrine of the world that all human beings are born with cultural traits and behaviours. From the time a child is conceived in the womb until the last moment of their life, they follow a variety of religiously and culturally different rituals. That is human nature. Because humans inherit such habits. Respect for the beliefs and creeds of non-believers is a good quality that should be acquired from an early age, just as a person prioritizes his or her religion over the nation. However, when any person interacts individually or in groups with people of his or her religion or ethnic group, he or she behaves violently, taking into account the thoughts, dress, foods, and religious beliefs of people of another race or religion. The best example of this is social media. In the midst of verbal attacks and insults, modern man is waging a cold war using technology as a weapon to mark his religious stability.
Compared to the use of world media, social media is still a fresh experience for Sri Lankans. How unreasonable is it for the majority of Sri Lankans to use technology to spread religiously violent ideas in such a context where new communication technology is widely used around the world to share cutting-edge information and to ensure the development and survival of humankind? The only question you need to ask your conscience when you have such an unnatural intention is,
"Even though a dog bites our leg, can we bite that dog's leg?"
If you are a Buddhist, think for a moment. Even the 'Wasala' Sutta shows that a person's superiority or inferiority is determined by his or her actions.
"Najajja Wasalo Hoti – Najajja Hoti Brahmano
Kammana Wasalo Hoti – Kammana Hoti Brahmano"
(නජජ්ජා වසලෝ හෝති – නජජ්ජා හෝති බ්‍රහ්මණෝ
කම්මනා වසලෝ හෝතී – කම්මනා හෝති බ්‍රාහ්මණෝ)
Article 2 of the Universal Declaration of Human Rights mentions, "Every person inherits all the rights and freedoms mentioned in this Declaration, irrespective of race, ethnicity, colour, gender, language, religion, politics, social status, nationality or property. A person also owns the rights of any person, regardless of the political, legal or international status of the country to which he or she belongs, regardless of the status of the country as independent, custodial, independent, etc." Following are some examples for some recent incidents that have shown vicious tendencies in the use of social media:
Various comments and posts on social media targeting teams representing the Northern and Southern Provinces in the Sri Lankan Premier League competition and various religious events.
Statements on the cremation of Covid-infected Muslim corpses, the Muslim population's fear of PCR tests, and statements about women marrying Muslim women
Combining the beliefs of the 'Kali' mothers, who are believed by the Tamil people for the medicinal honey introduced by Mr Dhammika of Kegalle to control the Coronavirus with folklore
Incineration of a discarded Buddha image at the Kuruwita Army Camp after being displayed in the Vesak and Poson periods for several years.
A statement made by a journalist working for a well-known television station in the country on his Twitter account
Many responded with laughing emojis ('haha' reactions) to the tragic news of the death of the pilot of the 'PT6' aircraft used to train pilots after it crashed near the Janaranjana Lake in Kantale.
It is important to keep in mind that the creators of such news on social media do not mention the Dhamma Padhaya, the Bhagavad Gita, the Holy Bible or the Al-Quran in any way to crush a pagan and be satisfied. Sri Lankans, who have a proud history of more than two thousand five hundred years, are engaging in such indecent acts, signalling a nationwide setback. Such actions set a wrong example for future generations too. It also adversely affects national peace and reconciliation. It can also be pointed out that the self-satisfaction that comes from degrading a person of any religion to other religions and beliefs is similar to the physical health condition of a stereotypical mental patient.
The important thing to keep in mind here is that it does not matter if you practice or disregard other religions. But mocking one's race or religion on the basis of one's own religion or persecution of an individual or a group of people is tantamount to abusing this rare opportunity to be born a human being (දුර්ලභේන මනුස්සානං). The immediate consequences of the malicious intentions and behaviours you commit will not only be seen as a dichotomous act, but you will also be helpless to look like a series of scenes depicted in a movie, even by the 'Chuthi Sitha' (චුති සිත) that arises when you are unconscious on the verge of death.
Control yourself before you control the behaviour of others about undermining national peace and reconciliation. Do not become puppets for political or business money. Instead of feeling inferior or arrogant in your heart toward friends and neighbours of other faiths, cultivate a sense of humility that fosters brotherhood and nationalism. Do not be alarmed by the mere sight of a post, comment or photo that exalts one's nation or degrades other races and religions on social media, and always try to control your own long-distance mind. Reconsider and decide whether your action will destroy national peace and unity.
'Duran Gamanan
Asarirang Guhasayan
Ye Chitthan Sanyamessanthi
Mokkhanthi Marabandhana'
'දුරං ගමං ඒකචරං
අසරීරං ගුහාසයං
යේ චිත්තං සංයමෙස්සන්ති
මොක්ඛන්ති මාරබන්ධනා'
Multi-ethnic countries like Singapore and Malaysia have achieved their development goals in a short period of time, leaving aside ideas and attitudes towards personal gain and safeguarding national unity. Because all the other countries in the world are vocalizing their national interest and stability in the middle. Accordingly, it can be concluded that the existence of spiritual and physical development of the entire country depends on the behaviour of individuals.
'Mahanel Suwandha maya Kuda Masu Pilie Gandha Maya
Dhekata Eka Dhiya Maya Hondhata Narakata Dhekata Kata Maya'
'මහනෙල් සුවඳ මය කුඩ මසු පිළී ගඳ මය
දෙකට එක දිය මය හොඳට නරකට දෙකට කට මය'
Private and public institutions conduct various training workshops, seminars, research sessions and long-term programs to promote national peace and reconciliation and to protect human rights. It cannot be done by governmental or non-governmental organizations alone. It is a challenging responsibility for the entire citizenry. A person should remember how much he or she would be offended if another person violently rebuked his or her religion, and he or she should be kind to others as well. If you want to mark your identity as a person who is committed to national peace and reconciliation, free from religiously hostile behaviours and negative attitudes, change today, not tomorrow. Think twice or three times before distributing a story religiously and nationally, before expressing your opinion in the media and before uttering a word, and use it only if it is effective. Please post more news, ideas, posts and photos on social media in a way that promotes friendship between races and religions.
The views and opinions expressed in this publication are those of the authors. They do not purport to reflect the opinions or views of the Sri Lanka Press Institute.