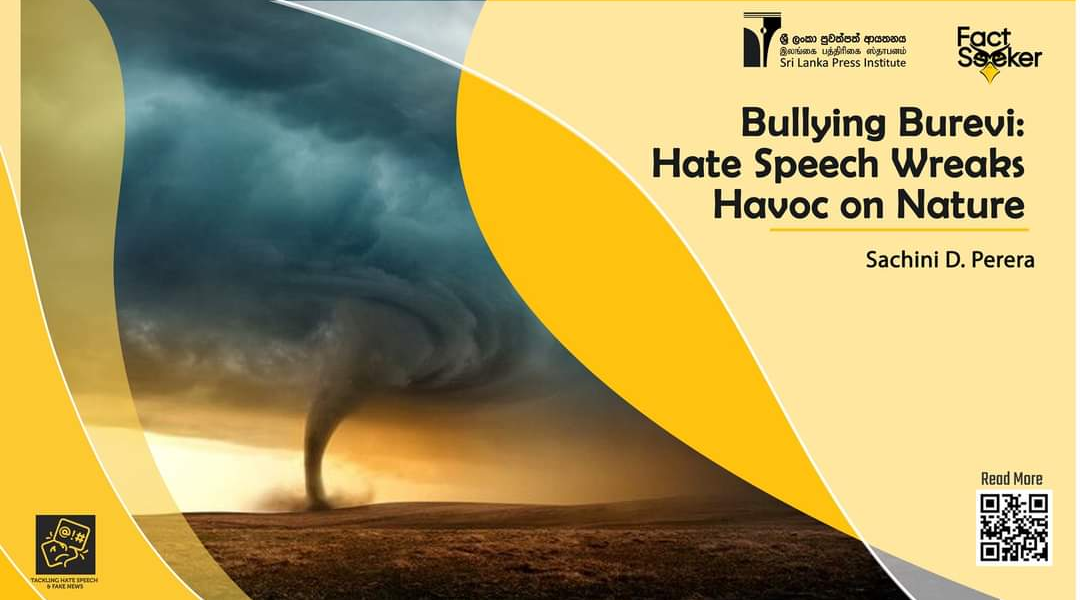 Bullying Burevi: Hate Speech Wreaks Havoc on Nature
Sachini D. Perera
Sri Lanka is a small island that experiences tropical monsoon weather in the last and first few months of every year. The cold weather in every December, heavy rains and winds can be seen in almost all countries. In addition, people in coastal areas are in danger with the possibility of cyclone conditions. In this regard, people have been warned this year too regarding a cyclone called "Burevi ", a tropical monsoon cyclone that occurred due to a deep depression over the South-West Bay of Bengal recently and entered the Northern and Eastern provinces of Sri Lanka.
While the Department of Meteorology of Sri Lanka announced red notices regarding Bruevi cyclone, there were various memes and jokes circulating on social media related to Cyclone Burevi. Amidst these jokes, 43,814 people and 13,052 families were stranded, 5 injured, one person missing and 2 deaths reported due to the cyclone which severely damaged the Jaffna Peninsula and 6 other districts including Point Pedro, Kilinochchi, Mullaitivu, Vavuniya, Trincomalee and Chavakachcheri, during the first week of December.
The purpose of naming hurricanes and cyclones is to draw public attention in order to prepare for disasters. But social media including Facebook, Whatsapp and Twitter were flooded with posts, comments and reactions related to the name "Burevi".
Some of these memes are as follows:
Instead of being prepared for the disaster and taking necessary precautions, social media users in Sri Lanka behaved ridiculously by belittling the disaster that put thousands in danger.
Essentially, low-quality information was disseminated in a high quantity. This has been discussed for many years in various fora, locally and internationally. Mostly, youth engage in these inappropriate practices on social media platforms which have in turn set fire to cyberspace.
As you can see, hate speech regarding Burevi demeans the reputation of the country and showcases the attitudes of social media users in Sri Lanka. This has become a social issue at the national level. Also, this point-of-view has been captured by meme-makers to circulate hate speech about the nation's attitude during disaster times as shown in the image below.

In addition, these posts, those hate speeches also include insulting women, humiliating the service of government institutions such as the Department of Meteorology of Sri Lanka.
It is also a pity to note that the Sinhala language has been the primary language when creating hate speech and fake news not only about Burevi but in other areas as well. Instead of counter-viewing hate speech, social media users seem to prefer this type of content. It can also be called 'virtual abuse' or a 'cyber-hate' which reverses the prior role of the communication channel/mediums: disseminating true and accurate information for the receivers while sticking the public attitude around useless information. The insecurity and emotions of public communication are somewhat passive when it comes to discussing vulnerabilities of creating and promoting hate speech. This uneven cyber practice is a big emotional threat that cripples the awareness for accurate information among the general public. As long as the hate speech contents shared in regard to Cyclone Burevi are not a nationalist, religious and extremist issue, it would not affect the peace and reconciliation aspect of the country. But the so-called practices might remain in the 'Web 2.0' generation for an unpredictable time. This trait should be eliminated from social media practices in Sri Lanka in order to upgrade the role of modern communication to a balanced and transparent information hub. It cannot be done by force. But necessary legal proceedings and policy works must be imposed on people who misuse cyberspace including new media platforms using fake news and hate speech.
The views and opinions expressed in this publication are those of the authors. They do not purport to reflect the opinions or views of the Sri Lanka Press Institute.