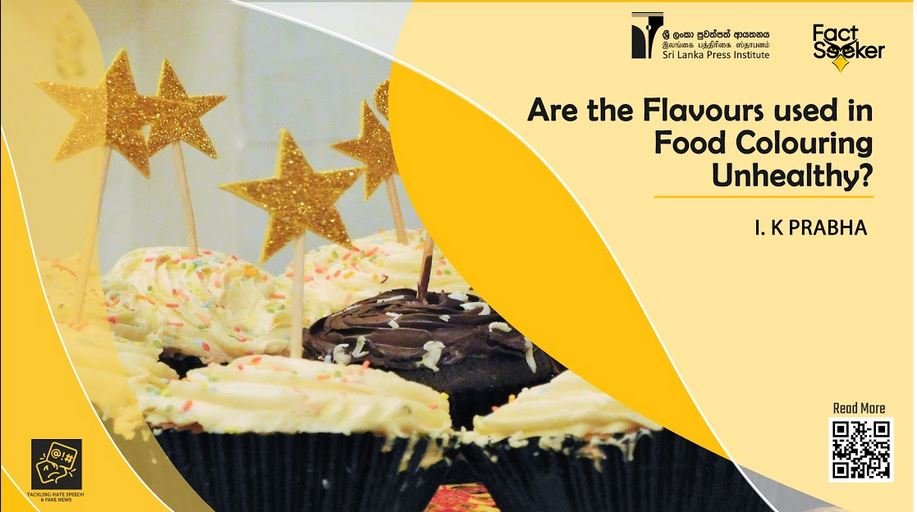 Are the Flavours used in Food Colouring Unhealthy?
Written by – I. K. Prabha
Employees in a workplace, as well as young, educated people, are increasingly turning to fast food and preservatives. In addition to the food they make at home or in the dormitory, they buy food as consumers. Unfortunately, many of them deficit due knowledge about:
Standards
Freshness
Taste
Expiry Date
Colourings, additives and chemical ingredients
In such a backdrop, it is not surprising that no one would have thought the small amount of fast-food eaten is enough to cause long-term suffering. News was circulating on social media that a biscuit pack made by a well-known local company with the following label was also found to have the same labelling in a foreign country:

"‍Sunset Yellow (E110) and Carmisine (E122)
May have an adverse effect on Activity and attention in Children"
Without any scrutiny of the accuracy of that news, how unsatisfactory is the behaviour of social media users in devoting their time to disseminating such false news? I will not mention the relevant Sri Lankan biscuit company and its brand, but the two pigments mentioned on the label. A person naturally indulges in tasty eating habits in daily life. Each person's eating habits are completely different from another's. Depending on the gravity of the experience, the lifestyle and the social environment, we can see changes in one's meals. Research has shown that not only Sri Lankans but also many Asian countries consume high levels of rice, flour and salty foods in their staple diet – and adults, as well as young children, are more inclined to eat fast food in addition to their staple diet. Coar tar is the chemical compound used to make all the synthetic dyes used in food flavouring, and although there are more than 2,000 synthetic food dyes in the food market, there are only 10 approved food dyes in current.
(Source;https://www.science.gov/topicpages/d/dye+sunset+yellow.html)
Red – Carmosin E, Fast Red E, Ponceau 4R
Blue – Indigo Carmine, Brilliant Blue
Yellow – Tetrazine, Amaranth, Sunset Yellow
Green – Green s, Green FCF
(Source;https://www.sciencedirect.com/topics/agricultural-and-biological-sciences/sunset-yellow-fcf)
These pigments are highly carcinogenic and contain this chemical composition in highly flavoured or fragrant food substances with bright pigments. Due to this, the addition of artificial colours to meat, fish, fruits, vegetables, coffee, tea, butter, bread, ice cream, condensed milk, dry milk powder, cheese and baby food is strictly prohibited.
(source; https://www.megha-international.com/carmoisine.html)
E 100 Curcumin& – Margarine
E 101 Eiboflavin& – Sauces
E 102 Tatracine& – Soft Drinks
E 110 Sunset Yellow FCF& – Biscuits
E 120 Cochineal& – Alcohol
E 122 Carmosine& – Jam
E 155 Chocolate Brown – Chocolate Cake
(Source; http://vidathanet.blogspot.com.2016.07.blog-post_31.html)
The international status of the two pigments that have been discussed in Sri Lanka in recent times is as follows;
Sunset Yellow – E 110
Sunset Yellow (E 110) is a yellow pigment found in ice cream, eggs, jelly, beans, soft drinks, confectionery and baked goods. Orange azo dye is extracted from petroleum and is also known as "Sunset Yellow – E 110". It has a maximum absorption of about 480nm at pH 1 depending on the pH value and changes its value at pH 13. In the United States, this flavour is referred to as "FD & C Yellow 6" and in Europe, it is denoted by "E No. E 110".
In 2007, a newspaper in Lancet reported that eating products containing these chemicals could adversely affect young children's hyperactive behaviours and their development, as well as abdominal pain, skin inflammation and IQ levels. And it intensifies the effects of Sexually Transmitted Infections (STI) in children and adults. It affects judgment and causes aggressive behaviour. The European Union (EU) says these chemical substances affect children's activities and attention, and it should be labelled on food packaging.
(Source;http://www.fao.org/fileadmin/user_upload/jecfa_additives/docs/monograph5/additive-450-m5.pdf)
Carmoisine – E112
Synthetic red (Carmoisine, Azorubine Synthetic Red 920) is used to flavour foods. Artificial red azo pigment (Blancmange, Marzipan, Swiss Roll, Jams & Preserves, Sweets Brown Sauce Flavored) is for post-fermentation foods. Also found in yoghurt, packaged soups, jellies, mini eggs, lollypop, cheese and cake mixes. It also causes water retention in patients with allergies. This chemical is banned in the United States. The European Food Standards Agency asked manufacturers to remove six synthetic pigments by the end of 2009. The 06 pigments are as follows;
1. Tartrazine (E102)
2. Quinoline Yellow (E104)
3. Sunset Yellow (E110)
4. Carmisine (E112)
5. Sunset Yellow (E110)
6. Ponceau 4R (E124) and Allura red (E 129)
(Source;http://www.fao.org/fao-who-codexalimentarius/en/?id=124)
However, Deme Dearde Hutton, President of the London FSA Food Standards Institute, says "it's my duty to prioritize the consumer and that those pigments have no effect other than just adding colour to the food, so it can be removed according to studies."
(Source;http://www.ukfoodguide.net/e122.htm)
Research has shown that irregular eating habits can lead to the growth of cancer cells in the breast and colon area of the human body. Malignant cells then spread throughout the body due to abnormal and uncontrolled cells in the body. Toxins produced by microorganisms that grow on various foods also act as carcinogens. This is caused by deficiencies in various nutrients. Studies show that low consumption of Vitamins A, C & E, Antioxidant Vitamins, Zinc and Selenium, Minerals found in vegetables, fruits and green leaves help to prevent cancer by stopping the growth of free radicals in our body.
As Sri Lankans, we need to rethink our eating habits and how careful we should be in our food choices.
Gazette Notification No. 1688/28 dated on Friday 14/01/2011
Consumer Affairs Authority – Act No. 09 of 2003
Consumer Ordinance No. 01 of 1979
Fair Trade Commission Act No. 01 of 1987
173rd Authorized Price Control Act
(Source;http://www.documents.gov.lk/si/gazette/php)
Following the promulgation of the Food Regulation Act No. 26 of 1980, Sunset Yellow (E110) and Carmisine (E122) Food Coloring Essentials have been approved under No. 1, 472/19 (July 25, 1980) – Gazette Notification issued on Thursday, November 23, 2006.
(Souece;http://eohfs.health.gov.lk/food/images/pdf/regulations/food_colouring_substances_regulations_2006_si.pdf)
Furthermore,
Under Section 2 (1) of the Food Regulation Act No. 26 of 1980,
– Foods that contain unhealthy, natural or added ingredients
– Foods that unfit for human consumption
– Mixed foods
– Food Regulation Act/ Foods for which ingredients are added without being approved by the Food Act
– Individuals are advised and allowed not to manufacture, import, sell or distribute.
Under Category 2 (2),
– It has mentioned that food should not be produced, processed, stored, handled or handled unsafely.
Under Category 3,
Harmful sales, labelling, packaging, transportation or misrepresentation of the quality or value of the food should not be included.
It is a pity that the general public has not put these laws into practice, nor have they been given a proper understanding of what chemicals are in their food. They need to be asking questions like 'Does it endanger our health?' and 'Is it impossible to get rid of chemical exposure?', when referring to the above Acts and Bills.
The views and opinions expressed in this publication are those of the authors. They do not purport to reflect the opinions or views of the Sri Lanka Press Institute.