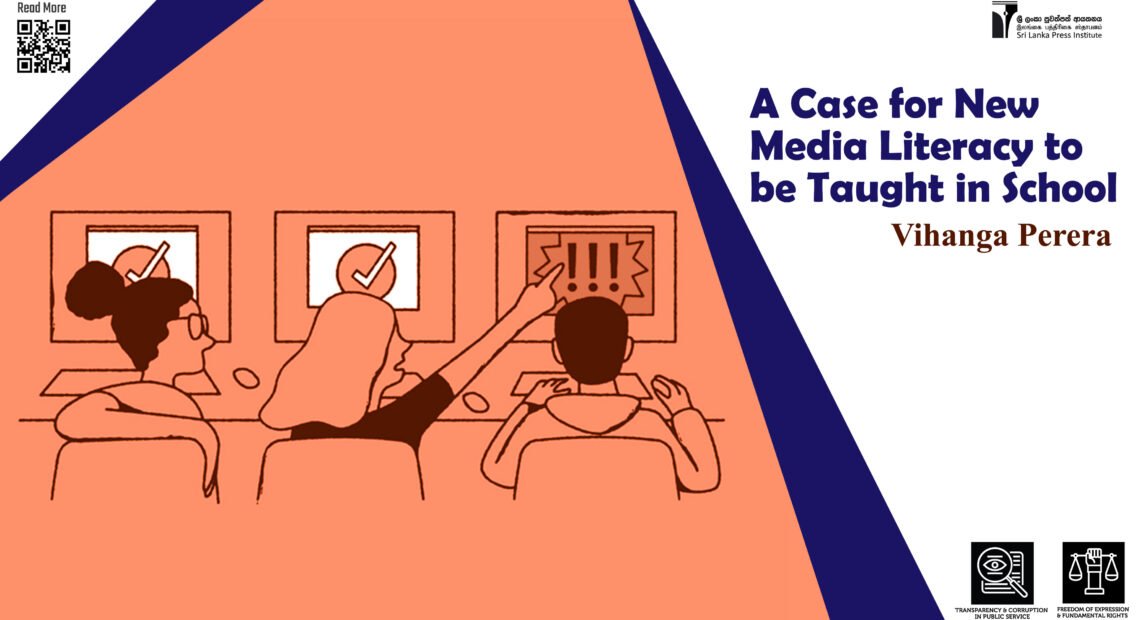 A Case for New Media Literacy to be Taught in School
Vihanga Perera
A little over fifteen years ago, as a young student of Journalism, I was taught the a-b-cs of good news reporting: the familiar formula of the 5Ws, the H and the B (What, Where, When, Who, Why + How + Background) which, we were told, made the basics of good reporting. Conducted by bigwigs in the trade like Dalton de Silva, Lakshman Gunasekara, and Kumudini Hettiarachchi, my colleagues and I were taught to prioritize information, be ethical in approach, and to look for balance in setting forth. We were taught not to set the world on fire.
Little did we know then that in the next decade and a half the theory taught to us with such reverence would be steamrolled by an emergent media practice where hits, viral shares, and click bait trumped as the driving force of news; and that these features of product were to be used by certain political groups with a ruthlessness to stir the depths of society. But, this reality has already overtaken us even as we stand at the foreshore of a new decade: a decade in which new media technologies will play an increasingly dominant role in countries like ours, and in which new media literacy will have to be taught as a life skill and be made a part of public policy.
In the past few years, we witnessed several instances where mobilizing power that can be generated through new media was made apparent. For instance, the political project that brought the Maithripala Sirisena-Ranil Wickremasinghe coalition into power in 2015 has often been said to have gained an advantage from a generation of new media users. Over the past five years, almost all political camps in Sri Lanka have resorted to a new media department and communication channels accommodated by digital applications. Between elections, when the anti-Muslim violence erupted in 2018 and a second similar wave was unleashed following the Easter Sunday bombs in 2019, communication apps like Viber and WhatsApp were used to mobilize and direct the marching mob. To assist restoration of control and to refrain people from mass panic and misdirection, the state was forced to clamp down some of these apps for a reasonable duration. It is sufficient to note that strategically-designed new media arms, content creators and influencers are among the latest cogs of political movements that are already equipped with a nexus of media moguls, big businessmen, partisan clergy, and all-seeing astrologers.
The critical aspect of new media culture lies in its integration with our younger generation as a life skill. What kind of academic or formal introduction can they be given in dealing with a host of media-related manipulations which include misinformation, malicious news, doctored content, online safety, and so on? And to what extent will the political regime sincerely push for a productive programme in this department, since – as we have seen – the regime thrives on mass vulnerability, insecurity, and sense of hopelessness. But, new media literacy as education cannot be delayed. The challenge is to push for reform and scheme creative ways for new media literacy to enter the core school experience. Similarly, at a social level, non-state actors may be required to pull the weight of creating awareness and knowledge – and thereby a "better connected" – citizen network.
At present, Sri Lanka has several proactive fact-checking platforms and new media-driven initiatives that confront malicious and misdirecting content. But, strategies that encourage fact-checking as a regular practice will only come with enhanced literacy. With this in mind, a slowing down of the consumption of news – of the time taken to process content – and an accreditation of news sources should be paramount in new age programmes dealing with literacy.
Over the past two weeks or so, several statements from political activists and opposition politicians indicated a looming uncertainty where media freedom and the freedom of expression was shown to be under a 'witch hunt' by the state. "Stop the witch hunt against the media: Sajith tells Government" is the headline theleader.lk used when referring to the Leader of the Opposition who (it was quoted to have said) a "concerted campaign targeting the media, including social media" was under way. Quoting similar concerns in a November 27th article, the Sinhalese news web Ayithiya alluded to a call to the state by media practitioners Dulan Dassanayake and K. Sanjeewa to raise media literacy among social media users.
Personally, I look on violent incidents like the one I outlined at the outset as more than unfortunate developments. If they were politically-orchestrated situations it holds to question the corroded morality of whoever handled such violence. Our collective conscience should be appalled that new media was used as a lever in fear-mongering and in numbing society with racial and cultural hatred. Mass fear psychosis against a politically-derived, artificially created enemy cannot be ushered in my media non-literacy. All that should end with the present decade – if not with the current political regime.
The state has a clear choice of reassessing its response to the media by meeting standards of open societies of the modern century. The ball is effectively in the deep-end of its court. At the dawn of a new decade the state has the option of envisioning a bottom-up education programme and a top-down social project to nurture informed new media behavior.
The views and opinions expressed in this publication are those of the authors. They do not purport to reflect the opinions or views of the Sri Lanka Press Institute.