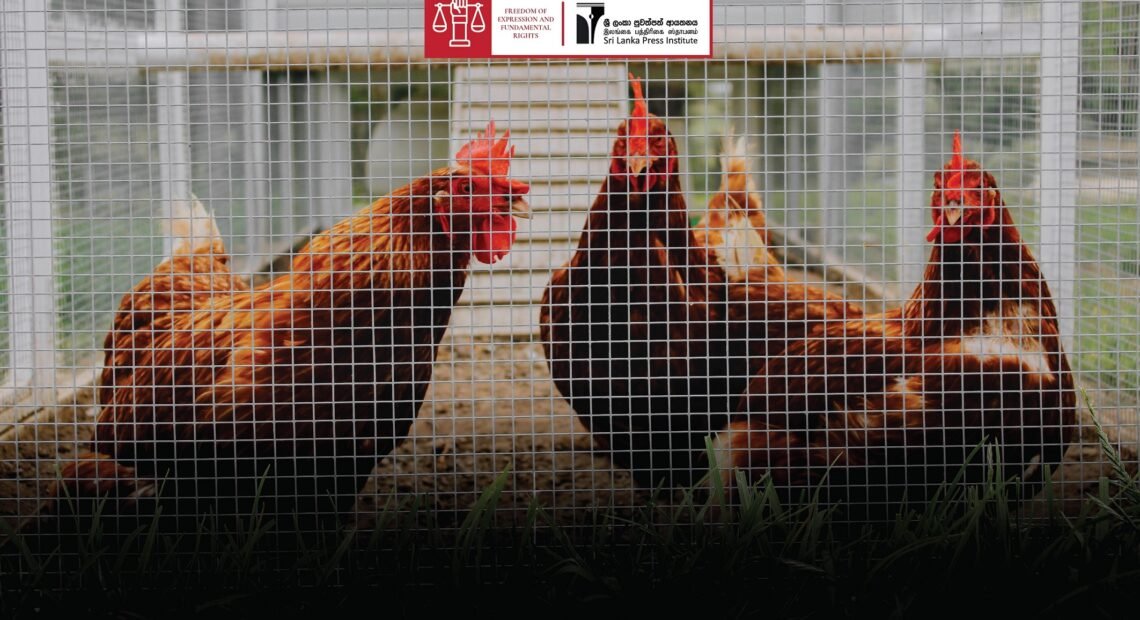 The Burden of Corona & Closing Down Poultry Farms
U.S. Mahroof
S.L.Nazeem, with the financial assistance of his son-in-law, started a poultry farm on his land at Ashraf Town in Addalaichenai D.S.Division, spending Rs. 37 Lakhs to erect the latest type of cages. He continued to run the farm for the last four years and in February, he closed it. The six big cages that housed about nine thousand layer birds are empty now. Nazeem said he received a good income from the farm but has lost everything now. What happened?
A layer bird needs about 110 grams of chicken feed daily. A 50 Kg bag of feed, sold for Rs. 3,400 earlier has gone up to Rs. 4,400. This sudden rise increased the cost of production, but the price of eggs could not be increased accordingly, he lamented. Now there remain only empty sheds and equipment, but no chickens. Four people worked here on monthly salaries. After Corona, many such farms were closed. Big investors and their employees have lost their income and employment.
Nazeem said, "We underwent loss of many thousands of rupees a day by running the poultry farm. So, when we decided to close the farm, some way or other, we had to sell the birds immediately. Making use of this opportunity, meat shop owners bought our chicken at very low prices. Even here we experienced a huge loss".
Farms Running at a Loss Post- Corona
M.H.M.Manaf is another running poultry farm in Ashraf Town. Investing about Rs. 50 lakhs, he rears two thousand layer fowls. He is also in trouble. "We have to spend at least Rs. 21,000 per day to feed and maintain these birds. We are unable to cover this with the sale of eggs as the government determines the price of eggs. To sell at the determined rate, the minimum weight of an egg must be 55 grams. Normally a bird starts laying after four months. In the beginning, most of the eggs weigh less than 55 grams, so we are unable to sell these at the fixed price. Normally when each bird continues to lay for 18 months the weight of the egg also gradually rises to 55 grams. Until then what are we to do?".
The average yield from his two thousand birds is 1700 eggs. Of this, whatever he is able to sell at the determined price is the balance after discarding small and damaged eggs. 'Earlier we were able to sell an egg at Rs.19. From 26th May farm price of an egg is Rs. 1 4. Once the Government fixed the price of an egg at Rs.10. In poultry farming, the birds must be fed, given medicines, vitamins, and disease care, and the costs of all this are always on the rise. But the rise during Corona is very high and we are unable to meet them with our sales", Manaf said.
Eggs can be stored for a maximum of two weeks. In this condition, with the long lock down and travel restrictions they also encounter difficulties in marketing the eggs. Despite all this, Manaf continues to run his business. But, he says, if the situation continues, he may have to stop his business abruptly.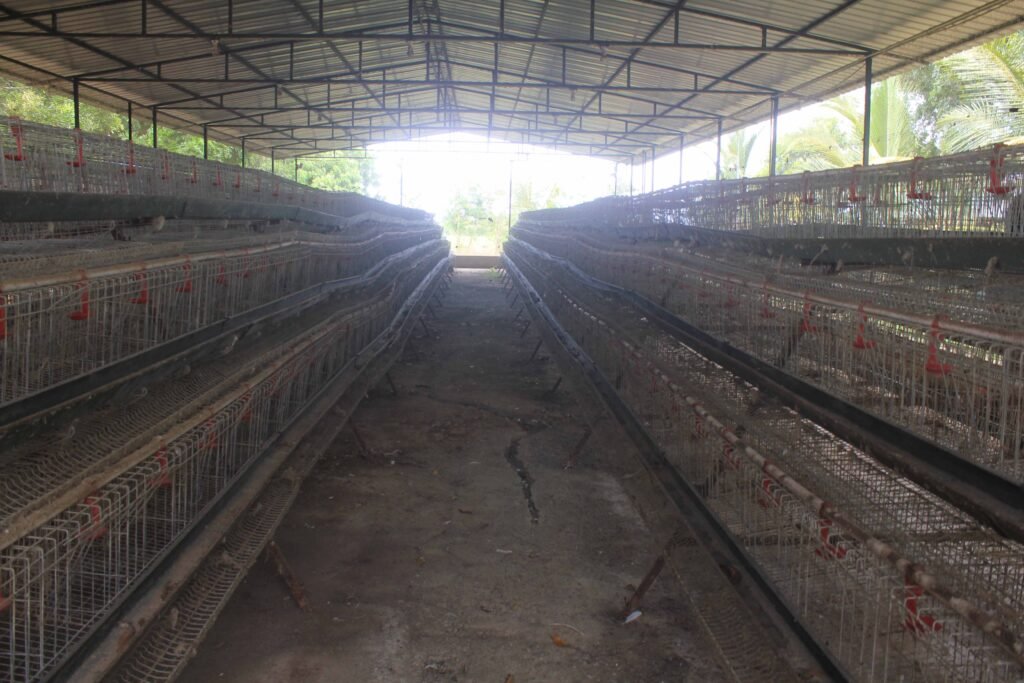 The Officer in Charge of Addalaichenai Veterinary Hospital, Dr. H. Thahana says that according to their records there are 18 poultry farms that have more than 1000 layer birds and 32 farms with less than 1000 birds. Poultry farms must be registered with the Department of Animal Production and Health and a Registration Certificate will be issued.
Those who possess these certificates are provided with preventive medicines and other services free of charge, he said.
Poultry farms in Addalaichenai supplied many thousands of eggs per day. But, the owners say they are running their farms at a loss and some of them have closed them. Because of this, the employees have lost their jobs.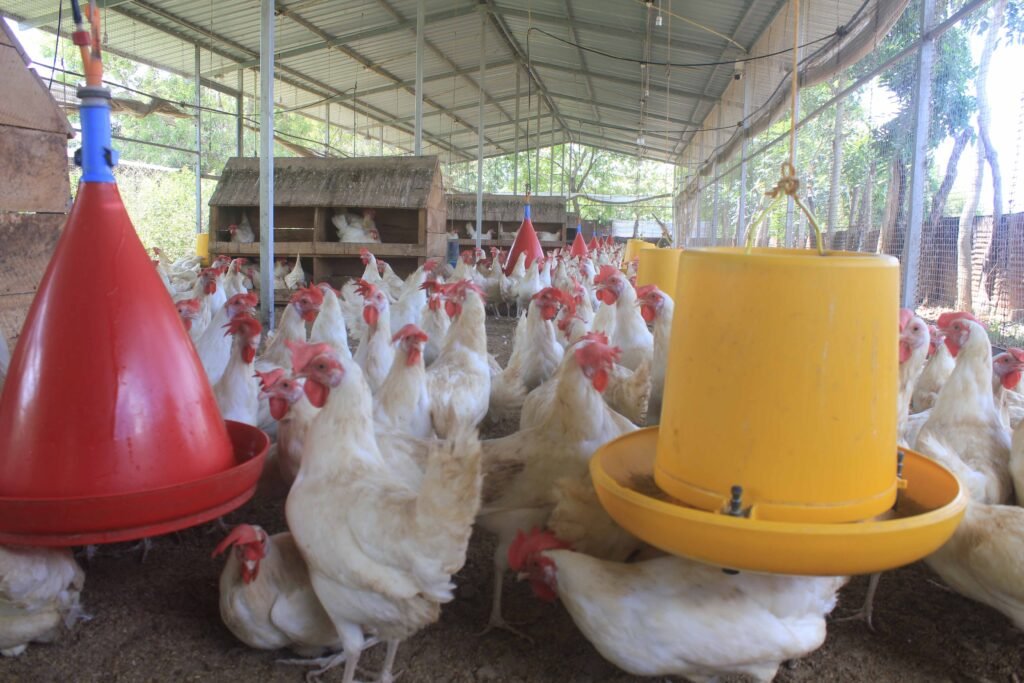 What do the chicken feed manufacturers say?
Asoka Ratnayake, Manager of a chicken feed manufacturing establishment says the rise in price of the ingredients for chicken feed was the cause of price increase. Earlier they were able to buy one kilogram of maize, the main ingredient for chicken feed, at prices between Rs. 50 and Rs. 60 locally. Now the price is Rs. 90/- per kilo. So the middle man causes this price hike. Because of this, the price of chicken feed had to be increased. The price of bran, another ingredient, has risen by 40% to 50%, he further said.
What really happened?
According to the Sri Lankan Department of Census and Statistics, many poultry farms with more than 1000 laying birds are found in the Kurunegala, Puttalam, Anuradhapura, and Ampara Districts. This is one of the industries that showed rapid growth from 2018 to 2019. By this Sri Lanka was self-sufficient in chicken meat and eggs. It is mentioned that a small quantity was imported for the needs of foreigners and air transport food requirements.
A publication in 2019 by the Department of Animal Production and Health said that 64% of the Gross National Product was derived from the poultry farm industry in 2019. Poultry farms that had grown rapidly to such an extent, started going downward after 2019 because of two reasons, first, the Easter Sunday attacks and second, the spread of the Coronavirus. Due to these reasons, the tourist industry also suffered a decline. With the tourist hotels and restaurants not functioning, large-scale consumption of poultry products dropped drastically and all these industries are facing a big challenge.
Asoka Ranayaka also says soya, palm oil, and other inputs for chicken feed and medicines are imported from foreign countries. As a result, the Rupee is depreciating against the dollar and we are paying 23% more for our imports.
At this time when many industries are affected by the drop in local consumption, entrepreneurs who are unable to market their products and consumers who are unable to buy essential goods have to bear these economic burdens individually.
කොරෝනා තර්ජනය සහ කුකුළු ගොවිපළවල් වැසීයාම
கொரோனா சுமை! மூடப்படும் கோழிப் பண்ணைகள்!
The views and opinions expressed in this publication are those of the authors. They do not purport to reflect the opinions or views of the Sri Lanka Press Institute.