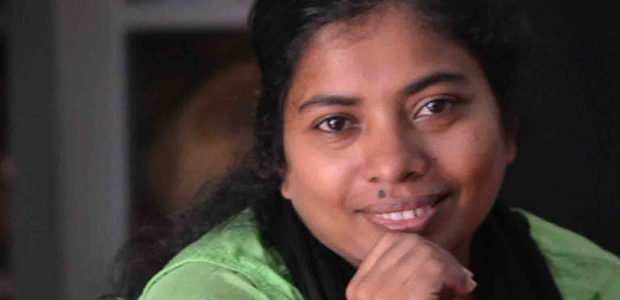 Talking to Dilmi Fathima Bonding Hearts with Kind Words
SARATH MANULAWICKRAMA
The Catamaran recently spoke with Dilmi Fathima, a Muslim seamstress from Kurunegala who makes clothes for the Sinhala women in her community. Her work has become the glue that bonds her community together despite racial and religious differences among her and her clientele.
"I left the teaching profession because it was not enough to alleviate my financial difficulties of life. Now I feel that I am successful. It doesn't mean I have a lot of money. I have a lot of friends now and I work day and night for their needs. I maintain trust. All those who come to me are Sinhala girls. They like me very much" says Dilmi Fathima.
Dilmi and her husband Azam live in Kurunegala, their love bound by the Sinhala language. They talk and argue in Sinhala and even think in the language. They even employ Sinhalese women to assist them. The custom within Muslim community in Sri Lanka is to speak Sinhala only with the Sinhalese. At home and within their community, the spoken language is always Tamil.
Dilmi, a former international school teacher, quit her vocation in 2014 and enrolled in a sewing class in Kurunegala where she studied dressmaking. She specialized in modern-style wedding dresses. After her training, Dilmi began to create bridal clothes, nightwear and other dresses.
Although one's dress is representation of their culture, there are no Sinhala, Tamil or Muslim distinctions in Dilmi's designs. As more brides came in search of her, Dilmi's business, clientele and personal relationships grew. To meet her growing demands, Dilmi employed a number of Sinhala women in the area.
Within a national context where there Sinhalese consumers avoid Muslim shops based on communal extremist propaganda, Dilmi feels that her customers are superior.
"Why do we come to Dilmi's shop? Because of her knowledge of the Sinhala language? No. We come because of her. She has carefully studied what Sinhala brides and grooms want. We visited several other places and finally ended up here. We didn't know if she was Muslim or a Sinhalese. There was no need to know. What is important to us is humanity," said Kumari, a young client.
This article was originally published on the catamaran.com
The views and opinions expressed in this publication are those of the authors. They do not purport to reflect the opinions or views of the Sri Lanka Press Institute.