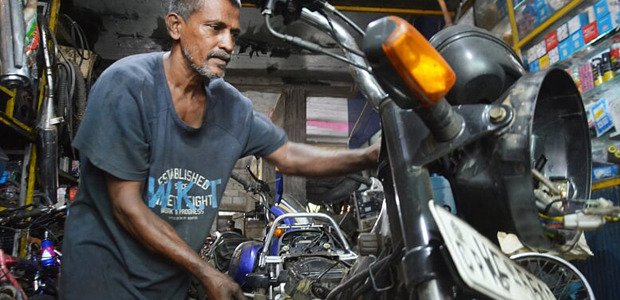 In Conversation with Mohammed Ali Razik Fareed What are Racial Divisions Next to Life and Death?
GAYAN YADDEHIGE
It's easy to be divisive when we are healthy, but in times of sickness or need all divisions in caste, religion and ethnicity become meaningless.
Mohammed Ali Razik Fareed, better known as, Razik Thambi, lives 100 meters away from the Mahaweli River in Kandy. This is the river of his childhood and he knows all its secrets. To date, he has saved about 2000 people from drowning, he only started at 10 years of age.
"Some trying to commit suicide struggle for life in their last moments. It is not easy to fight with the river and save a dying man," Razik said. "Although I am a Muslim by birth, the majority of my friends are Sinhalese. They started to look at us with suspicion after the Easter Sunday attacks. I have never thought of race or religion when saving a person who has fallen into the river. I am a Muslim because my parents are Muslims. The Sinhalese are also similar,"
Razik is now 50 years old and is married to a Sinhala lady named Sumithra. He fell in love with her the minute he saw her. They were married in 1995. "Love has no racial and religious barriers." He dropped out of school when he was in Grade 3 and started a career as a helper in a motorcycle garage owned by his father's cousin. He is now a skilled mechanic who has his own motorcycle garage in Peradeniya. He still knows to prioritize life over work. As soon as he hears of a potential drowning, he leaves behind the work he is doing and runs towards the river. Through experience, he knows very well that a delay of a second can take a life.
"I played in the river with my friends when we were kids and can feel when the water changes. Outsiders have no understanding of the behavior of the river and drown easily when they move a little further than they should. Sometimes heartbroken lovers leap into the river, some university students and I have saved many of them."
Razik's life is full of memories of trying to save the lives of the people. He hopes they have come up in life. Even though he has saved many a potential drowning victim, only one comes to visit him. He is at peace with it, believing they are trying to move past such a dark time in their lives.
He is now reaching his old age and would like for his son to carry on the legacy. Kids don't play in the rivers like they used. If they aren't familiar with how the water moves, he wonders who is going to be there when he isn't.

Local Suicide Helplines
Sumithrayo – 011 269 6666
The Ohana Project – theohanaprojectsl@gmail.com
CCCline – 1333 (24 hours)
NIMH toll free hotline – 1926 (24 hours)
Shanthi Maargam – 071 763 9898
This article was originally published on the catamaran.com
The views and opinions expressed in this publication are those of the authors. They do not purport to reflect the opinions or views of the Sri Lanka Press Institute.