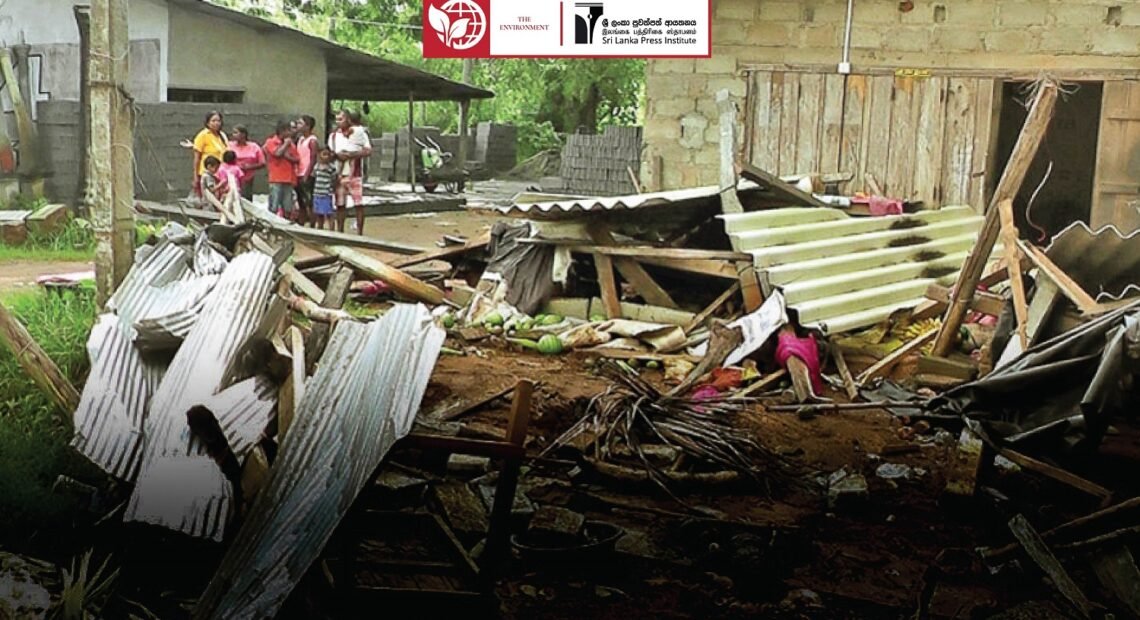 BIO FENCES: The Best Strategy for the Human-Elephant Conflict
R.Surenthiran
Kanapathippillai Santhiru from 40th Vattai Village in Manmunai South-West Batticaloa says he spent about four months on the watchtower built on treetops to protect his crops. People of this village who cultivate two crops annually are struggling to protect their crops from elephants. They chase away the elephants that come in the nights by making bonfires, lighting large crackers, and making a lot of noise. However, at times the elephants have retaliated and have killed people.
Similarly, in mid-April this year, wild elephants were seen roaming in Mahiyangana town causing big excitement and received a lot of media coverage. Village farmers in Mahiyangana undergo great difficulties because of the elephants.
Santhamali from Mahiyangana says he is from Orupadiyawa and they are unable to sell the paddy they harvested due to the Coronavirus and find it difficult to protect it from elephants. On nights when the elephants come, they set fire to dried coconut leaf stalks and shout to chase them. They do not use torchlights because there is an elephant that comes straight in the direction of the light.
In Sri Lanka, people are unable to live peacefully because of elephants. The experience is the same for those in Batticaloa as well as in Mahiyangana. Recent information says that more incidents of elephant attacks were reported from the Anuradhapura and Polonnaruwa Districts as well.
In March, this year (2021) there was also news about elephants entering Maniyankulam, a village in Skanthapuram, Kilinochchi and devastating hundreds of coconut palms.
People use various strategies to chase the marauding elephants. Some of them are high-voltage electric fences, trap guns and shooting, hakka-patas which are explosives mixed with food to go off inside their mouth, and various other methods that harm the elephants.
In December last year (2020), an elephant died due to electrocuting in Kalmadu ( Kilinochchi). A farmer was arrested and released on Rupees Two Lakhs personal bail for erecting an illegal electric fence. Under these circumstances, in the media these people were seen working together with the Wildlife Officers to rescue an injured elephant fallen into a pit.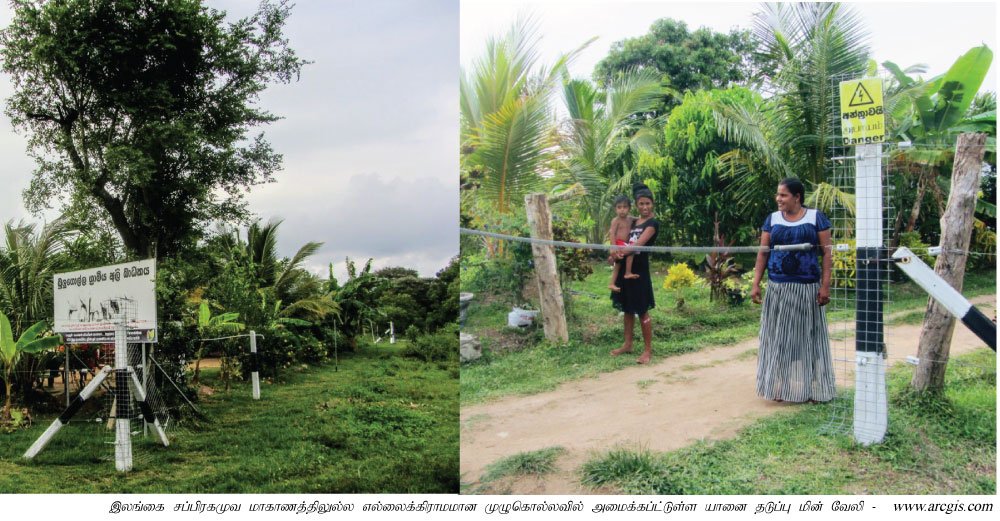 Data shows that Sri Lankans are in continuous conflict with elephants and this has intensified now. There seems to be a racial inclination in this issue as well. Before the war, there were no elephants in the Kilinochchi area. News went around in social media that under a planned scheme elephants are brought into the Tamil areas and released there. However, now this has become a common problem without any race or religious difference.
Why did the conflict between elephants and humans start?
Lifestyles of elephants are different from the other wild animals. They neither live within a limited area nor build habitats. They keep migrating according to seasonal changes and need a very big area for living.
The elephants travel to various places dependent on climatic changes, looking for food and water during droughts. They have a mental route map for migration and spend a few months of a year in a certain place and then another during the next few months, fulfilling their food and reproduction needs. When they return on the same path and find it blocked by highways and houses with people, it becomes the cause of the conflict. In the same way, the extent of land for their use has not increased proportionately to their population growth.
From the beginning of this year until this day, (May 2021) 44 people and more than 100 elephants were killed due to the conflict. These incidents were mostly from Anuradhapura, Polonnaruwa, and the Eastern Province.
Environmental Activist Hemantha Vathanage said: "Destroying the jungle and colonizing people there is the cause of the problem. Some politicians are involved in these colonizations. Most of the incidents where innocent people are attacked and killed by wild animals take place in residential areas neighboring the jungles. From 1980, illegal settlements and chena cultivation have taken place in 60,000 to 80,000 hectares of jungle land in the Moragala District. Electric fences are erected there to protect people and crops from the elephants. With the elephant corridors for their herds to migrate between Gal Oya, Yala, Kumana, Uda Walawa and Lunugamvehera National Wildlife Sanctuaries blocked by this, the elephants try to go along different routes, enter the villages and attack people" (Sunday Times 2nd May 2021).
Somaratne Vithanapathirana, Secretary at the Ministry for wildlife and Forest Conservation mentioned that from the beginning of the year until this day 117 elephants died and one man was the cause of 107 of these deaths. According to 2019 statistics, 405 elephants were killed in Sri Lanka, putting the island as the key global perpetrator of elephant killings globally. At the same time, Sri Lanka was also listed second for elephants killing humans that year. He said the Ministry is taking various steps to protect people from the elephants and due to the Covid 19 lockdown these activities have slowed down.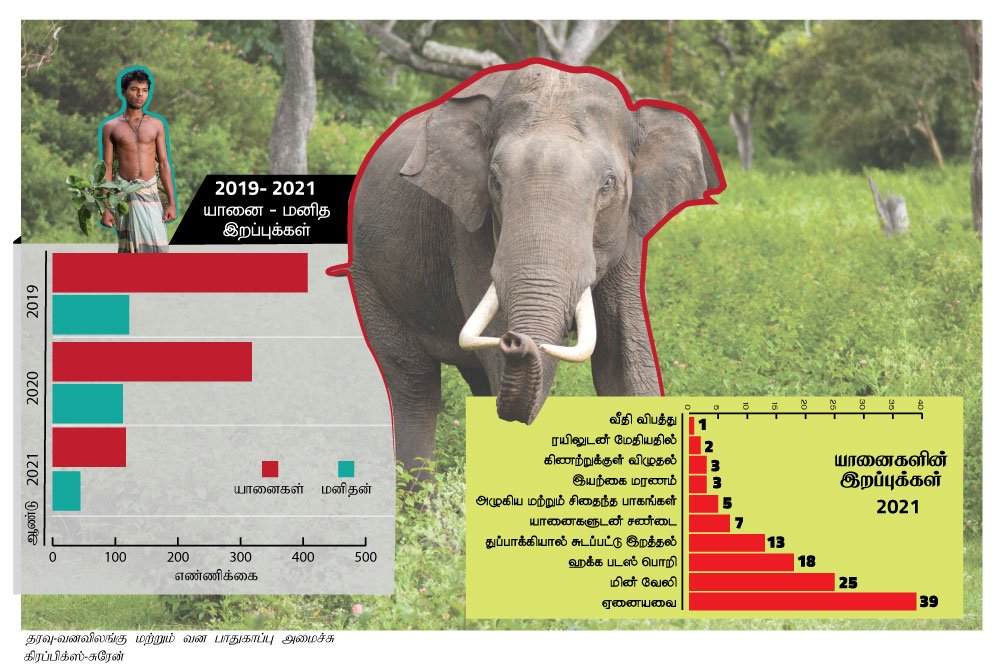 Proposed Schemes to Protect Humans and Elephants.
Erecting permanent electric fences (about 1500km) taking into consideration the migration routes of elephants.
Increase the number of Wildlife Department Officers. Employ them following a training to redirect wild elephants that come towards villages.
Shift human settlements to neighbouring national jungles which are safe places.
At the boundaries of human settlements, grow thorny bushes and start beekeeping and honey production. (It is notable the elephants are afraid of thorny bushes and honey bees)
Of the above four proposals, electric fences are recommended as permanent and immediately effective proposals which people in these areas also prefer.
Santhamali of Mahiyangana says that in the villages, while they find it difficult to pay even for the household consumption of electricity, it is out of the question for them to erect electric fences from their electricity connections. Some people erect electric fences with solar power.
Kanapathipillai Santhiru says that some elephants are so intelligent, they go straight to the post, push it down and easily cross the wires.
In Sri Lanka it is difficult to increase the natural landscape suitable for elephants and proportionate to their rate of reproduction. At the same time, the lifestyle of the people who depend on cultivation for their livelihood, must move in search of new lands for chena cultivation. In this condition, various methods have to be considered to settle this issue.
In a study made in 2019, it was found that the Wildlife Department's effort to remove elephants from areas close to human habitats and relocate them in specified jungles was not successful. The study mentioned three important things:
Movement of elephants is found in 59.9% of the area in Sri Lanka.
People live in more or less 70% of the area where elephant movement is found.
Most of the elephants live outside the protected areas.
The elephants are a problem for everyone, be it Sinhalese, Tamil or Muslim who are engaged in farming. In addition, elephants are an endangered species and also need to be protected. As the use of land for development and cultivation keeps increasing, the conflict between elephants and humans also increases.Some information says that the University of Colombo, using modern technology, has developed an instrument that has voice absorbable sensors that detect the noise made by approaching elephants as far as a kilometer away and sends an SMS to villagers' mobile phones.
The best method spoken about is the planting of Palmyra. Environmental Activist, Amritha Ayen, also known as A.M. Riyadh Ahmed, a Senior Lecturer in Biology and Zoology in the Applied Science Faculty of South Eastern University said on Facebook: "Palmyra is a bio fence. Though we erect electric fences, dig trenches, grow thorny bushes, have dogs to watch the boundaries, and honey bees, they are not very effective. Erecting Palmyra bio fences may be complicated but the benefits are high. Hence, this may be chosen. This is a cheap, animal-friendly, and sustainable method. Palmyra does not need much water and germinates easily. Its seeds may be planted in a zigzag manner in four rows with 5 feet distance between trees and 8 feet between rows. This way the fence will be strong".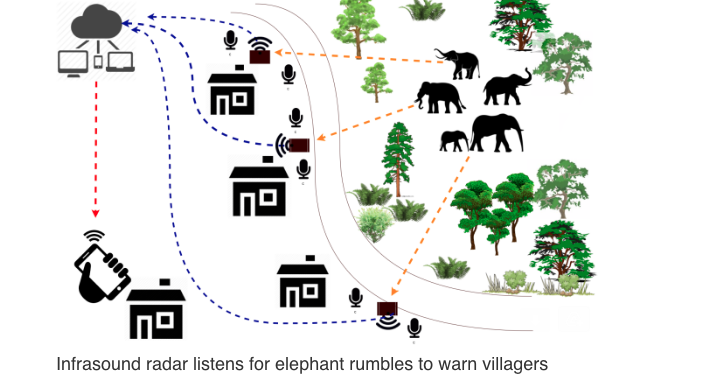 Though this is a long-term program,  it is safe for people as well as the elephants. Within 4 to 5 years, it will grow up to 6 feet. Ten years from planting and it begins to yield. Even though many people discussed this subject in the past, with the support of Non-Government Organizations, Palmyra initiatives were launched in Batticaloa and Vavuniya Districts. People should continue to do this. This method will be beneficial only when people take some interest in it.
யானை Vs மனிதன் உயிர் வேலி சிறந்த உபாயம்!
සිංහල,මුස්ලිම් දෙමල ජනයාට සාමය අහිමි කළ වන අලි ප්‍රහාර
The views and opinions expressed in this publication are those of the authors. They do not purport to reflect the opinions or views of the Sri Lanka Press Institute.