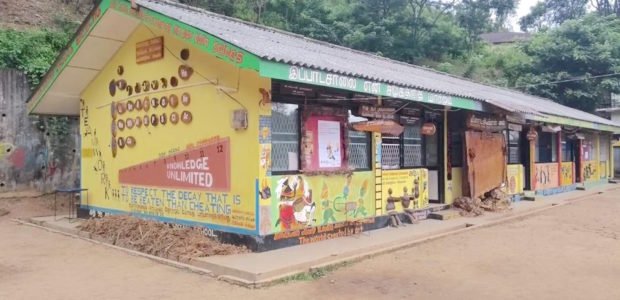 A Story from Kandaloya "I wasn't interested in education. Today, I'm in university!"
TUSANTHAN VAYIRAMUTHTHU
"I was not interested in education but the arts made me a university student," says Moses Prabhath, an old student of the Kandaloya Tamil Maha Vidyalaya.
Kandaloya is a village situated on the Kandy border of the Kegalle district. The village is located on a hill at a distance of about 25 km away from the town that had no transport or medical facilities. Because of this, many residents of the village moved to the nearby town of Nawalapitiya. Since a large number people from Kandaloya settled there, Nawalapitiya is now called Little Kandaloya.
While many people live in this village, the voice of Moses Prabhat (25) sounded loudest. When Moses Prabhat joined his first year in 2002 at the Kandaloya Tamil Maha Vidyalaya situated in a small building that was used for cardamom on the hill top.
"I learned from 1st grade to 4th grade in a dilapidated building at the tea estate. I was 8 years old when I joined grade 1. At that time, only Grades 1 to 7 were offerered at the Kandaloya Tamil Maha Vidyalaya. After grade 7 children didn't study further and many went on to work in plantations. Some went to Colombo to work in shops or kiosks. Some stayed back and studied in the same class for 2-3 years without passing out" says Prabath who is now an undergraduate at the Eastern University. He is the first student from Kandaloya to enter a university for higher education.
In those days the estate workers usually lived in a row of small rooms called 'line houses' in tea estates. Only the Tea Factory and the stores meant for stocking spices were stable structures. The school was conducted in a small area of the standard building. Later in 1980, the Sri Lankan government took over the school, making it an official state school. But still, there was no separate building for the school.
"When I joined the school in 2002, the principal was responsible for everything. Most of us did not have any interest in education. The principal placed us in the arts. We were inspired by the art of singing and drama. That was why I wanted to go to school. He made us read small story books and gradually increased our reading habits. In 2003, teachers were assigned to this school. After that, we engaged in arts more and more. We played folk songs and organized street dramas. It was a good learning process. We compiled folk songs and dramas to raise awareness among the villagers. The plays were very entertaining. The time allocated for school education was limited. Yet learning art was healthy for us. It is only through such art that we learnt a lot. Our principal and teachers took great pain to teach us in a novel way, which I will never forget," says Moses Prabhath.
At a time when education for the children of the plantation workers was merely a formality, the services rendered by the teachers who applied new approaches were commendable. They endured much, without expecting any comforts or luxuries.
"Students came from the line-houses. But, teachers came from elsewhere. They came to school with great difficulty. They had to take tea-transporting lorries or private vans to arrive due to lack of transport in the area. Getting to school would be a whole day travel for them. Often parents provided food for the teachers." It was only after 2004 that the school had its own building. Gradually more buildings and classrooms were established and teachers assigned.
Of the 35 schools in Kithulgala division, only five are Tamil-language schools. The Kandaloya Tamil Vidyalaya is one of them. For the first time in 2013, students from Kandaloya School sat for their GCE O/L examinations and 7 students got through, including Moses Prabhath.
"Due non-availability of A/Level classes, we had to go to Etiyantotta. Six out of the 7 students who went to the A/Ls have been selected for higher education and now studying at he Universities", he says with pride. But these students have not forgotten their school. Whenever they are on vacation from university, they spend time helping the school.
"We educate our children today. We have created a system within us to educate. Night classes were started. On weekends, the children stayed at the school. Some parents did not like this but the students are insisting that they will stay back and study. They love to study. They take part in many development activities too. Students now excel in their studies and other extracurricular activities. The school walls are full of creative work and educational slogans. Parents who opposed their children's activities earlier, now encourage them."
"The school has secured first place in the Kithulgala Divisional Level in the GCE Ordinary Level Examination 2017," Prabath continues. He also thanks the donors without whom this could not have been achieved.
"The bulk of a planter's salary is hardly enough for three daily meals. Education is just a dream for them. However, the 'Helping Friends' organization abroad has been a great help to our educational activities. They cover our education expenses".
Family poverty is one of the main reasons for the lack of interest in education in the estate sector. They think that they have to work at a young age to earn and offset the poverty of their family. That is why many drop-out from school and show less interest in studying", Prabath regrets.
This article was originally published on the catamaran.com
The views and opinions expressed in this publication are those of the authors. They do not purport to reflect the opinions or views of the Sri Lanka Press Institute.