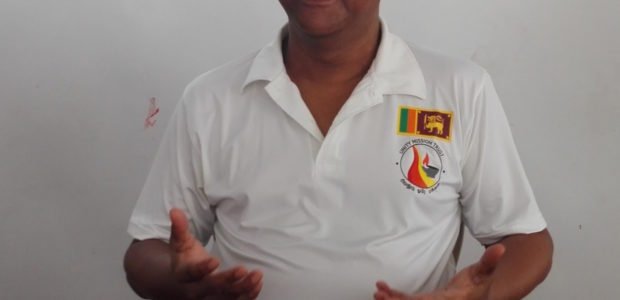 Bygones are Bygones Today is in our hands to make tomorrow possible
A.M.FAIS
We work hard to build self-confidence, social cohesion and leadership traits among students to enable them to understand one another.
Knowledge and friendship are developed using social media. It binds us together and can be considered an asset, said Bertal Pinto Jayawardena, Project Coordinator of Unity Mission Trust. Here is his interview with The Catamaran:

THE CATAMARAN: Unity Trust Mission extends its support to people who were affected by war. How did you initiate the mission?
From the final stages of war, we were at the forefront to provide food and educational assistance to war affected children in the IDP camps. Our services continued in the aftermath of resettlement and we provided basic needs such as drinking water facilities to some poor villages.
Since the health condition was not satisfactory, we arranged some medical camps to improve health conditions of needy people. There was only one medical doctor for 25,000 people in Urkavatthurai. Therefore, we called about 40 Doctors to start medical camps in different settlements in those areas. Thereafter, we held medical Camps in Vidathalthivu in Mannar.

THE CATAMARAN: How do you get funding and staffing to respond to the people so immediately?
I was employed in a bank, and my wife was an art teacher. Our networks really helped us in creating a wide web of partnerships and to acquire enough human resources for the work we do. Further, many military personnel on-ground also came forward to respond to those who were in need, supporting us immensely and taking our work forward. Retired Army Chief of Staff, Major General Lohan Gunawardena was the Chairperson of our organization.

THE CATAMARAN: Was it a challenge when helping the community with the support of the military in a context where the people perceive the military as responsible for their plight?
We approached the military for support to provide transport, food and housing. The fundamental reason is that there was nobody other than the military in the Tamil areas. We also urged the forces to remain unarmed when working with people. They accepted the request and extended their support.

THE CATAMARAN: What did your organization implement to empower war-affected youth?
There was a need to provide psychosocial support, trust building and counselling services rather than giving any material support. Therefore, we invited Civil Society Organizations and their representatives to engage with us in a stakeholder consultation. Some asked, "You are very keen in protecting children so why don't you initiate a project for the children?" This question inspired me greatly. We decided to do something for the children. Based on this, we turned our focus on adolescents. We focused on those in Advanced Level and Ordinary level classes. Because they will become the next leaders of our society. Therefore, we brought about 500 children from North to Colombo, and another 150 children joined them. These 650 children came together to participate in a 4-day residential programme. Some had never been to Colombo and were excited to see massive buildings, vehicles and shopping complexes. This helped them change their perceptions about the country.
Yesterday was very harsh and tough for us, but we cannot change the day once it is gone. Tomorrow is to come now, but today is in our hands. Let us do something now. Let's strive to make tomorrow possible. This is the vision behind our work. Our services are now extended to University level too. We always remind students to think of their long term vision. All children should be treated and respected equally with dignity. No matter where they are from, they are the sons and daughters of Mother Sri Lanka. They are the legacy of our country.

THE CATAMARAN:  How successful have you been in addressing Sri Lankan values?
The victory of Sri Lanka depends on how strongly we are united. Our pluralistic society reflects Sri Lanka richly. Society cannot be enriched by money and property, it is about our acceptance of a pluralistic society. This is what we aim to cultivate in each child's mind. Therefore, reconciliation needs to be done by reuniting the societies. This is the reason for us to engage in connecting the villages. Our children help the children in poor and marginalized communities by providing them with small assistances, generated from small contributions from their own societies. We executed a successful social care project last year which addressed rural development and reconciliation spheres.
Children from the North to work in South, and the children from the South to work in North is the cornerstone for all these actions. We enhanced this by connecting them through a bridge of friendship. They carry on as friends after that.
The four-day residential youth camp provided them with an opportunity to enhance their understanding and knowledge on self-confidence, social harmony, leadership and helping each other. Social media helps them to exchange their ideas. This binds them together and becomes an asset to Sri Lanka. You can also become our stakeholder and join in our journey. We will try our level best to build Sri Lanka. We trust that a single person can make a big change in a society by spreading the message to the others. We firmly believe this.
This article was originally published on the catamaran.com
The views and opinions expressed in this publication are those of the authors. They do not purport to reflect the opinions or views of the Sri Lanka Press Institute.