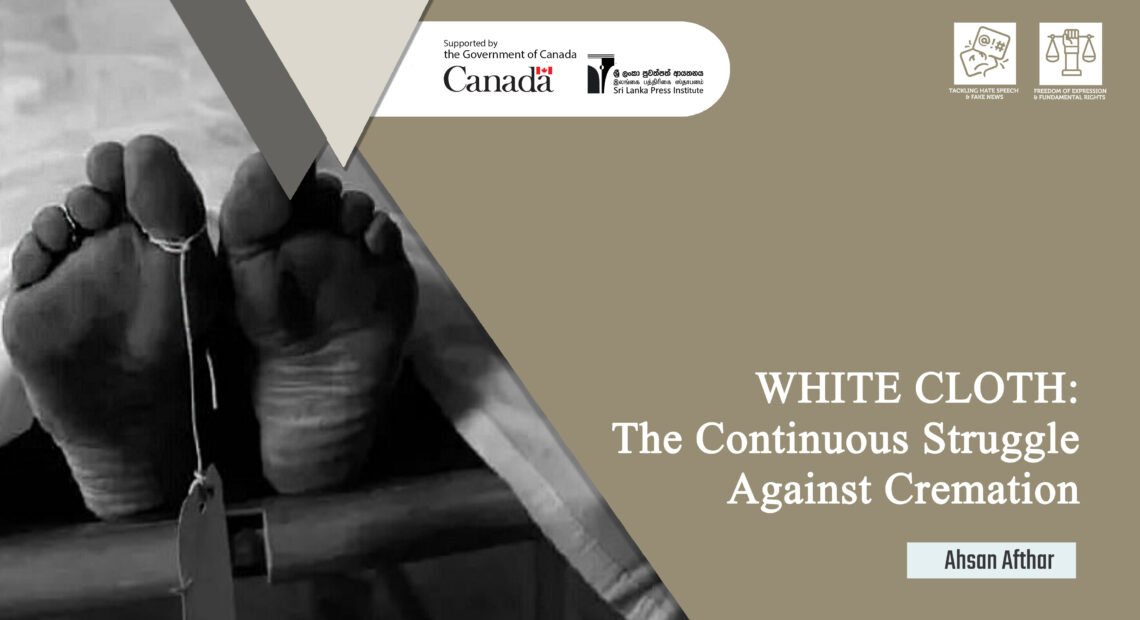 WHITE CLOTH: The Continuous Struggle Against Cremation
Ahsan Afthar
The only thing we can do for a person after their death is to conduct the last rites in a manner the deceased's culture requires. This fundamental right has become an exemption in Sri Lanka. Not only is there a refusal to bury, but the irony is also refusing the right to demonstrate against it.
The demonstration against the cremation of dead bodies started at Borella by peacefully tying pieces of white cloth on the fence of the cemetery. Urged by a former Member of Parliament, Ali Zahir Moulana, this protest was kick-started and welcomed by the people.
The pieces of white cloth (Kaban cloth) tied at Borella cemetery, were removed by government officials. Not only Muslims in the country, but Christians, Sinhalese and Tamils were also displeased with this human rights violation. This has also become a heated subject on Twitter with trending hashtags such as #Stop Forced Cremation and #End Cremation.
Following the removal of the white cloth, people started expressing their opposition by fastening pieces of white cloth at the entrance to their homes, shops and various other places around the country. The white flags erected in Addalaichenai were removed by the Akkaraipattru Police. Likewise, the peaceful struggle against the cremation of bodies was prohibited in many parts of the country.
The World Health Organisation (WHO) said it was safe to bury COVID-19 infected dead bodies. Further, the WHO, in its report said that importance should be given to perform the last rites of the dead according to the wishes of the community. Further, microbiologists and scientists in many countries have said that no harm will be caused by burying dead Corona victims.
Under these circumstances, Professor Medika Vithanage of Jayawardhanapura University said, when burying dead bodies there is a risk of the virus contaminating the groundwater through the burial pits. Further, he accepted that no study was done to confirm this. Because Prof. Vithanage did not submit any evidence to prove that the virus spreads through groundwater, the public posted their suspicions of this being a racially motivated action on their social media platforms.
A study about the presence of the virus in water sources, its sustainability and density stated that the possibility of Covid 19 virus spreading from the human body into groundwater has still not been confirmed. Other than for China and Sri Lanka, all the other countries have permitted burial for those who died of the Coronavirus. While Sri Lanka is said to be a democratic country, people are fighting against the refusal of this basic right. But, people are cheated again and again.
The views and opinions expressed in this publication are those of the authors. They do not purport to reflect the opinions or views of the Sri Lanka Press Institute.