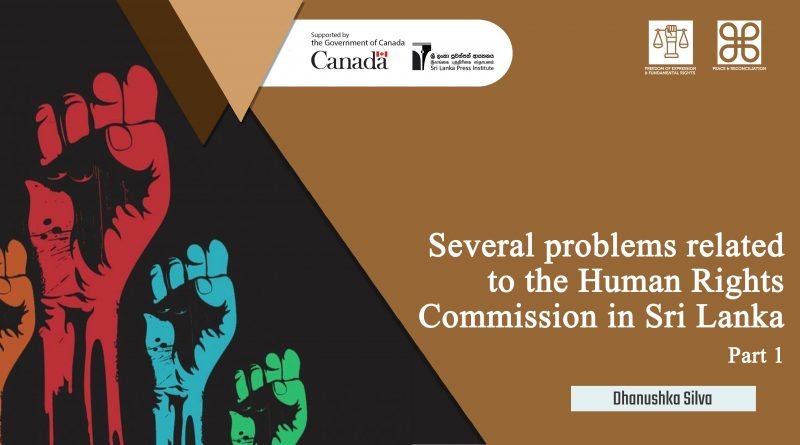 Several problems related to the Human Rights Commission in Sri Lanka – Part 1
Dhanushka Silva
Human Rights Commission in Sri Lanka was established in 1997. The legal framework of the commission is explained in number 21, the Human Rights Commission Act. According to the act, the basic duty of the commission is to enhance the condition of Sri Lankan human rights following international standards. It also pioneers and guides various discussions related to human rights in Sri Lanka.
Human Rights Commission in Sri Lanka was subjected to appreciations as well as criticisms throughout 3 decades in various situations. Especially during the latter part of the thirty years of civil war, the commission was internationally criticized for not protecting human rights in a macro scale. The selection criterion for the commission was made autonomous by the 18th amendment of the constitution in 2010. The committee of parliament which was established by the 18th amendment decided to hand over the power of selection criterion to the president. As a result that, the commission was degraded to grade 4 in the international human rights grading system. Therefore, 19th amendment of the constitution was established instead of the parliament committee system. The process of appointing the commissioners became independent under the 19th amendment. The privileges allocated for the president were cancelled. The constitutional committee received immense constitutional power to recommend the names of commissioners. Human Rights Commission of Sri Lanka was able to reach grade A of the international human rights grading system in 2017 due to the amendments that took place in the constitution. Its credit should be awarded to the 19th amendment, the pioneers of it, all the politicians who supported the amendment, Professor Deepika Udugampola and other commissioners.
When the 20th amendment was introduced, the 19th amendment had been cancelled and the situation became similar to the time during the 18th amendment. Especially, the parliament committee system has been introduced instead of the government constitution system. The privilege of deciding the selection criterion has been once again transferred to the president instead of the democratic system which was prevailing. It is a critical condition that affects the autocratic nature of the Human Rights Commission of Sri Lanka. It is a practical constitutional problem towards the commission and the selection process.
President Gotabhaya Rajapaksha has sent the name recommendations of 5 new commissioners in the Human Rights Commission to the parliament committee after the 20th amendment. Dr: Jagath Balasooriya as the president, Vijitha Nanayakkara, Professor Chandana Udawatta, Harsha Nawarathna and Kumari Balalla are among his recommendations. The parliament committee does not have the constitutional power to change any of these recommendations. Therefore, it is problematic whether these actions lead the way to protect the impartiality which had been continuing in the commission and its act.
The views and opinions expressed in this publication are those of the authors. They do not purport to reflect the opinions or views of the Sri Lanka Press Institute.