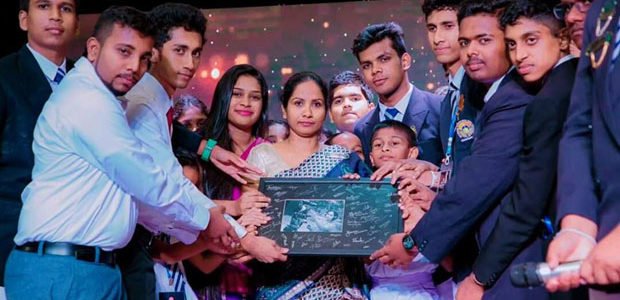 Saying 'NO' to Separatism Saying 'YES' to Harmony
SARATH MANULAWICKRAMA
The story of a Muslim student excelling under the guidance Sinhala teachers in this Anuradhapura town
Riaz is the younger son of Razeed Nawshad and Fareena. Nawshad is a small businessman in Kada Thiha, Anuradhapura. They sent their daughter to a Tamil school but decided to send their son to a Sinhala school, as the family already spoke Sinhala well. Riaz, the son was a talented artist even during his preschool days. He was admitted to Sinhala medium D.S. Senanayaka Model Primary School and was at the forefront of art, music, dance, sports and extracurricular activities at school. He was also a passionate nature lover.

After grade 5, the students of D.S. Senanayaka Model Primary School are taken to Walisinghe Harishchandra College in Anuradhapura. Riaz entered grade 6 there in 2012. He studied Sinhala, Tamil, English, English Literature, Buddhism, Communication and Media Studies and IT for his Ordinary Level examinations with the ambition of becoming a graphic designer in future. From Ms. Inoka, who taught Communication and Media Studies at the school, he learnt compering, dubbing, short film production, video editing, sound engineering and photography.

Riaz loved photography the most and learnt the basics from workshops conducted in school. Inoka's students often submitted their work for photography competitions. Riaz won awards for his photos in the Media Day Competitions organized by Isipathana College, Colombo in 2017, the photography competition organized by St. Anne's College, Kurunegala in 2018 and the other Inter-school competitions. He has also placed at national level. Many students in Anuradhapura knew of his talent as a photographer. Now he nears his Advanced Level exams in the Arts stream, preparing to sit for the Sinhala, IT and Communication and Media Studies papers.

"My teachers and fellow students help me a lot. No one hinders my path. My mother tongue and religion was not a barrier. I want to urge everyone in society to live like us so that anyone is able to follow their dreams. Ms. Inoka, the teacher-in-charge of our Media Unit, is like a second mother to me" Riyaz says. The Media Unit of the school has about 50 dedicated members. Inoka organizes annual inter-school media competition together with other Sinhala schools in the area. She directs students to participate in media workshops and competitions. At the colours ceremony, the media unit won a large number of awards because of this enthusiastic engagement.

"Our Media Unit alone achieved over 30 awards at the school colours ceremony named as Abhiniharana. We are a unit that works in all three languages. Some Sinhala language comperes announce in Tamil eloquently. Some Muslim students compere in Sinhala fluently. Riaz is special because he is one of the students who can speak all three languages. He engages in all our work and brought pride to our school through his photography skills,"Ms. Inoka said.

The principal of Walishinghe Harishchandra College, D. Ranasinghe expressed the following views: "We have about 5,000 students here. Thirty-six are Muslim. We provide equal opportunities for all to develop and showcase their skills. We have a policy of no discrimination based on language and religion. You can see Tamil-speaking children have gone on to develop tri-lingual skills."

Riaz lives in his grandfather's to for the ease of his artistic work, near Koombichchankulama Weva reservoir in the new town of Anuradhapura. The nearby park awakens his creativity. Riaz's grandfather, Mr. Ismail is a mason who has built even Buddhist temples. Highlighting that his grandchildren need a new world, Ismail said, "Our time is over. Children must learn new things and they must be facilitated to learn. Society must not be separated by language or religion. We must focus on living together."
This article was originally published on the catamaran.com
The views and opinions expressed in this publication are those of the authors. They do not purport to reflect the opinions or views of the Sri Lanka Press Institute.