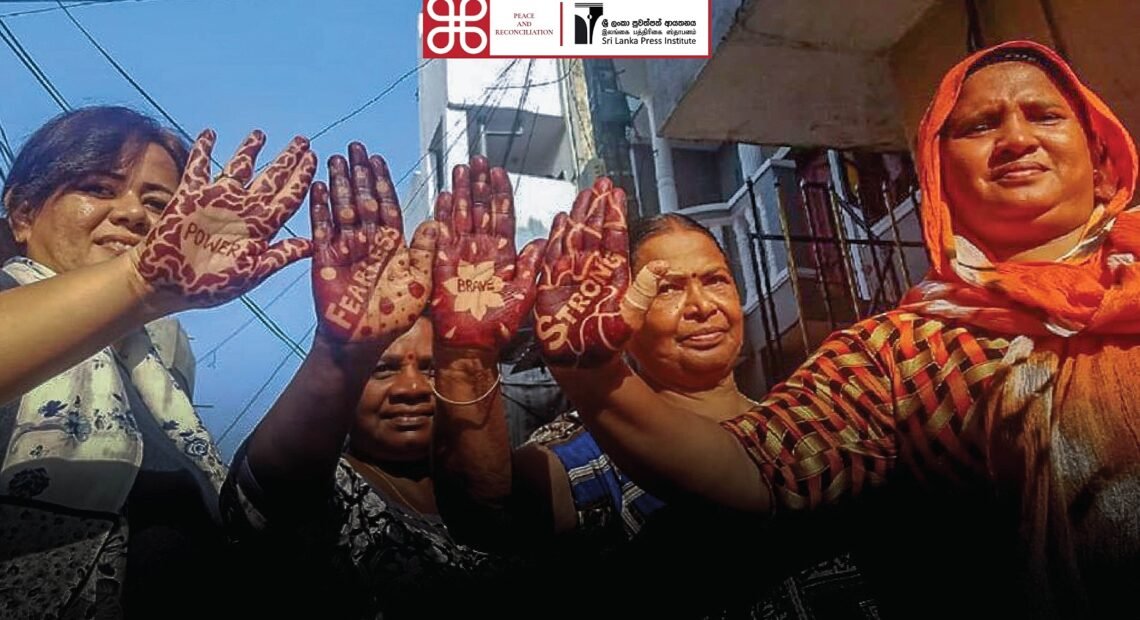 Jamia, Seetha, Amma, Fazlina, Wicky: Living without Racial & Religious Differences
Ahsan Aftar
Jamia sells rice flour, and grated coconut.  Seetha runs a café. Fazlina is a hairdresser and Wicky Sajahan is a Marathondi artist. All four posed for photos with reddish Marathodi patterns on their palms to mark International Women's Day. They each belong to different races and religions, but all of them have aims.
Jamia runs her business from home while looking after her children. She and her husband dream about their own house. Her husband went abroad to      work with that purpose in mind. Jamia wants to help him. Some days, she has orders for about 30-40 kilos of wheat flour and works hard to grind the grains.
Seetha has a café near Jamia's house. She and her Amma are widows who want to stand up on their own. Their eatery is now seven years old. The unique feature of the shop is that they sell food of all cultures. People of all communities can find their favourite delicacies there.
Their friend Fazlina graduated from a university in the Netherlands in hairdressing. She is popular in the area because of her hairdressing and beauty culture skills, especially her ability to suit her designs to persons of any culture. Therefore, some tourists in Colombo also come to her for hairdressing.
All of them live and work in the Slave Island area of Colombo city. The township got its name because African slaves were detained here during the colonial period. With the arrival of the Malays , the area became popular as a food centre. There are  even star-class hotels in the area today. These women use their various skills like food processing and beauty culture to make a living.
They like to celebrate together, and recently they celebrated International Women's Day.
The secret of Seetha's café having food of all cultures is that she procures food from the women in the neighbourhood. A Sinhala woman supplies her with Mani Pittu while a Tamil woman brings Laddu. A Muslim woman prepares doughnuts. Seetha and Jamia run the business jointly.      
Fazlina had two beauty shops before she went to the Netherlands. One, in Dematagoda, was very trendy and named Najva Salon.     
Her friend Wicky is a transgender person who is skilled in Marathodi art. These days her focus is on painting graffiti on walls. They got together on International Women's Day and painted their palms with Marathodi patterns to show that they are strong women.
"Women are not weak," Wicky said with confidence. "They are in business not only to earn money but also for their identity. That mentality has no racial or religious difference. All women have ambitions. When they unite, the country too will unite."
Slave Island is a hub of people of all communities. Many like-minded women live together in harmony;      not because someone asked them to be so, but because they choose to live this way. However, COVID-19 affected these communities as well. Their businesses are down, but they are still hopeful and look for new avenues to build their economy.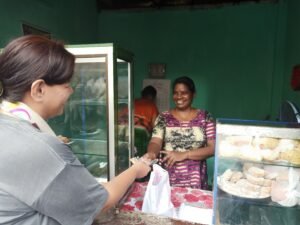 The views and opinions expressed in this publication are those of the authors. They do not purport to reflect the opinions or views of the Sri Lanka Press Institute.