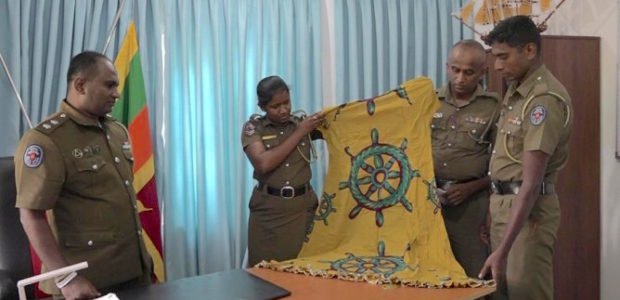 DRESSED FOR ARREST Unjust Police Detentions After Easter Sunday
M.B. MHOMED
Thousands were arrested across Sri Lanka following Easter Sunday's bombings. One detainee, Ms. Mazahima, a 47 year old from Hasalaka, Mahiyanganaya was not arrested on suspicion of being a terrorist, but simply on the basis on her clothes. She was charged with wearing a garment which a purported a Dharma Chakra, a Buddhist religious symbol. She was detained for 17 days and then released on personal bail of Rs. 100,000.
The Catamaran spoke with Mazahima about her arrest.

The Catamaran: What happened on that day? How did you get arrested?
"On the 12th day of the holy month of Ramadan. I was fasting. My husband had deposited money into my bank account for expenses which I went into town to withdraw and purchase household items before returning home. About 10 minutes later, a traffic police officer came looking for me. 'Are you the one who was walking with the Dharma Chakra dress on Main Street?' he asked. I was still wearing the dress. 'Dharma Chakra? What's that?' I asked. He indicated the symbol on my dress at which point I told him I had been wearing it on and off for over a year. The officer went on to state that he had received complaints that a woman in town was walking about wearing a Dharma Chakra and that he had come to investigate. He called the police station and told his superiors that it didn't like a Dharma Chakra, but he photographed me with the dress before leaving.
20 minutes later, a police jeep arrived and other police officers came into the house. They said I was knowingly wearing a Dharma Chakra and asked me to change and get into the jeep. Initially, they said that they would release me after taking a statement but I was locked up. At about 1 a.m. my husband came to the Hazalaka police station from Colombo to see me.

The Catamaran: Where is your husband? What is he doing?
My husband works as a Mason in Colombo. I also make a small income by sewing garments at home. We have a daughter who is married. My husband and I live in a small room in the shop built in the same land, giving the house to our daughter.

The Catamaran: From where did you buy that particular dress?
I worked as a domestic servant overseas for 10 years and the fabric for the dress was gifted to me by the household I worked for. I stitched a frock with it and have been wearing it for over a year now.

The Catamaran: What happened later at the police station?
They questioned me and took down a statement in Sinhala, which I don't understand but they asked me to sign it without knowing what had been written. The officer in charge warned me severely and said I was knowingly wearing the symbol and that he would 'fix me tight' so that I wouldn't get away easily. I was told to put on the dress again at the police station which I wore over the dress I was already wearing. They also told me to remove my shawl and they photographed me. All the pictures were then shared on Facebook while I was still in police custody. It was shocking. A day later, I was produced before the Mahiyanganaya Magistrate's Court at 9 am.
The judge first ordered me to be kept in detention for 10 days. However, I was not granted bail and was kept in custody for another week before the hearing. I was severely depressed. I was questioned by several officers who made me feel like a criminal. I was also fasting at this time and a bloody pressure patient, but they didn't take any of this into account. I was not even able to take my pressure medication and this made me very tired.

The Catamaran: Were there female police officers with you during and after your arrest?
No female police officers came to the house. No female police officers were present when I was taken to the court from the police station. There were two male police officers seated on both sides of me. I was taken from the Mahiyanganaya court to the Badulla prison with two male officers. A female police officer boarded only when bus neared the Badulla prison.

The Catamaran: Did you get any legal aid?
We have no previous experience with police or access to lawyers. My husband brought in a lawyer paying Rs 2000. Yet, I was not released on that day. After new of my arrest went viral however, several Muslim lawyers from Colombo contacted my husband and offered their services. Mr. Mohammed Zarook and his wife, Nusra Sarook, both Attorneys-at-Law from Colombo took on my case. They came to Mahiyanganaya from Colombo and appeared for me pro bono.
They argued that the dress did not contain Dharma Chakra but the rudder of a ship. Police sought permission to send the dress to the Buddhist Commission and the Standards Institute for verification. Permission was granted by the Magistrate. I was ordered to be kept in custody for a further 14 days until this report is received. My lawyers argued in court and reduced it to 7 days.
The Buddha Sasana Commission's report stated that there were various opinions on the form of Dharma Chakra. We pointed out that prosecution is unable to establish that it was in fact a Dharma Chakra. We protested against the transfer of the case to the Attorney General. Subsequently, I was released on personal bail of 100,000 rupees. The case is scheduled to be taken up again on November 4. Meanwhile, we have filed a fundamental rights violation case in the Colombo High Court. I am hopeful that I will get compensation for the unjust detention.
This article was originally published on the catamaran.com
The views and opinions expressed in this publication are those of the authors. They do not purport to reflect the opinions or views of the Sri Lanka Press Institute.