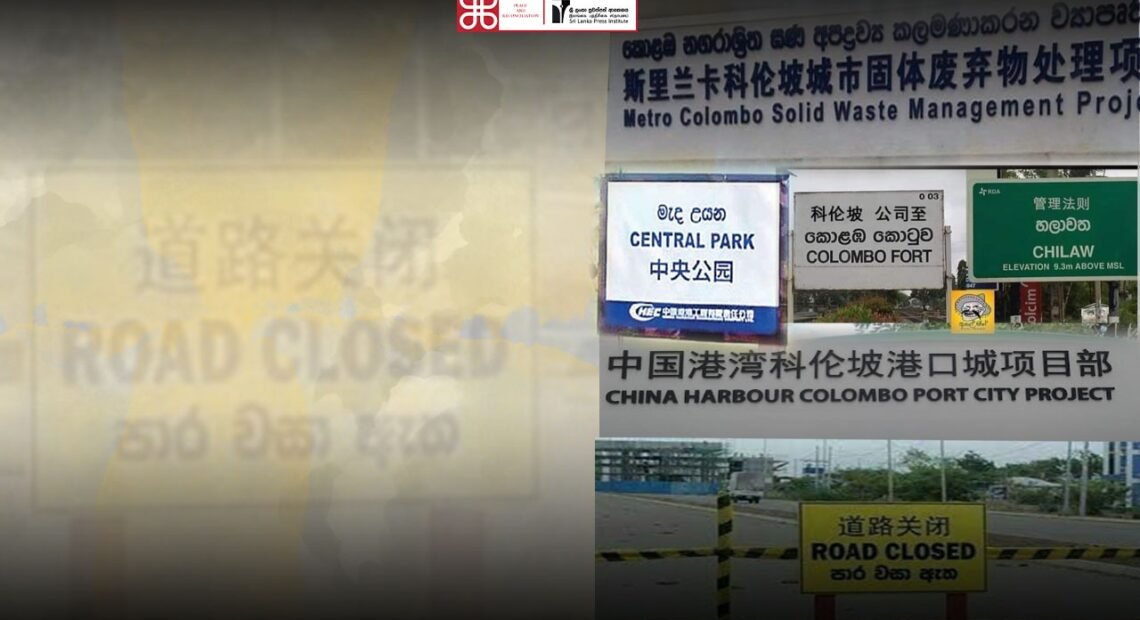 Chinese and Tamil language confusion and the new crisis
C.J. Amarathunga
Several incidents of replacing the Tamil language with Chinese in the name boards of some projects funded by China were reported recently.
One such incident was reported from the Colombo Port City project. The name board in its central garden area was in English, Sinhala, and Chinese. The Tamil language was not there, even though it is one of Sri Lanka's official languages spoken mainly by Tamil and Muslim people.
Following the protest against it, the Chinese company said that the nameplate was only for its employees. Some people then questioned whether no Tamils are recruited or ​​would be recruited for the project. It was also suggested that the answer was more harmful than the offense committed.
Within days, another incident made this situation even more serious. This time it came from the Attorney General's Department, one of the country's leading law enforcement institutions. When one of its Chinese-funded projects was launched, it appeared that its main name board was set up in English, Sinhala, and Chinese only. It is also a problem that no responsible person saw that before the launch. However, the name board was immediately removed.
Meanwhile, many other such incidents were also reported. One is a Chinese-funded Solid Waste Management Project in the Western Province.
Some may think this is an expression of China's invasive intentions. Some others who think otherwise may think these are mere coincidences.
However, such mistakes cannot be and should not be underestimated in a society like ours, where language is politics. It was a hotly debated topic in our political history, and it even led to bloodshed.
Here, most of the focus was on the use of the Chinese language. However, the actual problem is the neglect of the Tamil language. It is likely to give rise to ethnic tensions that have now subsided to some extent.
A few days ago, MP M.A. Sumanthiran complained that they, as Members of Parliament, receive all documents only in Sinhala. That is how the language policy of the country was revealed to be ineffective in a supreme body of government. These are issues that can easily be corrected. Such incidents should not be allowed to happen elsewhere.
The emergence of language as a political issue seems to have taken place with colonial rule. Education, especially in the British era, was developed to promote religion along with their language. One of the benefits of their education was that it was open to the general public, which had been restricted to kings, aristocrats, and religious elites. Nevertheless, it was propaganda of their colonial mindset.
The local people established their own educational institutions as the first revolt against that colonial education. Ananda College, Colombo was established as a result of that.
It is also important to remember that Sinhalese, Tamils ​​, and Muslims were initially together when founding the school. Later, they split into Hindu College and Zahira College. It is also important to note that all of this was done to provide English language education to the local community's children in a local religious and cultural environment.
Local communities also wanted to develop their languages ​​as a measure to counter this English dominance. That, too, was a political need. Academics like Kumaratunga Munidasa played that political role.
These facts show that questions of language are questions of politics, and especially questions of political supremacy.
After the independence of Sri Lanka, the question that arose was how to replace the British dominance expressed through the English language. There, it was generally accepted that both Sinhala and Tamil should be the official languages until about 1954. However, it was replaced by political opportunism to make Sinhala the only official language. The damage caused by it needs to be discussed separately.
However, Mr. S.W.R.D. Bandaranaike, who was aware of the offence, tried to rectify it to some extent through the Tamil Language Special Provisions Act, but he was not allowed to do so. The Tamils ​​continue to say that the Tamil-speaking people now have to face the same situation that all Sinhalese, Tamils, and Muslims faced under British rule. All communities in Sri Lanka were unable to access government services back when they were conducted in English, a language they did not know. When Sinhala became the only official language, the situation of the Tamil people did not change. Then, the government worked in English, which they did not understand. Now, the government works in Sinhala, and they do not understand that language too.
Recognition of Tamil as an official language came only after many conflicts. Although not fully functional, it is at least legally recognized. What needs to happen now is not to reverse it but to move forward with it.
At present, our children are learning the second language in schools. Sinhala children learn Tamil while Tamil children learn Sinhala. It is an excellent development, but the problem still we see is the lack of teachers to teach the language.
However, the problems are not solved. It is often revealed that there is still a great distance between these two communities. Most of what is happening in the Sinhala South is also reported in Sinhala. They are not even published in Tamil media. Therefore, the Tamil people do not have enough knowledge about the events in the South and their society. Likewise, Sinhalese do not know much about life in the North. These two communities still live in two different worlds. That is the reality.
So what needs to be done now is to preserve and develop the achievements we have won so far. It should be done very carefully because even small mistakes can lead to misunderstandings.
That is why the preservation of our national language preserves the country and the unity of the community.
சீன மற்றும் தமிழ் மொழி குழப்பமும் புதிய நெருக்கடியும்
නව අර්බුධයකට මග තනන චීන,දෙමළ භාෂා පෙරළිය
The views and opinions expressed in this publication are those of the authors. They do not purport to reflect the opinions or views of the Sri Lanka Press Institute.