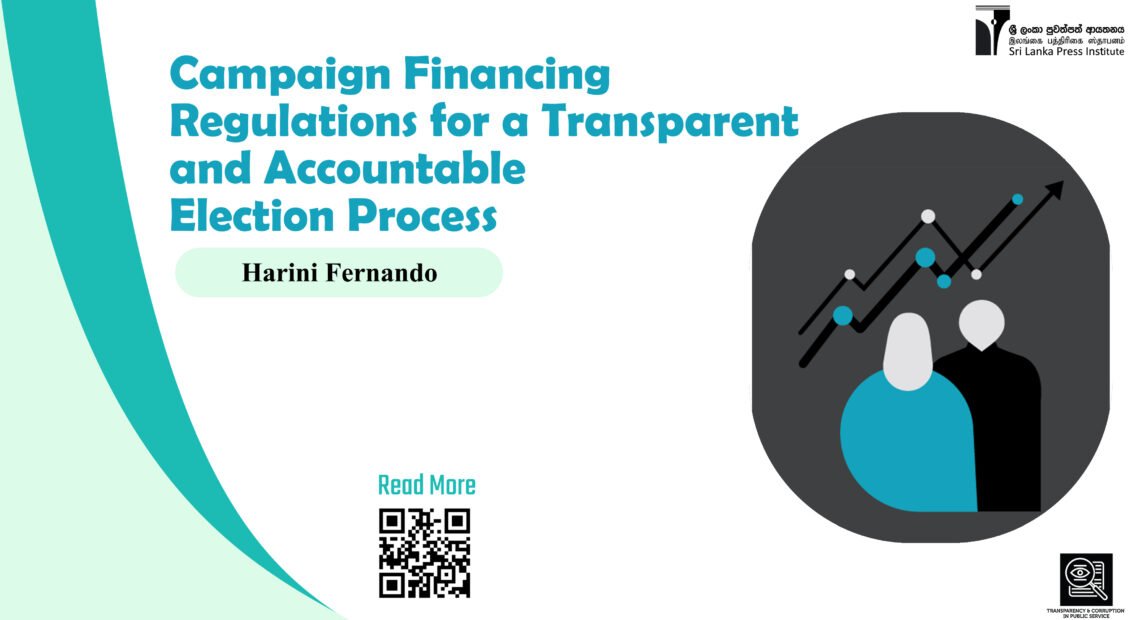 Campaign Financing Regulations for a Transparent and Accountable Election Process
Harini Fernando
Anywhere in the world, the time period of an election is when much discussion takes place around topics like electoral system reforms, campaign financing and other important topics that would otherwise not be discussed with the same level of enthusiasm. This year, for the first time in Sri Lankan history we conducted an election during a time when the whole world was affected by a pandemic. Regardless of the safety measures that were required to be followed due to the COVID-19 pandemic, we saw that many candidates going back to their usual ways of campaigning. However, the pertinent question that one must ask is how these candidates get massive amounts of money to campaign for themselves during elections?. The general election held on 5th August calls for more public attention to regulations and reforms related to election campaign financing.
What Comprises Campaign Financing?
According to the Office for Democratic Institutions and Human Rights of the Organization for Security and Co-operation in Europe (OSCE), campaign finance can be defined as "all contributions and expenses, monetary and in-kind, made to and incurred by political parties and candidates for electoral purposes. Such activities could include, for example, renting temporary offices and hiring staff, paying for campaign-related communications and transport, holding electoral rallies, conducting door-to-door campaigning, production of campaign materials and campaign advertising in mass media."
Why do we need Regulations on Campaign Financing?
Simply to ensure fair political competition, create an even playing field, and curb the influence of money over politics and policies. Having adequate funding to reach out to people and connect with them is essential for any candidate. But there needs to be regulations that ensure all candidates have a fair environment to contest elections.
Moreover, having information on how the candidates acquire money for campaigning will allow voters to make an informed decision on who they should vote for. Especially if a contestant spends millions of money to enter politics where their monthly salary is less than one hundred thousand rupees (and even with all allowances included will not exceed Rs. 150,000), it makes one wonder why they put in so much effort and fight for a seat in parliament. Is it really because they want to serve the citizens of the country or do they have ulterior motives when entering parliament?
This is why we need campaign finance laws and regulations in place. The current situation reflects that the candidates who spend massive amounts of money for their campaigns end up being elected to parliament. Even with the unprecedented COVID-19 situation, certain candidates were able to splurge money on electronic and social media platforms which were instrumental in electing them to the parliament this year.
Although there is a proposed bill on regulating campaign finance with the intention of setting a ceiling for political parties, with fines applicable to those who violate regulations, there has been no progressive response from the Government to implement these regulations. Therefore, the lack of any regulations to monitor campaign financing keeps the Election Commission from taking any proactive measures to address this issue.
For years now, we have seen the same set of faces in parliament mostly from the two main parties between whom the governing power oscillates, and most of them have not contributed substantially to the development of the country. If we are to introduce more intelligent and committed members to parliament, it is mandatory that we remove these inequalities in campaign financing in order to create an even playing field. This in turn will help curb corrupt political campaigning which is essential to maintain a transparent and accountable institutional mechanism in the political sphere of Sri Lanka.
The views and opinions expressed in this publication are those of the authors. They do not purport to reflect the opinions or views of the Sri Lanka Press Institute.