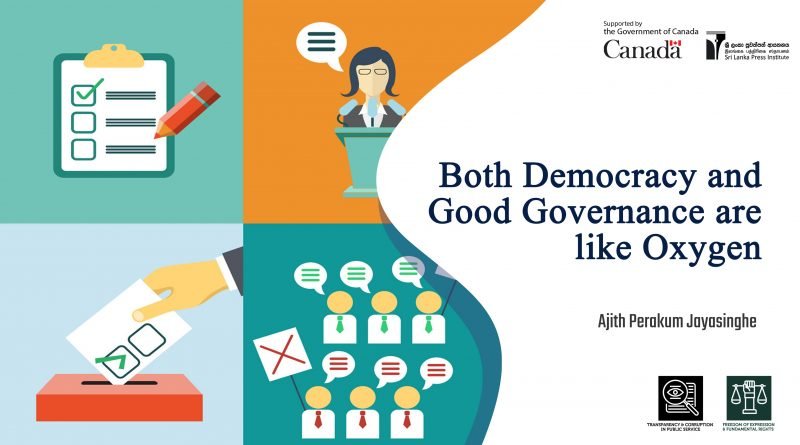 Both Democracy and Good Governance are like Oxygen
Ajith Perakum Jayasinghe
Democracy, good governance and modernity cannot be imported or exported to or from a country.
-Emil Lahood (Former president in Lebanon)
In present, there are many discussions over governance and good governance. Some politicians and media authorities use the word "good governance" to introduce the Sri Lankan government that prevailed from 2015 to 2019. Some use it sarcastically. That sarcasm is obviously not related to the language. The people who disrespect the government hate the concept too.
State governance is an ancient concept. According to that concept, the ruler decides whether to make/ not make decisions and whether to/not expedite them. Rulers can be international, national, or divisional. Furthermore, state governance means not only the government. According to the situation in Sri Lanka the president, the cabinet, the parliament, provincial councils, local authorities, armies, priests,  representatives of the United Nations, non-government organizations, media, companies as well as some of the racketeers and criminals are also more or less related state governance.
There is a clear difference between general state governance and good governance. As per the linguistic meaning, 'good governance' means quality state governance.
United Nations Economic and Social Commission for Asia and the Pacific has identified 8 qualities of good governance.
Participation
The participation of both men and women is important in making decisions and implementing policies. Furthermore, the active representation of civilians is also needed. When making decisions the opinions of the vulnerable groups in the society should be considered. Decisions should be made depending on information.
Rule of Law
There should be an impartial legal framework. Human rights should be respected. It is essential to concentrate on minority communities. An impartial judiciary system and corruption-free police system are two essential features of it.
Transparency
Making decisions and expediting them should be done according to the system of law. Information should be accessible to the public and should be understandable. It is beneficial to the public.
Responsiveness
Institutions and processes should serve all stakeholders in a reasonable period of time.
Consensus Oriented
Historical, cultural, and social aspects of different communities should be considered in making decisions. It should happen considering their desires and sustainable development in the country with consensus.
Equity and Inclusiveness
All the communities in the society should feel that they contribute to state governance. No one in society including the vulnerable groups should be ignored.
Effectiveness and Efficiency
Processes and institutions should be able to produce results that meet the needs of their community. Resources of the community should be used effectively for the maximum output.
Accountability
Government institutions, private sectors, and civil society organizations should be held accountable to the public and institutional stakeholders. Decision-making should happen according to legal framework.
When considering the above mentioned points it is clear that good governance is not a strange concept. It has been at least mentioned in Sri Lankan election policy statements in recent past. However, there had been opinions against good governance throughout the history of state governance. Even so, none of the rulers has claimed that they go against the concept of good governance.
It is good to know some of the opinions against good governance. They are listed below.
One individual or few close people being important in decision making.
Resentment of the power given to the parliament, provincial councils, and local authorities.
Reluctance towards the impartiality of the judiciary system, government service, and police.
Ignoring the female representation, desires of minority communities, and cultural differences
Ignoring minor sex communities and vulnerable citizens such as the disabled.
Indigestion of civil society activities related to policies.
Insensitivity towards the problems of citizen who are victimized by policy decisions.
Reluctance to inform the citizens regarding the information of state governance.
Non response towards the needs and inquiries of the citizens.
Authoritativeness and corruption.
Protecting the culprits.
Reluctance towards auditing, accountability, and answering.
Many more points can be added to the above list but our focus here is to convey a basic idea about good governance.
The meaning of the word 'good governance' has been distorted in present. The word good governance is used to introduce state governance prevailed in Sri Lankan in recent past. A sarcastic meaning to the word has been created because of it.
In 'Salalihini Sandeshaya' there is a verse called 'Sisiwana uwana inga sunga gatha haka mitina'. Here 'sunga' means a small amount but in present the word 'hunga' is used which is derived from the word 'sunga' to give a completely different meaning which is 'a lot'. It can be identified that the same linguistic change has happened to the word good governance too.
Rather than the linguistic problem of the word 'good governance', its concept and the problem related to political science is important. Thus we should work to solve it.
Even though there are different social concepts towards 'good governance' in Sinhalese, it is an accepted accurate theory in international state governance. It is said that Sri Lanka should follow good governance when connecting with international communities, trade, receiving donations and many more activities.
Both democracy and good governance are like oxygen. We feel the value of it once it is lost. By then it might be too late.
The views and opinions expressed in this publication are those of the authors. They do not purport to reflect the opinions or views of the Sri Lanka Press Institute.