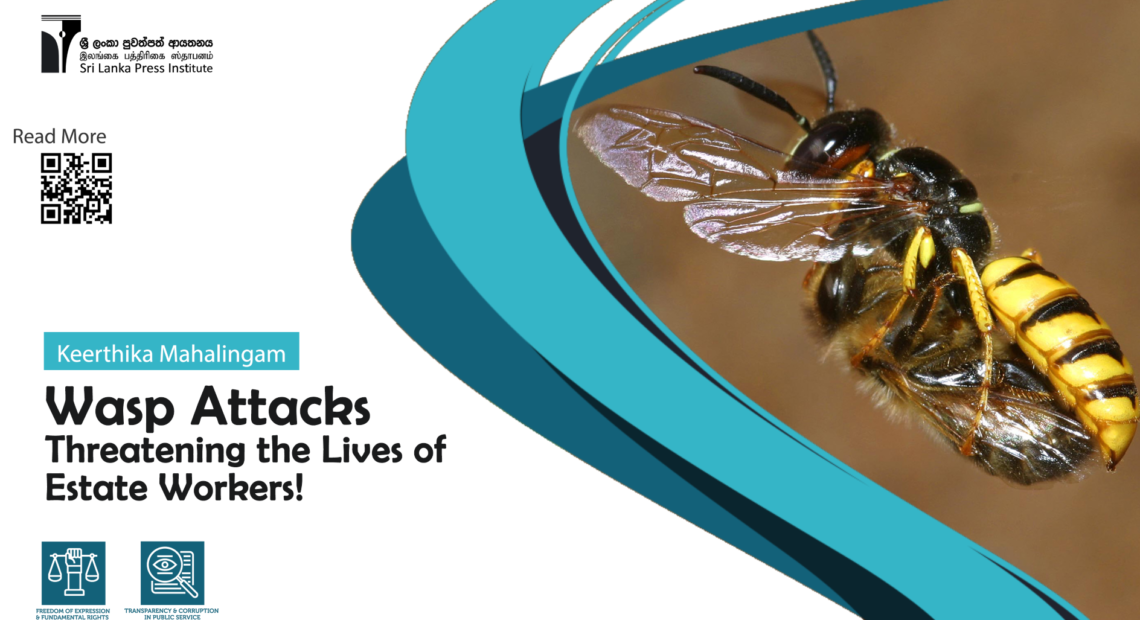 Wasp Attacks: Threatening the Lives of Estate Workers!
Written By – Keerthika Mahalingam
"One woman was killed and eight others were injured after a wasp attack in the Hatton Dick Oya area."
"Ten women plucking tea were hospitalized after being attacked by wasps."
"Dozens of people have been hospitalized in Hatton and Maskeliya due to two wasp attacks."
Wasp attacks are a huge challenge to people living in estate areas. These attacks are often heard about and seen in the news. However, it is unfortunate that the issue of wasp attacks on estate workers has not been given as much attention like in the case of the human-elephant conflict. Therefore, another significant challenge are the wasp attacks on the estate community, in the midst of various inconveniences such as the lack of infrastructure, violation of fundamental rights to employment, lack of adequate labour and lack of proper educational background to create various employment opportunities.
Risk to life
Wasp attack is a long-term threat to the estates. But this year has seen an increase in wasp attacking incidents. When observing the media records on wasp attacks, this year alone at least four people have been killed and over a hundred have been injured. On 25th May this year 'Newsfirst' reported the death of a mother of four in the Hatton Dick Oya area due to a wasp attack. The controversial incident heightened the fears of those in the estate community.
"We went to hospital and got vaccinated two weeks ago because of the wasps' attacks. We didn't have any preventive measures in place", said Shakuntala who works at the Suriyakanthi Tea Estate.
Are there facilities for treatment?
"People who are attacked by wasps while working in tea estates are rushed to hospital by estate managers and they are being treated quickly. But when a person is attacked by a wasp at home or elsewhere, it takes time to bring them to the hospital. A wasp attack often kills an individual if the impact is strong enough. However, as the situation in the estate areas continues to be monitored, it is possible to see how hospitals in the area are preparing in advance to treat such cases", stated Dr Arumugam Jeyarajan, Public Health Officer of the Vindula Divisional Secretariat. But only a very limited number of people follow security measures in such cases. For instance, if a worker realizes that a beehive has been disturbed, they immediately cover their bodies with polythene to protect themselves from wasp attacks. Although there are various opinions as to whether this is an accepted method of protection against wasp attacks, Dr Arumugam Jeyarajan notes that this method is widely used by many people to temporarily protect themselves against wasps. It can be seen that some people who were attacked by wasps go into a state of shock and their bodies are further weakened due to various allergies, high blood pressure or asthma. Overcoming physical difficulties in this way, they face various problematic situations mentally as well. Health professionals have been educating the public on the need to bring a person to the hospital as soon as possible instead of trying traditional remedies after being attacked by a wasp. However, Dr Arumugam Jeyarajan says that no action is being taken by the government to provide a longterm solution to these problems
What is prevention?
"Under the Compensation Ordinance Law and the collective agreement which discusses the wages of estate workers, it is stipulated that estates must be kept clean, the estate workers' lives must be ensured, and compensation must be paid in accordance with the legal processes regarding accidents than happen to estate workers while on duty", emphasized Attorney-at-law Mr I. Thambiah in an interview with 'Newsfirst.
The Government's Responsibility
Jeevan Thondaman, the General Secretary of the Sri Lanka Workers' Congress and Mr M. Chandrasena, Minister of Environment and Wildlife said that they have met and discussed the safe removal of beehives, identifying estate areas where a hive can be seen, and selected five youths and prepared them for emergency operations.
"We realized that the removal of beehives could threaten the livelihoods of wildlife and that we need the assistance of the Ministry of Wildlife Conservation. The Ministry, local estate administration and trade unions are currently working to remove these beehives in estate areas that directly threaten the safety of our employees. We hope that all these coordinations will give us the approval and support we need to implement an effective program. We look forward to your support in resolving this issue, which will greatly assist estate workers in dispelling suspicion and fear of death and ensuring safety in their workplaces. We look forward to hearing a response from you soon", said a letter sent by Mr Jeevan Thondaman to the Ministry of Environment and Wildlife states.
When tea estate workers are attacked by wasps, they will be taken away for immediate treatment by the estate managers and paid their salaries with leave in accordance with the medical report issued for the duration of the treatment, but no preventive measures are in place for the affected public. The families of victims will not receive any compensation other than the financial assistance provided by the Estate's Associations of which the victims are members to perform the funeral rites.
Environmentalists point out that deforestation, global warming and poor management of forest resources are among the major causes of wildlife and wasp attacks. Lack of a wasp controlling unit in the estate administration, lack of island-wide health facilities in the estate areas, lack of easy access to hospitals, lack of health facilities or organization to continuously monitor the physical health of those affected by the wasp attack. A quick look is essential.
Focusing on the lives of the estate people, families depend on the income of both the mother and the father who work in the estates who are engaged in their daily work amidst various problems and challenges. Their hard work is priceless and has traditionally been essential in preserving the identity of the country to the world market. We all have a responsibility to ensure the safety of such individuals and to provide a lasting solution to their problems.
The views and opinions expressed in this publication are those of the authors. They do not purport to reflect the opinions or views of the Sri Lanka Press Institute.