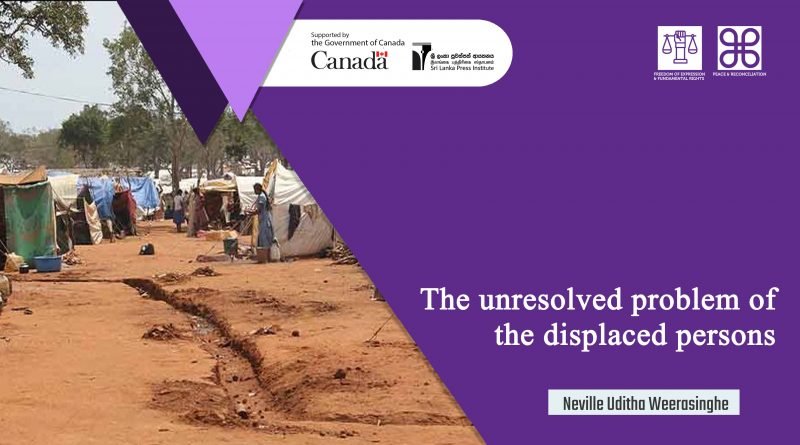 The unresolved problem of the displaced persons
Neville Uditha Weerasinghe
Three persons, including MP Rishad Badurdeen, were re-remanded on 10th November 2020 until November 13th. Colombo Fort Magistrate Priyantha Liyanage said when the case was summoned again, the request for the suspect's release on bail would be reconsidered at the next hearing. – Ada Derana
The charge against former Minister Badurdeen was that he transported the displaced persons using Sri Lanka Transport Board buses from Puttalam to Mannar. He was arrested on19th October 2020 at Dehiwala by Criminal Investigation Department (CID).
The aim of this article is not the cause of action. The writer wishes to focus the attention on the Internally Displaced Persons (IDPs) who were thus transported from Puttalam to Mannar.
In October 1990, Liberation Tigers of Tamil Ealam (LTTE) chased away about 75,000 Muslims from their homelands in the Northern Province. Political analyst D.B.S. Jeyaraj named that month as Black October because of this incident. The rebels gave only 48 hours for some Muslims to withdraw. The removal started from Chavakachcher on October 15 and spread to Mannar, Mullaithivu, Kilinochchi, Jaffna and Vavuniya by October 30. Some families were allowed to take only Rs. 500 and a few clothes. They had to leave behind all their property. Many people who had no means to travel walked for two or three days to arrive in the Southern Sri Lanka towns.
According to the 1981 census, the Mannar district population comprised 26% Muslims. Forty-six per cent of the area of the district is connected to Thaladi coastal route. Erukkalampitti was the wealthiest Muslim village in the area. On 21 October, 300 LTTE members surrounded Erukkalampitti and robbed 800-850 houses. They took away cash, jewellery and valuable electronic equipment (D.B.S. Jeyaraj, 2015).
University Teachers of Human Rights (UTHR) of Jaffna University estimated the total damage to Muslims as 110 million US dollars in a report issued in 1991. Researchers Dennis B. McGilvray and Mirak Raheem, in their book Muslim Perspectives on the Sri Lankan Conflict, outlined two explanations for 1990 anti-Muslim violence. (1) It was collective punishment for and a precautionary measure against Muslim collusion with the state. (2) It was a natural consequence of the exclusivist politics of Tamil militancy and an expression of deep-seated Tamil ethnic chauvinism.
According to this research report, another reason for the outcome is the Muslim community's rejection to drop their separate ethnic identity and accept the cause of the LTTE as a Tamil speaking community.
The IDPs from Northern Province settled temporarily in various areas in Southern Province. They lived in small groups in places like Puttlam, Panadura, Palangathurai, Poruthota, Periyamulla, Madurankuliya, Wanathavilluwa, Pulichchikulam, Sarikkamulla, Thotawaththa, Kurunegala, Kekunugolla, Akurana, Beruwala, Katugasthota, Atulugama, Anamaduwa, Negambo, Kalpitiya etc. Two decades later, a small group of them settled in their original villages after the war. The majority of the Muslim IDPs face issues related to their property rights. Expecting they would never return, the people of the other communities have taken over their property. In some instances, unscrupulous elements have sold the property that belonged to the Muslim people using forged documents. (New Frame, 2020).
Researchers A.R.M. Imitiaz and M.C.M. Iqbal noted that the Sinhala people had been settled in camps established by Sri Lanka military to consolidate their power. Muslims of Mullaithivu district who owned large tracts of agricultural land have been affected by this action. They fear that the government's policy will further alienate them.
Human rights activist Sreen Sarur points out that the government apparently has no policy or proper plan for resettling the IDPs. Their wish is to return to their traditional habitats in the north. (New Frame, 2020).
This is the story of the IDPs who were transported under the patronage of former Minister Rishad Badurdeen in November 2019 from Puttalam to Mannar to vote at the presidential. 'Stories of roots and return' report by Amalini De Sayrah and Natasha Van-hoff published by the Law and Society Trust states, "During the November 2019 presidential election, northern Muslims who travelled from Puttalam to vote in Mannar came under attack, with their buses fired at early morning on 16th November. After voting, they were attacked again that evening by Sinhala mobs; many women and children were injured, but to date, no inquiry has been held, nor even an investigation report by the Election Commission. Their buses were stopped at Chettikulam prior to the attack, and police detained them for hours. Many injured voters did not seek medical treatment, fearing reprisals. Based on this violence, the Election Commission made arrangements that allowed over 6,000 Mannar voters to cast their ballots in Puttalam at a cluster of special polling booths during the August 2020 parliamentary election. Despite this positive development, the Assistant Elections Commissioner in Mannar has since instructed the district's Grama Sevakas to only register voters who are permanently living in Mannar. When questioned by civil society activists, he asserted there could be no 'floating voters': people who live in Puttalam must register and vote in Puttalam."
The problems of the Muslim people who were displaced from the Northern Province cannot be swept under the carpet before the process of transitional justice.
References'Stories of roots and return' report by Amalini De Sayrah and Natasha Van-hoff published by the Law and Society Trust and PARL
The views and opinions expressed in this publication are those of the authors. They do not purport to reflect the opinions or views of the Sri Lanka Press Institute.