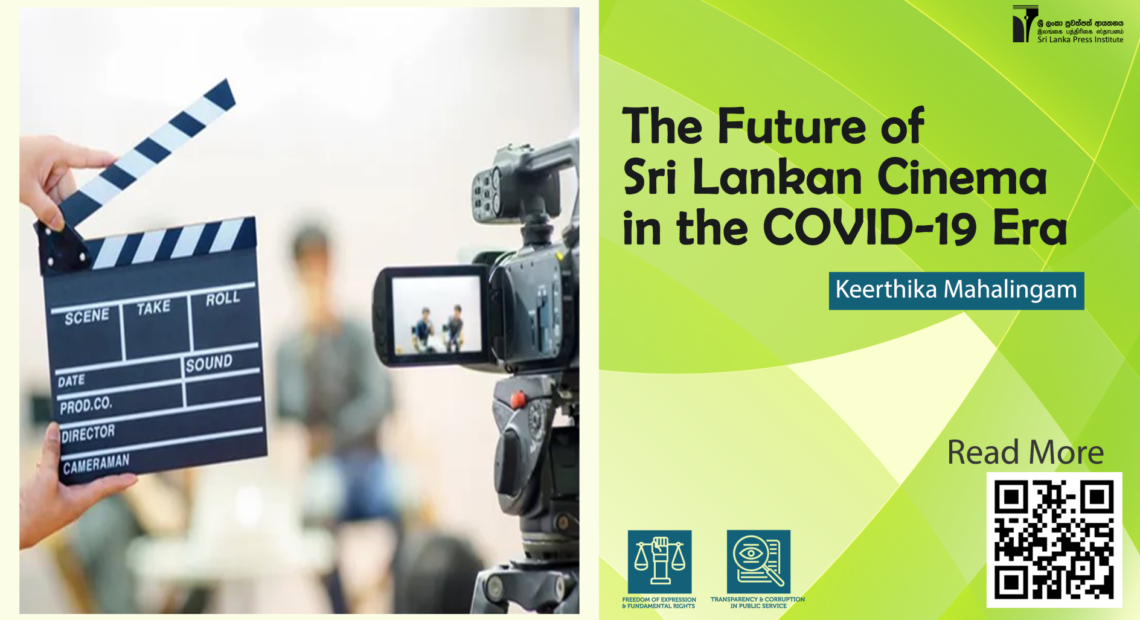 The Future of Sri Lankan Cinema in the COVID-19 Era
Keerthika Mahalingam
"Cinema is the dream that thousands of people gazing at once" – Bertolucci, Italian film director and screenwriter
If there is one medium that is more powerful than social media today, it is the cinematic medium. Even the daily lives of people in Asian countries can be seen through cinema today. Against this backdrop of the spread of the Coronavirus, cinema has gone beyond creation and transformed into a strategy of comforting. Although many people are tempted to make arguments and inquiries about world cinema and Indian cinema, it is unfortunate that Sri Lankan cinema and artists have been completely forgotten. The main purpose of this article is to seek information from those involved in the Sri Lankan film industry on the current state of Sri Lankan cinema. 
Challenges Faced by Sri Lankan Artists in the Film Industry
"As a director, I had planned to start work on several documentaries, but due to Corona, these had to be put on hold. In the meantime, I am taking all necessary steps to resume work. I am not only a director but also an actor. There were various occasions for both,but all of them were missed due to Corona", said King Ratnam.
Even before the spread of Corona, the film industry in Sri Lankan faced various challenges. Furthermore, when focusing on the history of Sri Lankan Tamil Cinema, it is clear that although only one or two Tamil language films have been produced, a permanent programme has not yet been put in place for its survival. Although the country has a booming Sinhala cinema industry, here too, it has become a dying craft. Focusing on such events around the world, it is clear that the film industry needs new approaches. However, Mr.Ratnam added that it is unfortunate that no one pays attention to the tragic fate that has befallen the film industry in this country.
"We are deeply affected by the spread of the Coronavirus due to the lack of technical facilities we need to run the film industry. Several successful programmes need to be implemented, and if the public is to live with Corona, a suitable programme must be put in place to keep the film industry alive amidst the pandemic. In addition, several films that were shot during this period have been put on hold", said film director Bhavadharini Rajasingham.
"In addition to film screenings in cinemas around the world, there is currently a tendency to screen films using OTT (Over-the-top) technology. I started screening films using the OTT platform last year due to the lack of suitable locations to screen our films. We will never be able to succeed in the film industry if we wait for the time to come when our problems will be solved. (https://ceynema.com/) Moreover, the Sri Lankan cinema audience does not have a satisfying feeling about Sri Lankan cinema. Demand for this speciality has grown significantly as a result of recent corporate scandals. So they can easily get audiences hooked by choosing the right movie scenes, introducing easy payment methods and implementing them properly. In addition, it is a huge shortcoming that Sri Lanka does not have enough movies to screen on the internet in the country," Rajasingham continued.
"The film 'Tsunami', which was screened on January 15th last year (2020), has been successfully screened in over 50 countries and is a bilingual film produced in the Southern Province. The Ministry of Education also requested that the film be shown to school children. About two weeks before the screening of the film in the North and East, all movie theatres were closed due to Corona while audiences had already booked tickets. Personally, this was a very sad event for me. 'Tsunami' is an important film in my acting career. I had a special role in that film", said actress Niranjani Shanmugaraja.
"Apart from 'Tsunami', three of my other films were scheduled to be screened, but not all of them were screened due to Corona. The influence of the Corona era in determining suitable characters for films is extremely challenging. Sri Lankan cinema is not a powerful industry. Therefore, not much has changed in Sri Lankan cinema, but as artists, we are facing various challenges", Shanmugaraja stressed further.
"In Sri Lankan society, there are only a few full-time actors. Most artists enter the acting industry with another steady source of income. Choosing acting as a full time job is questionable in Sri Lanka. Being an announcer was one of the reasons why my source of income was so stable even during Covid", she continued. 
Songwriter Asmin says the situation of songwriters is no different to that of the actors. "A film I wrote songs for in 2019 has not yet been screened. As a result, many of the people and artists who have worked tirelessly for these films are under a great deal of stress. In a situation where the film industry in Sri Lanka is not stable, songwriters cannot expect a separate sense of stability. Albums are released in various parts of Sri Lanka, but the qualifications of the composers for those albums need to be re-examined. My identity in Sri Lankan society was confirmed only because I made my mark in the Indian cinema. Sri Lankans focused on my songwriting and my other work because my songwriting attracted attention among Indians and I won competitions there", said Asmin. 
"Cinema is seen as a source of commercial income all over the world, but in Sri Lanka, cinema is seen only as a monolithic work of art. There are many people in Sri Lankan society who think that going to a cinema and watching a movie is an act against their culture. In addition, the Sri Lankan film industry does not produce films suitable for the tastes of all the people. It is wrong to make substandard films and say that there is no recognition for them and then say that Sri Lankan artists have no identity. The people of this country do not value the actors in our country as artists. But if local artists go to India and act with Indian artists, there is an atmosphere of acceptance in their minds that they are reputed artists. Most people who look at Sri Lankan cinema are passionate about producing short films and creating art. After submitting our screenplays to the Sri Lanka Film Corporation, after registering the screenplay and obtaining approval, the shooting process required to convert a screenplay into a film can be commenced. An identity for a film is formed only after it has been approved by the Film Corporation. If you shoot a film on your own without doing so, it is only a work of art. It is a big problem for people who do not understand this process to enter this field", uttered Asmin.
The Political Influence of Sri Lankan Cinema
After the 70s, the Sri Lankan Government sincerely took steps towards reviving cinema. Despite their efforts, the film media has made no contribution to the advancement of cinema unless it has been used for political purposes. Cinema is also divided into Sinhala, Tamil and Muslim. The government is also ready to try to divide the nation through cinema if possible. Observing such unfortunate actions shows that no government has acted for the betterment of Sri Lankan cinema. Film director King Ratnam says that artists are used only to launch political campaigns during the election season but no real programme has been implemented for them.
"I would like to emphasize that the political involvement of Sri Lankan cinema needs to be further developed. As the future of Sri Lankan cinema, artists, as well as technologists, are still in question. No previous government has paid attention", said filmmaker Bhavadarini Rajasingham.
"Politically or associatively, the prevention material or aid given to artists was given only to partisans or politically sympathetic artists, and there is no distinction between leading actors and actresses as supporting actors", Niranjani Shanmugarajah expressed.
"As far as I know, the government lends money to filmmakers, but most of the Tamil filmmaking community does not associate with the Film Corporation and opt to produce films at their own expense, as they are not aware of the credit facility provided by the government. Artists in Jaffna do not have such a close relationship with artists in Colombo. Also, artists in Colombo have no connection with artists in the North. Not only that, the artists do not have a proper understanding of the relief provided to them by the government. There are hardly any associations or organizations able to support artists. Moreover, there is no government intervention to address the existing problems or shortcomings in the film industry financially. The government has provided livelihood and assistance to some artists but they do not think this is a big problem and do not pay attention to it", explained Asmin.
In this manner, due to the attention of the Politburo on several issues in the film industry, it was announced on 11th January this year (2021) that the tax monetary policy which was in force on the film industry with the intervention of the Prime Minister Mahinda Rajapaksa will be removed from the two-year entertainment tax. Accordingly, films screened in cinemas islandwide will be exempt from the entertainment tax for two years 2021-2022 and the tax on film industry will be reduced by 7.5% from 2023.
Cinemas across the country have reopened on January 1st this year following a health-related policy. It has been made mandatory for all movie-goers to follow health-related practices. But all these solutions are temporary. The introduction of a separate identity and a sustainable programme for Sri Lankan cinema and the direct intervention of the government to give artists identity and proper financial aid should be further strengthened. According to the motto 'Everything written is not literature, everything screened is not cinema', filmmakers must work with the right vision in order to present high-quality works of art to film lovers.
The views and opinions expressed in this publication are those of the authors. They do not purport to reflect the opinions or views of the Sri Lanka Press Institute.