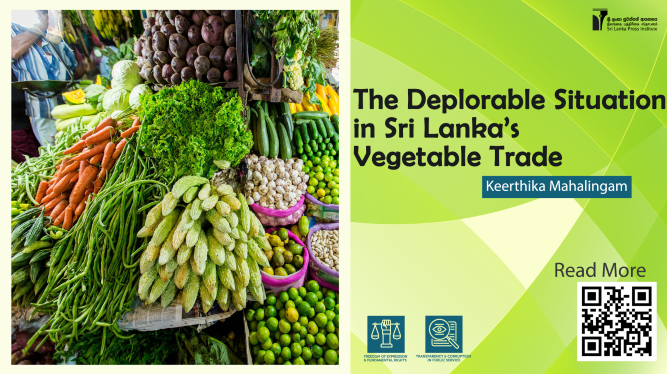 The Deplorable Situation in Sri Lanka's Vegetable Trade
Keerthika Mahalingam
"It is unfortunate that no matter how many attempts are made to bring vegetables to the market and sell them, the public is not inclined to buy them. We can't see the vegetables rot. So we offer a lower price in bulk", said Sagarika.
Sagarika runs a small vegetable business in the Wellampitiya area of ​​Colombo. Her husband transports vegetables from Dambulla to Colombo by a lorry.
"In the first wave of the Corona, people pawned their gold jewellery and spent the money they had left in the bank to buy the food they needed, but with the effects of the second wave, people did not have enough money to buy the food they wanted. I also sell vegetables to consumers at a lower price because the vegetables we buy become overripe before they are sold. People with more money tend to buy vegetables from supermarkets. As before, people do not gather at the weekly market on weekends. Even so, people do not like to go to crowded places to buy vegetables. Many people who buy vegetables from people like me buy vegetables on debts or just on a daily basis. Vegetables are a must for everyone. Our only livelihood is selling vegetables", said Sagarika In this way, we can identify how various problems have continuously arisen in the sale of vegetables in different parts of the country.
Identification of Corona infected clusters in the market
A market is a public place where many people gather around to buy goods. That is why markets are getting a lot of public attention. Three markets can be identified which play a major role in the overall vegetable trade scenario in our country.
Colombo Manning Market
Dambulla Wholesale Market
Welisara Economic Center
Apart from this, there are various markets specific to each region of Sri Lanka, but the vegetables sold in and around Colombo are taken through these markets. With the identification of Corona infected people in all the three markets, the markets were closed for a limited time. It was a common problem affecting the overall vegetable trade of the country. Apart from this, Corona infections were detected in markets such as Maruthanarmadam General Market, Akkaraipattu Market and Kandy Central Market. That is why people are nervous and refuse to go to markets to buy vegetables.
The Manning Market Situation
The Colombo Manning Market was relocated to Peliyagoda on November 20, 2020, with the aim of strengthening the vegetable trade in the country during the pandemic. Attending the re-opening ceremony of the market, the Prime Minister said that this market will have 1192 stores, 600 vehicle parking spaces, rest areas for workers, health facilities, banking facilities, restaurants, refrigerated storage facilities and hotels. Meanwhile, workers at the new shopping complex in Peliyagoda staged a protest at Galle Face on December 7, 2020, claiming that there is not enough space at the market. The Director-General of the Urban Development Authority, Prasad Ranaweera, has stated that he intends to provide suitable business premises for traders at the Peliyagoda Manning Market under a selected fair system.
However, traders also staged a protest on December 10, 2020, in Colombo Fort demanding that the relevant trade and business premises be provided separately to traders. Moreover, traders are worried about not getting the right business places for themselves.
Vegetable prices
"Dambulla Economic Center announces a 50% increase in vegetable prices due to heavy rains in the country", NewsFirst reported on December 16, 2020. In addition, there is a sharp decline in the prices set daily by the Central Bank of Sri Lanka.
As a result, traders were embarrassed by the inability to set a specific price for selling vegetables.
Competition between businesses and supermarkets through the use of the Internet
Many vendors who have not yet ventured into using the internet are heavily affected by the Coronavirus this time around. As the public cannot leave their homes, food items can be ordered online and delivered to their homes. Moreover, the public soon became accustomed to this situation. This created a new sales system in society that went beyond manufacturers, intermediaries or sellers. In addition, well-known store owners were keenly and subtly using the Internet to increase their revenue.
In an article published by Economy Next titled "Keells – The New General Status of Retail " clearly mentioned how to sell when doing retail business using the internet and also has explained the practicalities.
Additionally, entrepreneurs faced various problems on a daily basis such as;
Quality and security of the market
Lack of modernized facilities
Lack of an easy-to-store system
Challenges in selling high-quality goods from substandard goods
Weather problems
Problems in getting fresh vegetables to be sold
There are many people in our society like Sagarika who do not have a definite source of income. Not only during the Corona period but in general, such people engage in their business activities in the expectation of a daily income. Vegetable traders should be given a value and identity that is commensurate with the value and identity which are given to vegetable growers. Unless it's too late for them to think about changing jobs. If such an environment arises, it will not be possible to meet the entire vegetable requirement of the country.
The views and opinions expressed in this publication are those of the authors. They do not purport to reflect the opinions or views of the Sri Lanka Press Institute.