The debate on the disposal of COVID-19 dead bodies and social media
Nilupuli Nayanathara Jayathilaka
A letter, which was written by Ceylon ThawheedJamaath was widely shared in social media. The letter thanked the government for approving burials of the dead bodies of the Muslim COVID-19 patients. Several groups held press conferences to express their views on this letter, and the issue was on headlines in several newspapers. Many politicians expressed their views on this.
Minister of Health PavithraWanniarachchi said on 13 November that such a decision had not been taken. However, the views of social media users were not in line with these developments. When we dig into social media, we can identify a large number of posts and comments with hate speech and fake news. Such posts were shared on Facebook pages with a large following.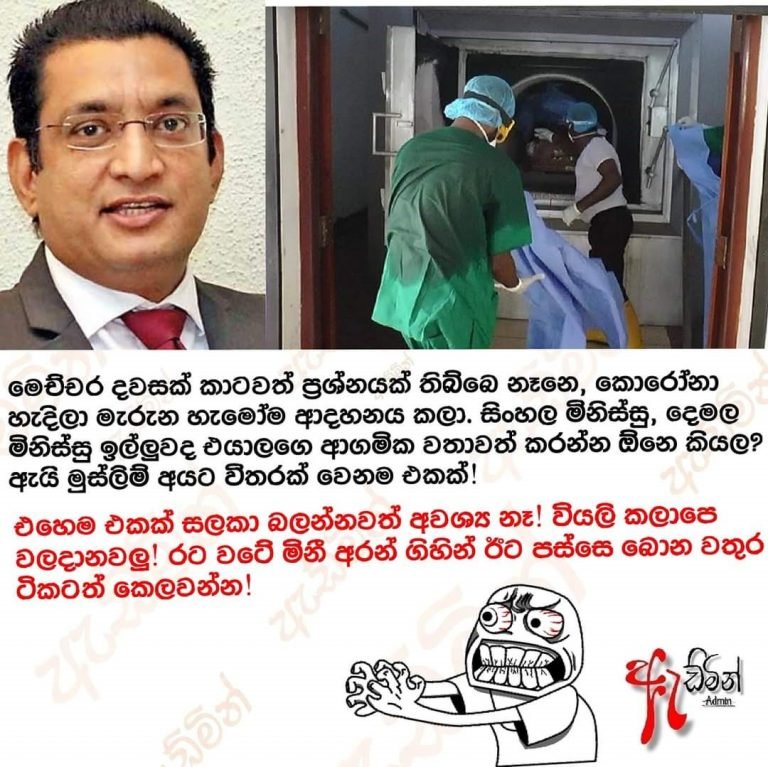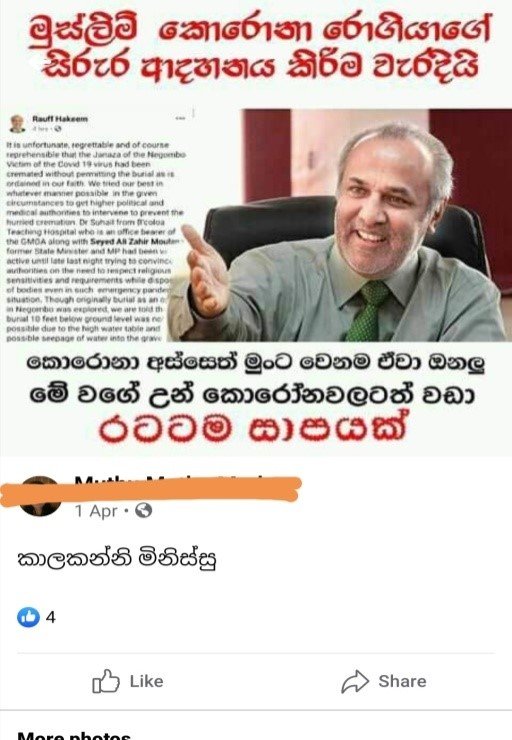 Several Buddhist leaders accused the government of creating unnecessary controversy over the disposal of dead bodies of the Muslim person who pass away due to COVID-19. They argued that the dead bodies of all COVID-19 patients were cremated before that irrespective of race or religion without protest from any section.
However, World Health Organization (WHO) has granted permission for both burial and cremation of the dead bodies of the COVID-19 victims. Touching, embracing or kissing of corpses is banned, and the closest relatives of the deceased person can attend the funeral. They have to follow quarantine regulations keeping one-meter distance between each other. Children and the persons suffering from chronic illnesses are not allowed to attend to COVID-19 funerals. The aim of these regulations is minimizing the participation and the spread of the deadly virus from the dead bodies that containa high virus load.
However, a section of society thinks that cremation violates their cultural and religious rights. Respecting to the cultural traditions of the last rights of a dead person is essential. It is common to all communities alike and not only to the Muslim community of Sri Lanka. The country must come to a common stand regarding the last rights of the persons who die due to COVID-19. The citizens must supportthe decision irrespective of cultural differences. Many of the conflicts can be avoided if people refrain from propagating hate speech and fake news. It is the responsibility of the social media users of the present time.
The views and opinions expressed in this publication are those of the authors. They do not purport to reflect the opinions or views of the Sri Lanka Press Institute.