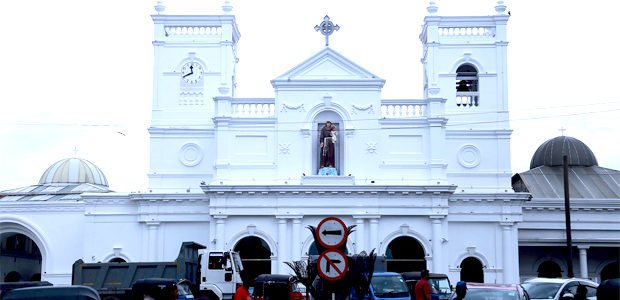 Returning to Church after Easter Sunday Kochchikade Devotees Defeat the Devil:
SAMAN MANKKAARACHCHI
The aftermath of the Easter Sunday attacks were devastating. Moreover, the attacks intended to cause fear and disharmony, similar to the work of the devil in the Christian faith. However, the devotees coming to the reconstructed cathedral of Kochchikade raise their hands to pray for their long journey of brotherhood and unshaken faith. Although the extremists planned to 'rouse the devil hiding among them', they failed because the devotees continue to return and pray in this most
significant house of worship.
Three months after the Easter Sunday attacks destroyed the iconic St. Anthony's Church in Kochchikade, Colombo, people reenter the church amidst tight security. They continue to pray for peace before their god.

The pilgrims in the cathedral as well as the small traders who make their livelihood in the church vicinity have started praying in unison, as one. We see Sinhala, Tamil, Muslim and Burghers together, visiting the church again as they did in the past. Now they exchange smiles of camaraderie instead of the frowns of suspicion which prevailed a few weeks ago. We spoke with several devotees about their take on the Easter attacks and their thoughts on the situation now. Here is what they had to say:

Christopher is a man from Thalawakele who happily assists the pilgrims in their offerings. He moves among devotees of various communities asking if he could help them.

"We must help people. According to my understanding, we have no problem now. Security has been tightened and the cathedral has been reconstructed to how it existed previously. Extremists tried to destroy our brotherhood, but we know that all Muslims do not think like a few extremist terrorists. We can live in this country together," said Christopher before he left to help a devotee make a vow. 

For many years, Ranjani Siriwardane of Wattala has been a regular visitor to the church. She spoke to us as she was leaving the church after prayers.   

"I think the danger remains despite the security measures. We don't feel the freedom we once had. I am happy that the cathedral has been reconstructed. I thank all who contributed to it. I came today with my family and how beautiful it was to pray here again. Everyone needs peace. I don't suspect Muslim people. There are people who resort to extremism among each community but we must identify them and protect ourselves." 
Smiling, Malshani Morris entered the cathedral with a bundle of candles in hand.

"I came from Wattala. Members of our family regularly visit Kochchikade church but this is the first time we visited after the Easter Sunday attacks. We wanted to visit before, but could not because the church was closed for repair. I was not afraid. A few people may have committed crimes but not everyone is a criminal. My husband and I have Muslim friends and we still associate with them as we did in the past. We know that our Muslim friends did no wrong," said Malshani while lighting candles.

We met Premasiri Perera while he was drinking tea in a café owned by a Muslim businessman which was in close proximity to the church. He had just visited Kochchikade church with his wife. 

"We were helpless and lost our livelihoods. I am a taxi driver. In the past, we had so many hires a day but there have been less crowds since the attack. People have started visiting the church again. We can't live in fear. We need to travel and trade. All must live. Sinhala, Tamil and Muslim people cannot find a future by being divided. We must understand this," Premasiri said while settling his bill. 
K.B. Wimaladasa has been selling garlands on the pavement near Kochchikade church for 33 years. He lives in Piliyandala and travels daily to Kochchikade. Everyday, before starting his business, he says a prayer.

"The shop next to my place belongs to a Muslim man. We're friends even after the Easter Sunday attacks. We live happily as we did in the past. I can see that many devotees do not visit the cathedral now. We have less business. In the past, we earned about Rs. 2000 per day but now the income is less than half. Worse disasters have taken place in the past but we still lived together. The cathedral was closed for 35 days and the feast was postponed. No one cared how we managed to carry on with our lives in that period. If we are angry, we lose things, hatred is meaningless." 

M.S. Selvaraj is a taxi driver at the park near the St. Anthony's Cathedral in Kochchikade for 25 years. When we reached him, he settled into the seat of the vehicle, ready to take us. "Where to, Sir?" 

He became enthusiastic when we told him we worked in media "I live in Jinthupitiya Street near Kochchikade church. Now that the incident is over, people have started visiting the church again. Security has been beefed up. The church has been mostly reconstructed. There is no suspicion but we're on alert. I think Sinhala, Tamil and Muslim unity will lead to economic prosperity. The roads have been almost deserted over the past few weeks. Now the roads are open again. We serve people visiting the church equally irrespective of their caste and creed," Selvaraj said.

People have started thinking afresh. We understood through our visit to Kochchikade church that people will not be misled by extremists. Reinventing the importance of peace is a victory for everyone in this way.  
Photographs by Upul Thammita
This article was originally published by the catamarana.com
The views and opinions expressed in this publication are those of the authors. They do not purport to reflect the opinions or views of the Sri Lanka Press Institute.