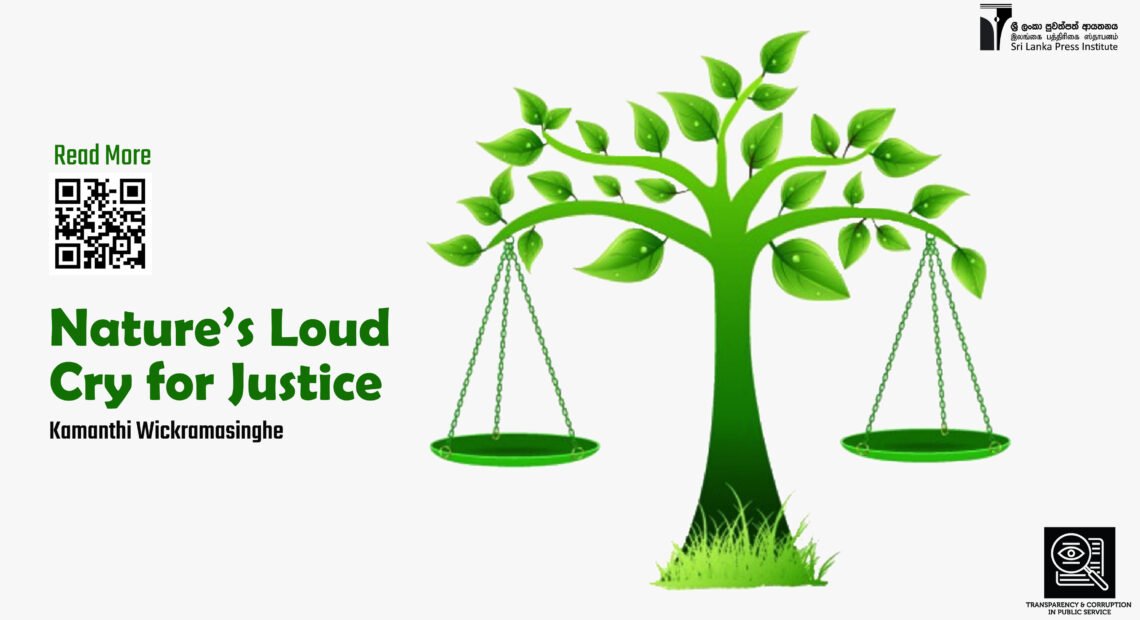 Nature's Loud Cry for Justice
Kamanthi Wickramasinghe
Sri Lanka – a country that once had an abundance of forest cover (44.1% back in 1956 which has reduced to 29.2% by 2018) is slowly witnessing a mass cleansing of its forest cover. Environmentalists opine that as many as three acres of forest cover are being cleared everyday in Sri Lanka. As of late, the environment as well as wildlife is facing the brunt of development contrary to world economies that are planning development strategies with minimum damage to the environment.
Are the laws adequate?
The 'laws of nature' are adequate enough. Or that's what environmental lawyers opine. However, what lacks the most is implementation. Fines and penalties mentioned in the Flora and Fauna Protection Ordinance (FFPO) for example goes up to Rs. 150,000 depending on the offense along with a jail term. However, the penalty is decided by the nature of the crime. Violating the National Environment Act, Forest Conservation Ordinance (FCO) can result in serious penalties but that doesn't seem to be the case anymore. There were incidents of deliberately electrocuting an elephant but the perpetrator was released as soon as he was taken into custody. On the other hand 11 leopards succumbed to snaring in 2020 but whether there were attempts to hold perpetrators accountable remains a question. This is despite the elephant, leopard and many other species being categorised as 'strictly protected' in the FFPO after studying the threats imposed on respective species populations. Several other laws are in place to ensure that minimum damage is done to the environment when developmental activities are in place?.
Who implements the law?
A law in a statute book won't just serve justice until it is properly implemented. For that several authorities are vested with powers to protect nature. These include the Department of Wildlife Conservation, Forest Conservation Department, Coast Conservation Department, Geological Survey and Mines Bureau and so on. Apart from these institutions the Sri Lanka Police too has the authority to hold wildlife criminals accountable through the powers vested by the FFPO. But it has often been found that such criminals are linked to a larger network of perpetrators engaged in the illegal wildlife trade. Therefore even after repeated awareness programmes, people still continue to lay snares in tea estates which are the leading threat for leopards. Although the islandwide leopard population is unknown, by snaring, Sri Lanka is losing one of its precious assets. Wildlife related cases are seldom heard in courts and there are only a handful of private entities dedicated in ensuring that justice is served to the environment.
Tiny victories
Recently, a landmark judgement was issued by the Court of Appeal with regard to the deforestation that took place at Kallaru Forest, lying adjacent to the Wilpattu National Park. With that many also spoke about reforestation and whether it would be an easy task after all. Environmentalists speculate that around 3000-5000 hectares of land need to be reforested. They also estimate that it would cost approximately Rs. 1.5 million to 2 million to replant per hectare. Reforestation, after all isn't about planting some trees or putting up a monoculture such as eucalyptus or pine trees given the surrounding habitats. Therefore a sample of the surrounding forests should be studied first and even the tiniest shrubs such as Nidikumba should be taken into account. While a manmade forest would take around 30 years to grow the petitioners of this case claim that this is a better judgment than imposing a fine or imprisoning the main respondents.
Apart from that another gazette that was passed by the previous government was made public earlier last month, expanding the Sinharaja Forest Reserve into a Forest Complex. Therefore it's land extent increased from 11,000 hectares to 36,000 hectares. According to Rainforest Protectors Sri Lanka Convener Jayantha Wijesingha, Sinharaja was fragmented at the time of British during the construction of roads towards Rakwana, Kalawana and surrounding areas. Therefore several forest patches were isolated and were unprotected. As a result tree felling and other illegal activities were carried out without a hassle. But with this gazette, it not only includes these forest patches as part of the Sinharaja Forest Reserve but will also be protected by the FFPO and FCO.
Development misunderstood?
Even though the Gotabaya Rajapaksa regime plans to increase forest cover from 29.7% to 32% by 2025, it may not be a reality with haphazard development activities underway. To make matters worse, existing legislature to protect nature has also been removed. For instance, revoking the Other State Forests Circulars 05/2001 and 02/2006 and replacing it with MWFC/01/2020 issued in November 2020, has been frowned upon by the nature-loving fraternity. The previous circulars protected 'Other State Forests' by vesting responsibilities on district secretaries and relevant government officials. This way relevant government agents had the same powers as forest officers to ensure that these forest strips were not destroyed during developmental activities. This is because these forest strips are being used by elephants to travel across habitats and they have transformed into unique ecosystems which are home to an abundance of endemic species. As such, the decision to revoke this circular and appointing the Lands Commissioner to have the final decision about these lands isn't a healthy one in terms of the environment. From now onwards, these forest patches can be released for non-forest, economical activities and even if commercial projects are planned in them environmentalists fear that there won't be people with a sound knowledge about the environment to question such activities. Apart from that large areas of land, particularly in private lands are being cleared for commercial purposes. This is contrary to the National Environment Act which states that if an area of over one hectare is being cleared, it requires an Environment Impact Assessment. But development is taking place sans such assessments and this is why the environment is at risk.
COVID and other challenges
The pandemic posed bigger challenges to the environment and wildlife like it did to every other sector. At its onset in March, the Mount Lavinia beach was filled resulting in further erosion. Although the plan was to make an artificial beach near Wellawatte, the strategy didn't work out. Apart from that a number of leopards died and several incidents of an aggravated human-elephant conflict made headlines. However, the DWC admits that it has a limited to cadre to deploy when wildlife-related incidents take place. Lesser number of officers were deployed for daily patrols although they were able to raid bushmeat and apprehend those who were in possession of illegal specimen obtained from the wild. But environmentalists observe that the DWC has to improve its rescue protocols and take a firm stand to protect the environment.
Blessed with 22 national parks, over 4000 species of flowering plants, 245 species of butterflies, 91 species of freshwater fish, 125 species of mammals, an abundance of invertebrates and many other species of fauna (according to a 2012 assessment) makes Sri Lanka an ideal location to promote wildlife tourism. But this will only be possible if habitats in which these species live are strictly protected with minimum disturbances from humanity.
The views and opinions expressed in this publication are those of the authors. They do not purport to reflect the opinions or views of the Sri Lanka Press Institute.