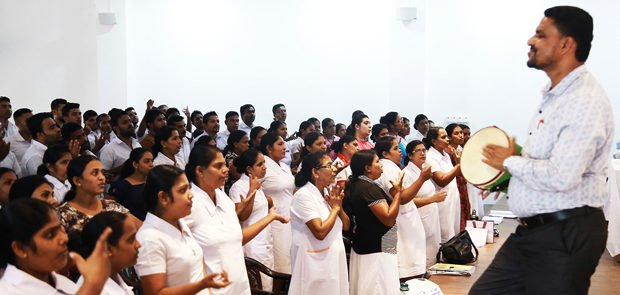 Music for Studying Learning Tamil with a Happy Mind
UPUL THAMMITA
There are many examples among us about the way a person's heart can be drawn using language. But there are only a few examples we have heard about learning a language through entertainment.
The employees at Anuradhapura Teaching Hospital believe that the Tamil Language course conducted for the attendants is a major help for their professional dignity and social justice. An attendant and a trade union leader of the hospital, Sarath Seneviratne said learning a second language to make their motto 'Arogya Parama Labha' (Receive Eternal Healing) accessible to all.
"As a trade union we requested the State Language Department to provide us with Tamil language training as we constantly interact with patients. Finally, about 400 of our employees got the opportunity to follow this course free of charge,"
Anuradhapura Teaching Hospital is Sri Lanka's third biggest hospital. There are many instances where patients from remote areas such as Kilinochchi, Vauniya, Puttalama, Mannar, Baticaloa and Ampara are transferred to Anuradhapura Teaching Hospital for further treatment. Many patients also come to the clinics. The language barrier was a problem for patients as well as for the hospital staff when treating them.
"Like them we also faced many problems. What we said was not clear for them. What they said, we could not understand. There were many occasions where we had to run all over the hospital to find someone fluent in Tamil language. As Sri Lankans if we are interested to increase our language knowledge constantly with training, we will be able to work at any hospital in the country. If that happens, 80% of the misunderstanding in the country among communities can be resolved," Sarath Seneviratne said.
M. Nawaz, a resource person of this course and a training consultant of the State Language Department, says the best solution to solve ethnic issues is to improve multi-lingual skills. One of the reasons for a thirty-year war was that the needs of the south and the needs of the north were not communicated properly. The main reason was lack of understanding of what each party was trying to say. It is essential to have language knowledge to develop relations among each of us. The government has made it mandatory for each public servant to undergo a second language proficiency test.
As a resource person H. M. Nawaz uses a clever strategy to teach Tamil. Most of the time he uses entertainment methods for teaching activities. Director General of the Institute is constantly interested in new research and methodologies to teach language. He was the pioneer of the entertainment method of teaching leaving out the traditional culture of education with of blackboards, memorization and constant note-taking.
"Music is a special medium. It is a global language to move closer to a person and to solve problems. By this method we were able to achieve high results in a short time and in a high speed. This course is conducted by making maximum use of fifty hours without being a burden on the minds of the students while keeping them happy. This method also increases memory power," Nawaz said.
Hemal, an attendant the Anuradhapura teaching hospital, is a young public servant from Polonnaruwa. His employment was uncertain due to the lack of knowledge of a second language. He came to the health field as an attendant after being born in a farming village and studying in the Sinhala language. He had no knowledge of the Tamil language, only hearing it when visiting shops in Polonnaruwa. When he got his first appointment at the Anuradhapura hospital he realized a large number of patients who speak Tamil language are seeking residential treatments as well as treatments in clinics and it was difficult to understand what they were saying.
"I could not even think what could happen if I was transferred to North or East," Hemal said about his past. Today he is happy that he has added to his knowledge. He has confidence that he can work at any hospital in the country.
"I continue to study the Tamil language. I read bill boards and listen to Tamil songs. I read any pieces of newspaper that I can lay my hands on. Looking back, I think that I had an unnecessary fear about the Tamil language," Hemal said with a smile.
This article was originally published on the catamaran.com
The views and opinions expressed in this publication are those of the authors. They do not purport to reflect the opinions or views of the Sri Lanka Press Institute.