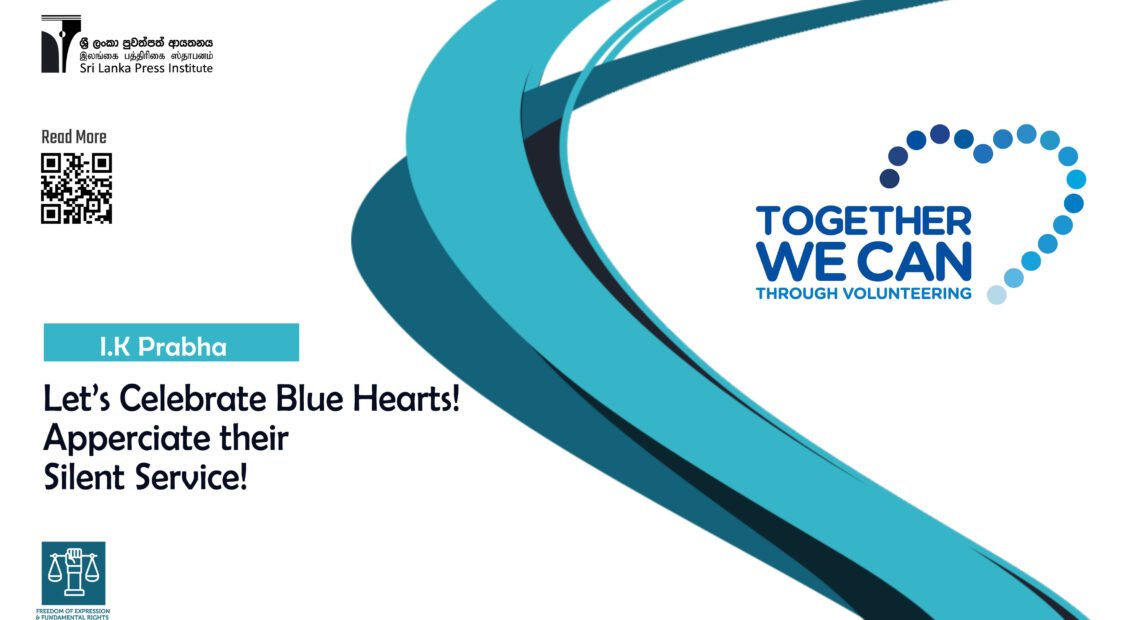 Let's Celebrate Blue Hearts! Appreciate their Silent Service!
I.K. Prabha
The service of volunteers around the world stood out amidst the Covid-19 pandemic. The theme of this year's United Nations Volunteers' Day 2020 is "Together we can volunteer". To pay tribute to volunteers around the world for their contribution even during Covid-19, a blue heart has been introduced to coincide with the United Nations' proposed Volunteer Day celebrations. The blue colour on the mask is to commend volunteers who have spent their time and labour. This encourages people around the world to upload an image of a blue heart with #HeartYourMask or #Togetherwecan💙 hashtags to social media. The use of the blue heart can enhance positive feelings towards volunteers around the world who work during the pandemic. You can find information in this regard through the use of @UNVolunteers, #TogetherWeCan, and #IVD 2020 tags on social media.
December 5, 1985, was officially declared International Volunteer Day by the United Nations to commemorate the service of volunteers around the world. The United Nations declared 2001 as the International Year of Volunteers, with the aim of facilitating the work of volunteers, creating a communication network for them, encouraging them, seeking government support by introducing them to the states and enhancing their benefits.
The United Nations, with the participation of other NGOs, general citizens and private sector associations from 80 countries around the world, aims to recognize and thank the dedicated labour of individual and collective volunteer work by celebrating it on December 5th each year. This reinforces volunteering for national and international community groups to achieve development goals aimed at promoting unity and economic and social development, poverty alleviation, disaster relief, health, environmental protection, human rights protection and gender equality. Positive campaigns will be launched around the world to promote the service of volunteers on the day.
Volunteers around the world can introduce in globally organized structures as follows:
Global Volunteers
Conservation Volunteers
VSO – British Volunteer Organizations
Service Civil International
UN Volunteers
(https://www.volunteeringoptions.org/international-volunteer-organizations/)
Volunteer organizations affiliated to the above-mentioned organizations do voluntary work for Sri Lankan society too:
UN Volunteers
UN Volunteer – Sri Lanka
Red Cross
V – Force
In addition, there are many local organizations in Sri Lanka that work for all types of volunteer work.
Thousands of volunteers and journalists from around the world are still working to help those affected by the Coronavirus. They are always committed to the advancement of various fields by serving the public. The service of such people should be constantly appreciated.
(http://cabm.net/en/volunteer/rights)
"A volunteer is a person who provides his or her services to achieve a specific goal. A volunteer does not have the same rights as others when it comes to focusing on their rights, but the organization that employs them is responsible for protecting their health, safety and personal information" Attorney-at-Law Koshala Prasanna Yasaratne emphasized.
Volunteering is a fundamental mission to advocate and work for equitable fundamental rights and entitlements for all peoples around the world. Sir Hersch Lauterpacht, a scholar of international law in the post-war period, says that while the recognition of human rights around the world has gained universal importance over the past five decades, there have been widespread human rights violations around the world.
(https://www.srilankalaw.lk/Volume-II/convention-against-torture-and-other-cruel-inhuman-or-degrading-treatment-or-punishment-act.html)
There are various groups of individuals and organizations that volunteer to represent the public about such human rights abuses by the government. In Sri Lanka, the following organizations are some examples of voluntary working:
International Human Rights Commission
Human Rights Commission of Sri Lanka
Human Rights Organization of Sri Lanka
Women's Aid Organization (CSCN)
Transparency International (TISL)
The President of the Sri Lanka Human Rights Foundation, Mr B.M. Murshideen stated that his organization has continued to provide voluntary legal advice for over 20 years to resolve ethnic issues in Sri Lanka and to build peace and reconciliation between nations.
"There is no set age limit for volunteering, but no organization should recruit a person under the age of 14. A volunteer is not entitled to a salary. But there is a right to receive food and drink, and transportation expenses. A convicted criminal can also volunteer. But before he or she volunteers, the relevant voluntary organization must obtain an investigation report on his or her crimes from the police or the court. The International Center for Nonprofit Law (ICNL) and the European Center for Nonprofit Law (ECNL) have introduced a set of rules for volunteers. Those organizations discuss the common rights of volunteers working in civil society. It also focuses on improving volunteerism, the welfare of volunteers, providing them with insurance, and their rights to privilege. A series of legal guidelines have been published for volunteers in Macedonia and New Zealand. Australia's Civil Liability Act of 2003 guarantees the safety of volunteers. In South Africa, where a legal system similar to that of Sri Lanka, the Immigration and Emigration Act of 2004 introduced a new methodology on how to issue visas to volunteers, providing a wide range of facilities for volunteers internationally. It is also very famous that the Olympic Games provided relief to more than 100,000 volunteers by introducing a set of rules and regulations on the rights and judgements of volunteers", explained Attorney-at-Law Koshala Yasaratne.
China vaccinated more than 60,000 volunteers in more than 10 countries as part of the third phase of the COVID-19 vaccine clinical trial, and no serious side effects have been reported, Chinese Deputy Director of the Ministry of Science, Tian Boguo told a news conference in Beijing. (http://www.ada.lk/breaking_news/%E)
A volunteer who recently performed corona vaccine trials has died, and media reports indicate that the deceased for having not the correct vaccine.
(https://www.upworthy.com/hero-who-died-of-covid-in-moderna-vaccine-trial)
There are also reports of three people who lost their lives in 2009 while volunteering.
(https://www.google.com/amp/s/www.nytimes.com/2020/10/02/us/politics/peace-corps-death.amp.html)
Ms Anuradha Herath, a journalist of the Mawbima newspaper, said that even during the Covid epidemic, she carried out her media duties with great satisfaction which made her test positive twice during her journalistic missions. "After I contracted the virus, there were people who used to insult and spread false rumours about me. However, as a woman, while these unpleasant incidents affected my mental health, I did not forget to give it my best. My message to women who are facing such difficulties is to understand that Covid is not a disease that should be hidden, feared or insulted, and that voluntary service goes beyond the profession", she added. Many professionals should be appreciated for their social responsibility as a volunteer for the right to information of the public beyond their professional boundaries.
Journalists, women, politicians and the elite, who cover economic, social, political, development and many other areas, both in public and private sectors, devote their time, labour and wealth to volunteering for the nation. It gives them immense self-satisfaction. It is our hope that the future of this world will be even more beautiful if more people work hand in hand, regardless of race, religion, color or state, to ensure their rights and security, rather than blaming one another. In a context where various laws and regulations are being drafted for volunteers around the world, there is an urgent need to nurture and adopt the good ideas of other countries and to draft new laws for the protection and advancement of volunteers in line with the Sri Lankan culture.
The views and opinions expressed in this publication are those of the authors. They do not purport to reflect the opinions or views of the Sri Lanka Press Institute.