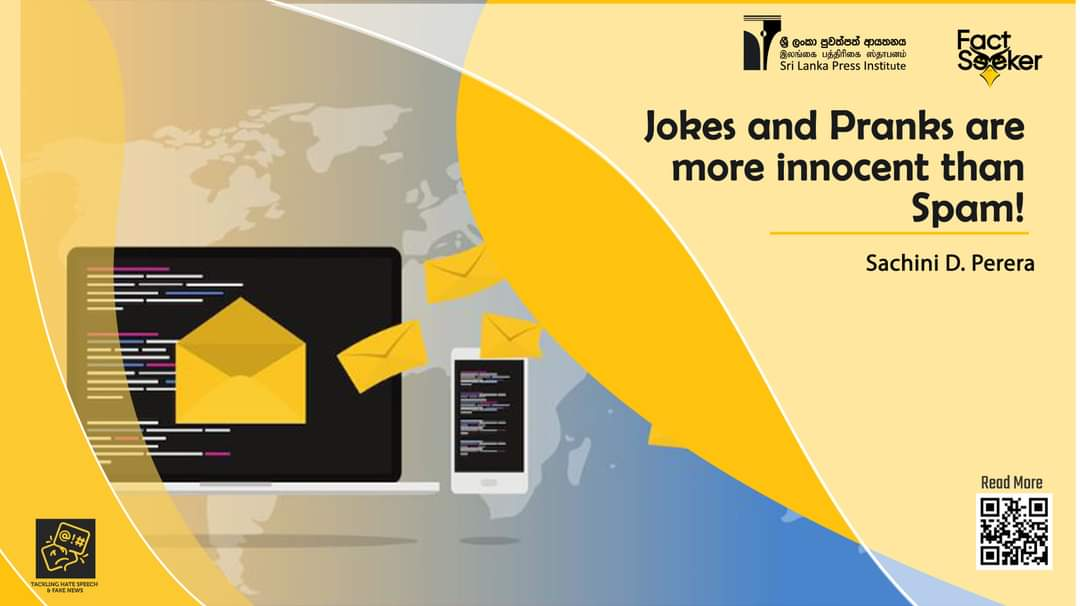 Jokes and Pranks are more innocent than Spam!
Sachini D. Perera
The Internet isn't the only virtual avenue to reach the online population. Further, the Internet isn't only geared towards information-surfing, communicating, selling and purchasing products and services nowadays. We see many cyber con artists who prey on users who are less aware of their digital health, digital privacy and overall digital literacy. A majority get caught in these cyber wildfires and lose their money, reputation, privacy, or all of these. These cyber-threats could come in the form of 'spam' in your email inbox, a message shared from friends or community fan page and other online means. Even pop-up advertisements can make your internet surfing experience uncomfortable, sometimes pulling you into unnecessary clicks that haphazardly burn up your data packages and time. Spam is the first on this list of online bad games.
What is a spam attack? "Spam attacks are defined as the organized and unauthorized use of apps to send thousands of messages to users. These messages are sent by fake or hacked profiles, and often include unreal advertisements and links to which real users are asked to click on" (https://rb.gy/fxzh87). Spam is both spyware and a malware application which is capable of spreading malicious messages, links and codes to obtain passwords, credit card numbers, bank account details, locations and so on. In recent times, social media platforms have become more friendly cyber environments enabling cyber con artists further during the Covid-19 pandemic. Incidents have been recorded regarding:
(i.e. Google is celebrating its 21st birthday by giving 1000GB 4G free data to all users)
(i.e. You have been given a free coupon (up to Rs. 3000/=). To claim your free gift, sign up using this link: https://www.xxxxxxxxxx.com/invite/sa6t2u)
Giving away money from banks
(i.e. X Bank is giving away Rs. 5000/= to its cardholders. Send two clear photographs of both sides of your credit cards to this email address: xxxxxxxxbank.pvt@gmail.com)
Hashtag generated dares and challenges
(i.e. #5differentlookschallenge, #tiktokdancechallenge2020, #untagchallenge), and so on.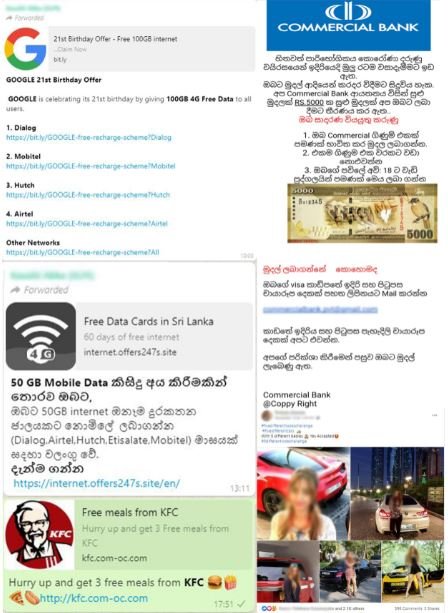 "Based on the complaints we received, most of the cyber victims are schooling children, teachers, youth community and university students who are mostly using Facebook, Whatsapp and Viber group chats. Sri Lanka is among the most victimized countries that are being fooled by malware applications", stated Yasiru Mathew, President of the Information Technology Society of Sri Lanka (ITSSL). During the lockdown, many social media users received spam messages and have been fooled several times.
"There are several kinds of spam messages" he said, elaborating further:
(1) Financial Spams (popularly known as 'Nigerian Spams')
(2) Charity Appeal Spams
(3) Malware
Many technically-illiterate social media users in our country have been drawn into trouble by such spam messages as they believe technology and online information, to be honest. We still experience the technological era as fresh and new. This is the misleading intention that benefits spammers to misuse their cyber talents in order to trap victims and their money, bandwidth, data, credit card details, PIN numbers, emails, bank account numbers, locations, etc.", stated Dr Kasun De Zoysa, lecturer at University of Colombo's School of Computing.
As Mr Mathew explained that spammers also gain an advantage from the vulnerabilities that already exist within technological devices. Detecting the limitations and potential capacities in modern technology, it is easy for anyone to push through via live monitoring appliances. "When someone receives a spam message via the social medium, that message might have asked the reader to share the message with a number of people in your contact list (i.e. xxxx provides 3000 snack buckets for everyone. To get yours here, share this message for 15 friends). These spam messages go viral according to the dendrogram method", he explained. "Spam is hard to eliminate from cyberspace due to many reasons. But expert communities are still engaged in many efforts to reduce the risk for users. For instance, though the spam folder's filters, spam coming to emails, users still receive spam in their inboxes.", Dr De Zoysa stated.
Both the Police Media Spokesman, Deputy Inspector General Mr Ajith Rohana, and the Sri Lanka Computer Emergency Readiness Team (SLCERT) reported that the number of cybercrimes has accreted with the second-wave of the Covid-19 pandemic in Sri Lanka. Social media users have received a number of spam messages as many people engage most of their time online during the quarantine.
"We still don't have a robust computer crime act which even clearly defines what spam is, and the national law has not figured out spam as an offence. In addition, the Cyber Security Bill has not yet been a concern of the Parliament regardless of national security, but it is done so overseas very firmly", Yasiru Mathew stated. "Yet, we still implement legal actions against cybercrimes under the Defamation law and that is not enough to stand against", Dr De Zoysa stated.
"People should not believe in all the information they encounter online and should not give their personal details and expose their personal information to unknown sources, advertisements, links and people. Government procedures should be implemented to make awareness programs in regard to these cyber issues", remarked Dr De Zoysa. "Online literacy is very important for both parents and children currently rather than learning the history of information and communication technology in school curriculums decades ahead. In addition, social media users must be aware of their consumption habits while service providers should be aware of who uses their brand names to tactically reach customers and manipulate their financial assets and personal information", remarked Mr Mathew.
The views and opinions expressed in this publication are those of the authors. They do not purport to reflect the opinions or views of the Sri Lanka Press Institute.