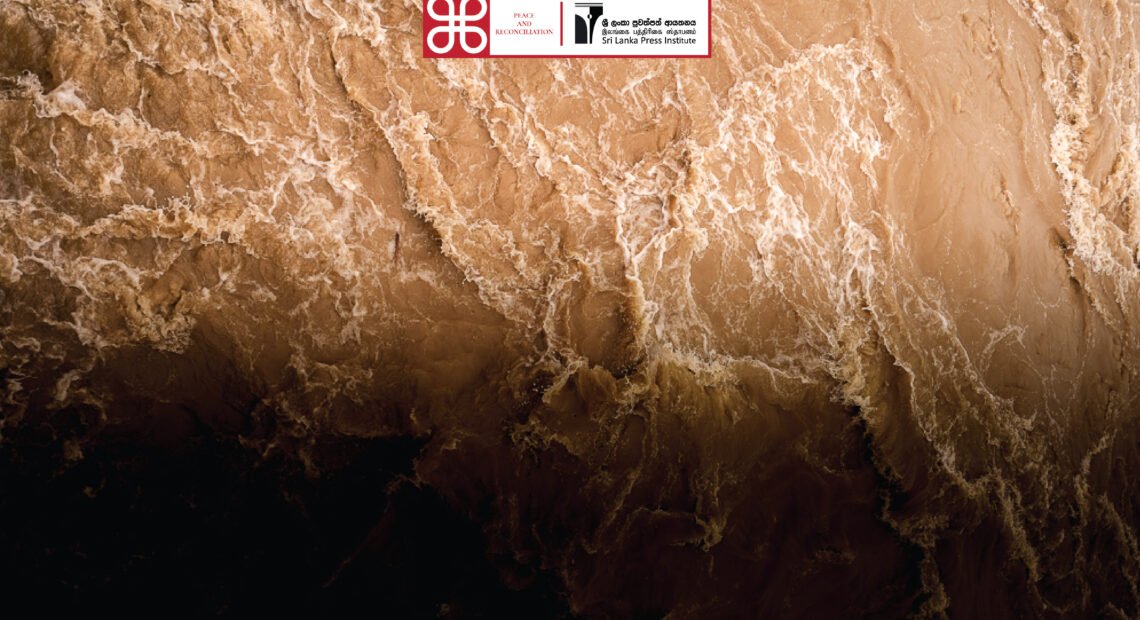 Human Compassion at a Time of Devastating Floods
Nimal Abeysinghe
Humane people band together in the face of natural disasters. Born out of compassion, such unity heeds no race or colour difference. An incident from as recent as 2015 illustrates the community-minded sacrifice by a group who were brought together by a natural disaster and their tireless efforts over three days born out of compassion for fellow human suffering.
In mid-May 2015, heavy floods hit Sri Lanka and affected several districts in the country. Those living along the bank of the Kelani river in areas such as Orugodawatta and Wellampitiya were severely affected by flooding in the Colombo district. For days, the flood left people stranded without food and other necessities. Aid workers faced many challenges due to the nature of the flood. Even the Sri Lankan navy was reluctant to venture into certain flood-hit places. Among all these obstacles, the protagonists of this essay, 52-year-old P.W.A.D. Jude Ranjith of Modara, Colombo, and his friends brought together by the emergency situation took the lead in a three-day rescue operation.
Jude Ranjith is a labourer in the Maintenance Unit of the Colombo Municipal Council on Thotalanga Road. "That day, on 18 May 2016, I went to work in the morning. My niece lives in the Wenwatta village in Polwatta, Wellampitiya. She gave me a call and informed me that the water level of the Kelani river was rising and asked me to bring a boat to rescue them". Leaving work, Ranjith hurried to Peliyagoda, rented a lorry, and returned to the Modara beach. "I have a friend named Pradeep. I tried to contact him through the phone but failed. But I loaded his boat to the lorry and borrowed a boat engine and some fuel from my friend Benedict. I also borrowed two safety jackets from my friend Raja. Then, I went straight to the Orugodawatta bridge".
By around 11.45 in the morning, the flood near the Orugodawatta bridge had risen to a level that even vehicles could not move. Jude unloaded the boat with the help of his friends Marcus and Ashraf, who had come to their aid. Ashraf boarded the boat and volunteered to guide them. "First, we went to my niece's house. We took the daughter, three of her children, my son-in-law, and numerous children from neighbouring houses. We took about ten people onboard and dropped them near the Wellampitiya Police station," he recalls.
During a second trip, Jude and his friends found some children who were caught in the flood. They relieved them from their debacle and, in five trips, saw them off to the safety of the Wellampitiya Police station. On the fourth trip, a media team from Sirasa also got onto Jude's boat. That day, Jude continued to rescue people until 7.30 pm. Then, he kept the boat engine and the fuel tank at the Wellampitiya Police station, came to Dematagoda, and went home.
Throughout that day, Ashraf, a total stranger, kept Jude in company during the rescue operation. According to him, there were no rescue boats that day except this one. "Early next day, I returned to Wellampitiya, took the boat, and went to rescue the affected people". That day, several other boats had come and formed rescue teams, but charged the distressed people for service offered. However, Jude did not charge a cent and continued voluntarily.

"Once, we rescued a doctor's child. The toddler was stuck on the upper floor. We lowered him using a basket. Ashraf got into the water and tirelessly helped to rescue people. He was a good man". Meanwhile, another man boarded the boat to deliver food to the affected people. Jude never got to know his name. Navy boats operating beside them were not confident enough to enter narrow stretches. Jude recalls: "The Navy did not go to places where the roads were only about six feet wide. You couldn't ride a boat without hitting the walls, but I braved those places, as well".
Jude was also an experienced fisherman and, the next day, he got into the boat with a long rope. "I tied the rope to a strong post and drove the boat backwards while keeping the engine switched off so that I didn't have to turn the boat to come back. Even then, three walls were broken. But I did something others could not and didn't dare do," he recalls. "Those two days, I didn't even smoke a cigarette I got from other people. I simply wouldn't have been happy to do so," Jude's eyes beamed with delight.
Mohammad Birsam Hossain Mohammad is a resident of 3rd Lane, Wenwatta, Wellampitiya. He had boarded his children and wife at his mother's house in Kadawatha, Makola, on the eve of the floods and returned to Orugodawatta. When he saw Jude, he didn't hesitate in helping him. He joined Jude's team to guide them through flooded streets. Ashraf remembers Jude determined to carry on their operation until they ran out of fuel. "Then I told him that I didn't have any money and for him to continue his work. Jude then told me, 'brother, don't leave me now; you are a great strength to me'". Even though they had just met, this Christian and Muslim built a strong bond between them. Such is the glory of humanity. They had no racial or religious differences in the face of disaster.
"At one point, we rescued a family with a three-week-old baby who had been stranded on an upper floor. We lowered the baby using a basket. Then there were three women. The third woman was heavy-built. She was hanging from the upper floor. When I asked her to free both hands, she was reluctant. Suddenly the boat shook and I fell into the water. But still, the woman was hanging. Then I stood under her as a prop and took her into the boat with great difficulty. Ashraf was quite reluctant to touch women even in such situations," Jude said.
This story is evident of people from diverse communities who risk their safety in efforts to save the lives of others against common disasters. They shine like stars among average folk who are easily dragged into racial, religious and caste chauvinisms.
பேரழிவை ஏற்படுத்தும் வெள்ளத்தின்போது காப்பாற்றப்பட்ட மத சகவாழ்வு
ගංදියට සියල්ල යටවෙද්දි ඉතිරි වු ආගමික සහජිවනය
The views and opinions expressed in this publication are those of the authors. They do not purport to reflect the opinions or views of the Sri Lanka Press Institute.