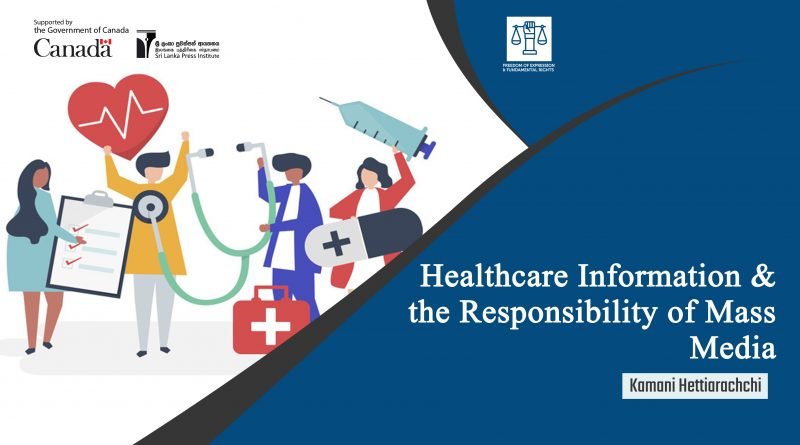 Healthcare Information & the Responsibility of Mass Media
Despite the innumerable tragedies that the COVID-19 pandemic (also known as the novel Coronavirus) has brought in its wake, people still live in the hope that there will be light at the end of this dark tunnel. Medical professionals around the world have said that people will have to learn to coexist with the virus for a few years to come. While people's main focus has become combatting Corona, does this mean that everything else in our lives will be on hold until the virus is defeated? Or else is it business as usual while we are combatting COVID-19. Given the two options at hand, people realize that the latter is the only viable option irrespective of how difficult it is to maintain.
In the meantime, news that England's Oxford University, the United States of America, Russia and India are successfully running clinical trials for a vaccine to battle COVID-19 bring some form of hope to people around the world. However, the World Health Organizations has said that deploying and administering the vaccines to a global population will take a considerable amount of time.
While the hope of the upcoming vaccine exists in our minds, panic stricken society continues to experiment with different experiments and home remedies on an official and unofficial level.  While some of these experiments are of a scientific nature, others are traditional forms based on knowledge handed down across generations. Some of these remedies are from the Ayurvedic practice. However, people continue to engage in such practices in order to boost their immune systems and attempt to improve their overall health. In Sri Lanka, society tends to lean towards local natural elixirs. These natural remedies don't harm people if they are practiced correctly, nor would it cause any harm to society at large.
The problem is that there seem to be a number of such magical Corona defeating elixirs, ointments, local discoveries and other remedies being promoted, claiming that they can eradicate the virus. Among these remedies, there are also several self-proclaimed Ayurvedic practitioners who claim they can completely cure the virus.  These ideas and remedies have become popular both on social media as well as mainstream media in the country. For a society desperately waiting for some solution to come about to help combat the crisis, such solutions can be tempting. While many Ayurvedic doctors are conducting experiments to combat COVID-19, a viable local remedy has not been found to date.
In this context, presenting solutions and remedies against the virus that have no legitimacy, people are driven to believe that they work and tend to invest in them anyway. When dealing with complex healthcare issues of this nature, there is a tremendous responsibility placed on the shoulders of both mainstream and social media – and the government of Sri Lanka. If the state sponsors any one of these unofficial and illegitimate remedies, it automatically validates them and enables people to consume them.
Even though it is a difficult task to identify these fake remedies on social media, websites and mainstream media can filter out such content on their channels by putting adequate checks in place. In a situation where all of society are in despair, it is the responsibility of such media outlets to not spread fake remedial posts and news. Simply put, the media shouldn't contribute towards instilling fear or false hope in people during these trying times and collectively agree to only release authentic and verified information.Anyone who disregards this guideline is essentially misusing the medium.
The views and opinions expressed in this publication are those of the authors. They do not purport to reflect the opinions or views of the Sri Lanka Press Institute.