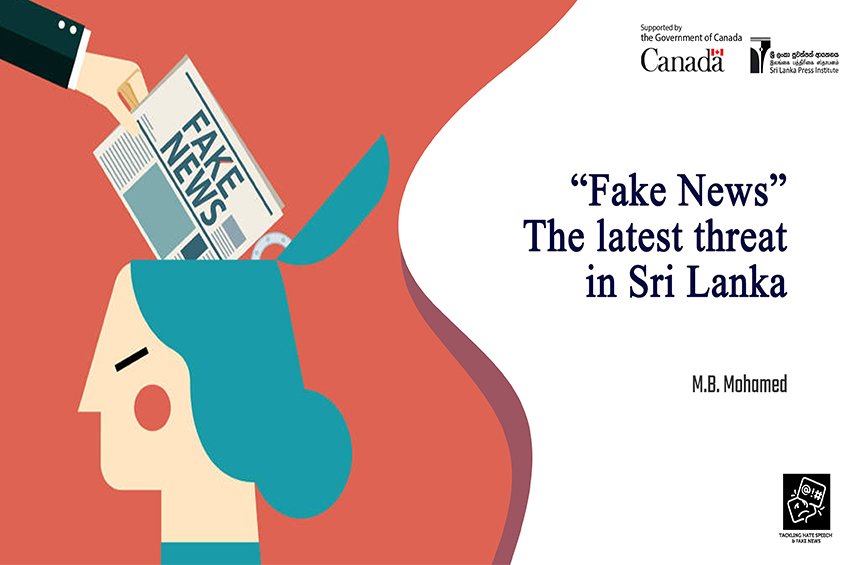 Fake news – The latest threat in Sri Lanka!
'Fake news' has emerged as one of the biggest threats facing the world today. Claire Wardley, an American researcher on misinformation, points out that fake news has created a new world disorder.
Sri Lanka is no exception. According to 'We are social' organization's January 2020 figures, there are 6.4 million social networking users in Sri Lanka, there are 10 million more SIM cards registered than the population of Sri Lanka. The use of such mobile phones and social media Sri Lanka has increased the dissemination of fake news, spreading fast and reaching large numbers of people in a short period of time.
In post-war Sri Lanka, social media and fake news have contributed to the escalation of racial and religious tensions and the ensuing violence.
Violence erupted in March 2018 in Ampara following fake news shared on social media that a contraceptive pill was being mixed in food prepared at a Muslim restaurant. It was followed by massive violence in Kandy and Digana, which resulted in loss of few lives and massive loss of property. The government was forced to shut down social networking sites for a week to curb the violence.
Facebook recently acknowledged that fake social media and hate speech played a major role in the violence and that it did not take adequate measures to curb it. Even after the Easter bombings, planned fake propaganda was carried out targeting the religious minorities living in Sri Lanka. The case of Dr. Shafi is a good example of this.
A study conducted by the MIT Digital Economic Research Center in Cambridge, USA, has revealed that political fake news spreads 3 times faster than other fake news. Accordingly, the 2019 presidential election, the spread of COVID-19 and the 2020 parliamentary election have been identified as periods in which fake news has had the greatest impact on Sri Lanka. Particularly during the 2019 presidential election and the 2020 general election campaign, it was observed that fake news was used as a political weapon. It is based on this, in the run-up to the recent general election, the Center for Monitoring Electoral Violence warned before the election that it expected fake news to have a major impact on people's decision on whom to vote for.
It is noteworthy that the spread of fake news in Sri Lanka, like the rest of the world, had increased during the COVID-19 lockdown period.
"Our common enemy is Covid-19, but we must not forget that the much-shared fake information about it is also our enemy," the UN said. General Secretary Antonio Guterres said. "We are not only fighting the spread of the Covid-19 virus, we are also fighting fake news about it," said Tetros Adanom, director general of the World Health Organization. This shows its seriousness.
In Sri Lanka, there is a growing tendency to rely on fake news spread under the guise of health and medical advice. Last February, the death of a 36-year-old man from Gampaha who drank a mixture made using Gaja Madara leaves, relying on fake information shared on Facebook, is a testimony to the impact of fake news in Sri Lanka.
It is a matter of concern that the dissemination of such false information has a profound effect on the daily lives of the people of Sri Lanka such as security, politics, ethnic harmony, health and education and there are not enough programs in place to control it. As part of this, there is a growing need to raise awareness among the general public about the spread of misinformation and its impact in Sri Lanka.
Now that the third wave of COVID-19 has begun in Sri Lanka, many fake news have already started to emerge. The president has often insisted in his statements not to believe fake news and to follow only official government information.
A 60-year-old man living in Wellawatta and an 18-year-old youth living in Mitiyagoda have been arrested and remanded for spreading false news during this period. A police spokesman said they would be prosecuted under the Penal Code, the Police Ordinance and the Computer Crimes Act.
Not only laymen but also the well-educated are there among those who spread misinformation through social media. Regardless of whether they are educated or uneducated everyone should be informed about the seriousness of the matter that any news should be shared only after verification.
What are fake news?
News that is written and published with the intention of misleading readers for economic or political gain is called 'fake news'. They often have provocative, exaggerated or misleading headlines.
In that sense, the fake news is divided into 3 types:
Misinformation: This is a fake information. But those who spread believe it to be true.
Disinformation: This is also a fake information. But those who spread do it knowing that it is a lie.
Mal-information: This is also fake. They are shared with the intent to harm others.
How to check fake information?
Be wary of headlines: Fake news can have glamorous headlines and embellishments. If the title is incredibly surprising it is likely to be fake.
Keep an eye on the links provided: Click on the links provided to access the appropriate site. Sometimes they can lead you to irrelevant websites. It is a sign that it is fake news.
Investigate the person who wrote the news: Find out about the person who wrote the news and the news organization that published it. Are they already well known? See whether their contact details are available.
Observe spelling and grammatical errors: Most fake messages contain spelling and grammatical errors. Be observant about this.
Examine photos: Many fake news are shared through photos. Most may be distorted. Search and confirm them with Google search engine.
Check dates: News published on old dates may have been re-shared. Compare posted and shared dates.
Check sources: Sources are very essential to a news. Notice the names mentioned as sources in the message. Unsubstantiated news is more likely to be fake.
Compare with other news reports: Find out if other recognized organizations have published the news.
News can also be funny: some people make news for fun. You may have received such a message. Be considerate about it.
May be deliberately created: Many fake messages are deliberately created based on ulterior motives. Think logically about their content.
Fact-checking organizations in Sri Lanka
Due to the impact of fake news in Sri Lanka, some organizations are now providing fake news verification services. By following these you can verify the veracity of the information. The following 3 organizations provide this service:
Sri Lanka Press Institute – FactSeeker
Factcrescendo.com
AFP Factcheck
The views and opinions expressed in this publication are those of the authors. They do not purport to reflect the opinions or views of the Sri Lanka Press Institute.