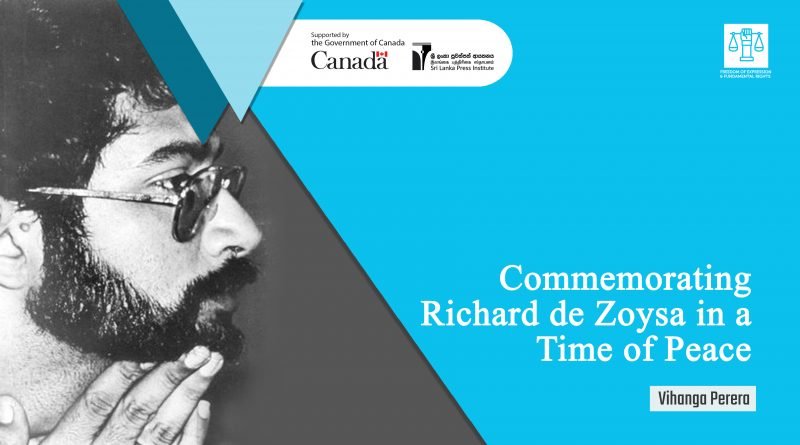 Commemorating Richard de Zoysa in a Time of Peace
Vihanga Perera
18th February marked the 31st death commemoration of Richard de Zoysa who, after being abducted from his home in Welikadawatte, was killed by a death squad operating under the knowledge of the political elite. At the time, de Zoysa was just 32 and emerging as a journalist and human rights activist. Among the English-speaking Colombo circle, he was also a poet and a theatre talent. He had already portrayed memorable roles in film and was making a name for himself as a broadcaster with the Sri Lanka Rupavahini Corporation. De Zoysa was also associated with Veritas, a news service that operated from the Philippines and took an interest in the human rights climate in Sri Lanka. At the time of death, de Zoysa was a few days away from leaving the country on a new posting.
The state's involvement in de Zoysa's killing has been widely insinuated and documented. Ronnie Gunasinghe, a senior police officer who is alleged to have led the death squad, was considered a favourite of the Ranasinghe Premadasa government at the time. In his book "A Lost Generation: Sri Lanka in Crisis: The Untold Story", lawyer and human rights activist Prins Gunasekara relates a conversation between Gunasinghe and the Minister of Defence at the time, Ranjan Wijeratne, who had been drinking together on the night of de Zoysa's death. Having learnt of Gunasinghe's "mission" at hand, Wijeratne had tried to dissuade Gunasinghe from carrying out the order to kill de Zoysa. Early, on the next day, de Zoysa's bullet-drilled body was found in a Koralawella beach. His body was identified by fellow journalist and friend Dharmeratnam Sivaram who faced a similar fate fifteen years later: In April 2005, Sivaram's body was discovered abandoned, after having been kidnapped in Bambalapitiya the previous night. After a fifteen year quest, in 2005 three police personnel charged with the killing of Richard de Zoysa were acquitted on the basis of contradictions in evidence. Ronnie Gunasinghe died on 1 May 1993 in the Armour Street bomb blast in which President Premadasa, too, was killed.
Richard de Zoysa's killing sent a shockwave through Colombo society. He belonged to two leading Colombo families with immediate ties to the socialite and professional circles of the capital. The killing was debated by both sides of the House. Opposition member Anura Bandaranaike was quoted to state that – in a country where over 60,000 were killed or disappeared between 1988 and 1990 – de Zoysa's killing "pricked the anaesthetised consciousness of the Colombo middle class". The escalation of killings during the last quarter of 1989, having climaxed with the deaths of the JVP's frontline leaders, had resulted in a deepening human rights crisis. This began to abate somewhat after the public outcry following de Zoysa's murder.
In 2021, after 31 years since de Zoysa's killing, state-sponsored suppression and intimidation of writers and journalists in Sri Lanka continues in various forms. In some cases – and mostly in conflict zones during and after the war – these journalists have been killed by various armed groups under various pretexts. Some of these killings have been justified under the state's cause against "terrorism". A majority having taken place outside the Sinhala-speaking south have not been widely reported by mainstream media. In her book "Still Counting the Dead" published in 2012, Frances Harrison refers to a list of 44 such murdered journalists for the period of 2004 and 2009, put together by Journalists for Democracy in Sri Lanka: a network of exiled Sri Lankan writers. Among notable killings and disappearances that contributed to public debate in the 2000s include that of Dharmeratnam Sivaram (in 2005), Lasantha Wickrematunge (in 2009) and Prageeth Ekneligoda (in 2010). All three were reputed and well-known journalists at the time of their deaths which took place in and around Colombo. Investigations and prosecutions pertaining to these killings have either been stalled or slowed. For these journalists and their families, justice doesn't seem to be a likely event in the foreseeable future.
What began in 2010 has hailed by many as a decade of peace. In such a time, intimidation of expression must be reassessed and thought-through anew. In more recent years, Sri Lanka witnessed a new experiment where the police used the International Covenant for Civil and Political Rights (ICCPR) Act of 2007 which carries a non-bail clause unless directed by a higher court. This has been tried out on a few instances starting from April 2019 to include several writers and persons who comment on Facebook. In April 2019, Shakthika Sathkumara, a short story composer, was detained under the ICCPR Act for inciting hurtful sentiments against Buddhism. Sathkumara was held in custody for over four months before he was granted bail. Two years later, in February 2021, Sathkumara was acquitted and cleared of charges when the Attorney General stated that there were no grounds to prosecute the writer. In April 2020, Ramzy Razeek, a translator and a commentator on Facebook was detained under the same Act for a comment he had shared on his Facebook wall. In May 2020, Ahnaf Jazeem, a poet from Mannar, was arrested and detained under the provisions of the Prevention of Terrorism Act (PTA) for writing a collection of poetry, which the CID – contrary to the expert view of Tamil literary scholars like MA Nuhman – claimed to incite racial violence. These are representational examples of a bigger and widespread map of intimidation and violence against journalists and writers in an epoch of peace and prosperity.
At best, Richard de Zoysa's death 31 years ago works as a beacon for the violent possibilities that lurk over persons who – in times of war and peace – express dissent. His case lies at one end of a spectrum of cascading violence, which at different levels, has unleashed its vicious venom over three decades. De Zoysa's death is a warning for Sri Lanka – a country where connections count – that affiliations and social membership, in a decisive juncture, cannot absolve you from a preconceived killing machine. His legacy underlines quite firmly the need to understand and respond to suppression by overarching regional, linguistic and ideological limitations; and to relentlessly urge the powers that be to deliver justice for the lives and narratives they have robbed.
The views and opinions expressed in this publication are those of the authors. They do not purport to reflect the opinions or views of the Sri Lanka Press Institute.