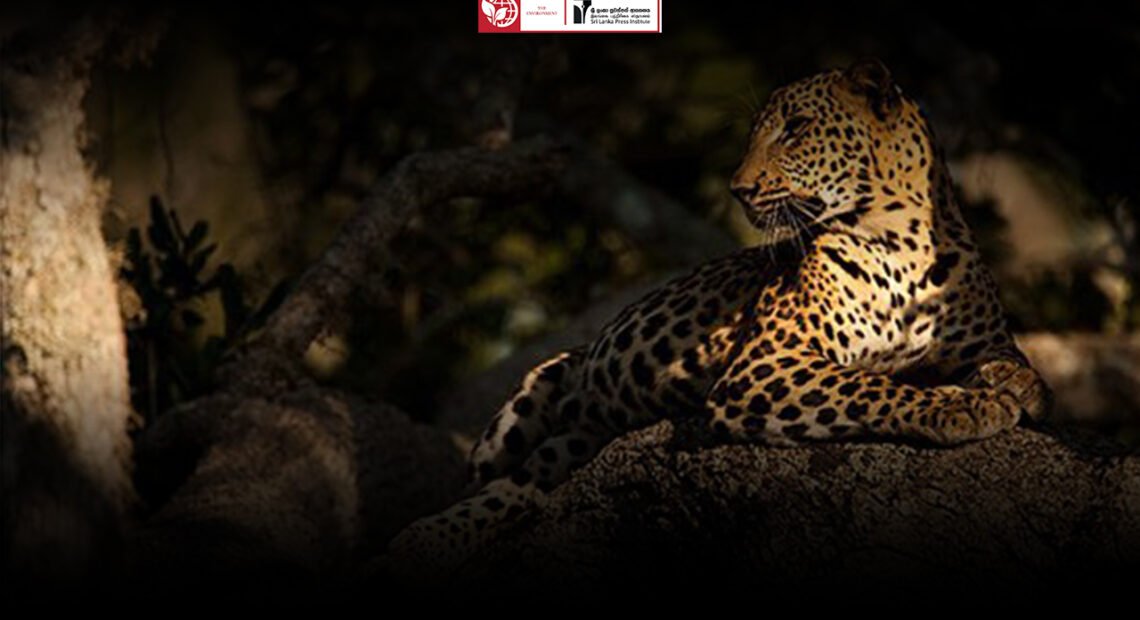 Study reveals more Leopard deaths occur during the Sri Pada season
 Aruna Lakshman Fernando
We have heard of fish falling from the sky during heavy rains. Imagine, what your reaction would be if someone told you that a leopard fell from the sky – and that, too, a three to four-footed one. You will surely laugh out loud. 
But this is not a laughing matter for a family residing at Logi Estate in Talawakele. On September 3, a leopard fell through their roof onto a bed in their house. Later they got to know that the leopard missed its target while hunting dogs and landed on the roof of their house located down the slope
Two days after this incident, another leopard caught in a snare died, despite efforts to free it.
As incidents such as these rekindle the debate on hill country leopards, we met Central Province Wildlife Conservation Department officials to find out more about the leopard population and the challenges they face in protecting the animals. Joining us in this conversation with great enthusiasm was Sri Pada zone Wild Animal Site Protection Officer D.P. Sriyasinghe.
He admitted that a comprehensive census on the central hills leopard population had not been conducted yet.
Although most wildlife writers call them "mountain leopards", there is no scientific consensus on a separate subspecies called mountain leopards, Mr. Sriyasinghe said.
"The scientific name of the leopard is Panthera pardus pardus. The leopard reportedly found in Sri Lanka is a subspecies unique to Sri Lanka. They are called Panthera pardus kotiya. This is the same species that is found in the central hills, Yala and Wilpattu. However, depending on their living environment, there may be some differences in their skin. 
"Generally speaking, the skin of the central mountain leopard is darker than that of the Yala leopard. This is due to an adaptation mechanism that happens according to the living environment. Apart from that, a separate subspecies called mountain leopard has not yet been scientifically confirmed after research," he said.
The central hills, which were once a dense forest, were first cleared for coffee cultivation and then for tea cultivation on a large scale during the British colonial period. As a result, wild animals in the mountain forests began to lose their habitat. Today, leopard encroachment on villages can be described as an extension of the crisis created by habitat loss.
Explaining the forest cover of the central hills, the wildlife expert said the Sri Pada reserve connected to World's End spreads through Nuwara Eliya, Ambewela, and Nanu Oya, to the Pidurutalagala reserve. In addition, there are small forest blocks amid tea estates, streams, and hilltops. 
\
"However, deforestation continues due to anthropogenic activities, compelling the leopards which live in these small forest blocks to encroach nearby villages from time to time," he said.
No wonder, the estate people have been troubled by leopards encroaching on their settlements. Dogs raised in houses as pets are the most vulnerable to leopard attacks. That is why villagers say leopards have a strong sweet tooth for dogs.
Man-made snares are the main threat that leopards in the central hills face. They are often seen dying entangled in snares made with three-wheeler clutch cables. 
"Unfortunately, leopards get caught in these snares which are set for wild boars," Mr. Sriyasinghe said. However, he said that rarely did people come forward to free a leopard caught in a snare because they were afraid of the animal and feared legal consequences.
In a study conducted by the Wildlife Conservation Department on leopard deaths in the central hills, two important factors have been observed, the expert says. It shows that most of the cases of leopards getting caught in snares happen from December to May while the highest number of leopard deaths takes place in the Ambagamuwa Divisional Secretariat area. 
This period coincides with the Sri Pada pilgrimage season during which an influx of pilgrims is seen in Hatton, Ginigathhena, Norton Bridge, and Watawala. Since there is a demand for game meat from visitors, estate workers and villagers set up more snares to catch wild animals. Unfortunately, leopards also get caught, though the snares were not intended for them.
The reason for the Ambagamuwa Divisional Secretariat area reporting the highest incidence of leopard deaths is not only because the Sri Pada reserve with its leopard habitat comes within its jurisdiction but also because most of the pilgrims pass through Ambagamuwa, thus creating a demand for game meat. 
A survey covering the period 2010-2020 confirms that 71% of leopard deaths are caused by snares. About 10% are killed due to poisoning and 7% die in road accidents, while 4% perish in lightning strikes. Therefore, it is not difficult to understand that traps and snares are the main threat to Sri Lanka's leopards.
To conserve leopards, the Wildlife Conservation Department is conducting awareness programmes among estate communities. Through these awareness campaigns, they are made aware that leopards are not an animal that kills people but a treasure that needs to be protected. Apart from the department, environmental groups such as Leopard Dairy are also involved in this endeavour.
In addition to raising awareness, wildlife officers patrol the wilderness and wildlife corridors to remove snares and traps. However, the department says a major impediment to its campaign is that it does not have jurisdiction over all of the central hills forest areas where leopards roam. Some of these forest areas are private lands and within tea estates and therefore wildlife officials face practical problems in detecting and clearing snares.
Once caught in a trap, leopards try to free themselves but in the process injuries are caused to their bodies and internal organs, leading to their deaths. 
Last year, in the Central Province, of the eight leopards that were entrapped in snares, three were rescued by wildlife officers. These statistics are somewhat satisfactory compared to previous years. In 2020, of the 15 leopards caught in snares, only six survived. This year so far, the central highlands have recorded two leopard deaths, the first of which was in a private tea estate in Norton Bridge. The second death occurred at Summerhill Estate in Hatton. Two more leopard deaths were reported in the Maduru Oya National Park and in Pottuvil.
Several leopard deaths have also occurred due to blunders in the rescue process. This included the Summerhill estate incident. The controversial death occurred when a tree was cut down in a botched attempt to save the leopard caught in a snare at the tree top.  The department is probing this incident. 
Although it is easy to criticise the Wildlife Department when such incidents occur, critics should bear in mind that protecting large swathes of land with minimal staff and resources is a difficult task. They are facing serious issues due to the shortage of trained officers and veterinarians, the limited jurisdiction of wildlife offices, and now the lack of fuel.
The views and opinions expressed in this publication are those of the authors. They do not purport to reflect the opinions or views of the Sri Lanka Press Institute.