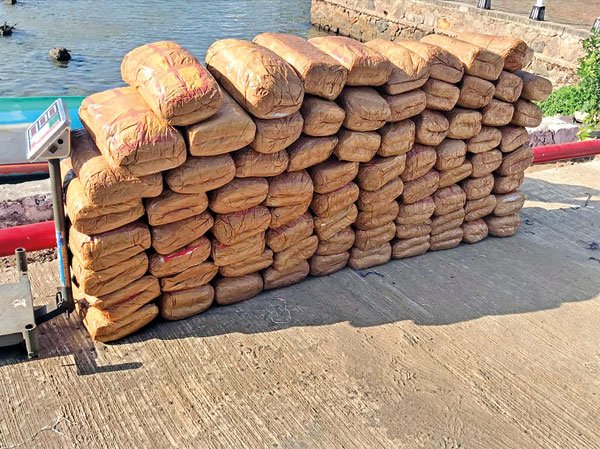 Jaffna youths sucked into drug hell by the dozen, crimes rebound
S. Rubathesan
Image: 214 Kg of Kerala cannabis was seized by the Navy in Mannar recently
Seventeen-year-old Mukunthan (not real name) never believed that he would have secured second place in 1,500 metres race in his school sports meet until he gave it a try in March. He was a talented football player in the local club, but then, a blood test report found him to be positive for narcotics use.

He had been 'clean' for a couple of weeks since the death of his uncle, from whom he picked up the habit of taking drugs ranging from methamphetamine ('ice') to heroin. His uncle, a bus conductor on the Jaffna-Colombo route, had forced Mukunthan to stop taking injections. Days later, he was referred for rehabilitation by school authorities and then he was ejected from school, a prominent institution. He is now in rehab.
"When he came to us, he wanted to get rid of this habit to start afresh, fearing the fate of his uncle, but it disrupted his school and personal life very badly," said the senior probation officer and Atchuvely Certified School Principal Sittambalam Puvanendran, who had interviewed Mukunthan.
This month alone, Mr Puvanendran came across at least 34 people who are either severely addicted to drugs or in the formative period, through legal action and referrals from other state and non-state institutions.
"In a way, we have failed to act on time because most of them told us that they have been taking drugs from six months to over a year. As a society, we failed to take preventive steps at the time," Mr Puvanendran told the Sunday Times, while indicating that this week alone, he interviewed at least 10 youths seeking help.
On Wednesday, a mother handed over her 17-year-old son to Kopay police station, pleading for help to save him from drug addiction. After being produced in court the following day, he was sent for rehab at a certified school in Jaffna.
In at at least two dozen drug related incidents reported in Jaffna district alone, most offenders are in the age group of 17 years to 30 years.
The Jaffna Police division's crime prevention branch has carried out several operations in recent weeks against drug peddlers and dealers who are targeting school children and youths.
Most drug addicts in the North are street level heroin users, next to methamphetamine and Kerala cannabis. Most addicts who use multiple drugs also take 'ice' and are less likely to seek help, according to probation officials.
Crimes have increased. Minor and grave incidents such as house breaking, robbery, theft of property, domestic abuse, and rape have increased sharply.
According to the Handbook of Drug Abuse Information of 2021, by the National Dangerous Drugs Control Board (NDDCB), total drugs-related arrests made by various agencies in 2016 was 314 and by 2020, the number had risen to 2,299. In 2020, 1,398 were taken into custody for heroin, while 839 were booked for Kerala cannabis.
So far, at least 12 have died in the Jaffna district alone from drug overdose and other drug related sudden illnesses, triggering alarm.
Over 300 individuals are in Jaffna Prisons for drug related offenses and according to local prison officials, more than two dozen are hardcore drug users who need urgent medical help.
The prices of drugs have also increased sharply. One milligramme of heroin is sold at Rs 50,000-Rs 60,000, while methamphetamine is around Rs 25,000-Rs 35,000. The wholesale price of Kerala cannabis (1.5 kg) bundle is Rs 450,000 while, a one time use small dose is Rs 750 to Rs 3000 depending on the quantity.
Addicted youths in the suburbs of the North are also peddling drugs. The default mechanism to calculate a milligramme of heroin is to use the back end of a match and wrap the drugs in tiny polythene bags and then stuff them all into a tin similar to a Vicks Cough Ointment container.
Peddlers will be on streets pretending to be having a casual chat while they will do the business with known people only. If they sense any activity by authorities, they simply dump the narcotics and leave.
If a drug peddler manages to sell at least 10 such mini packets, he would be able to get one free for his use, according to testimonials from victims who had sought help for drug addiction.
Following the sudden surge in drug use, a district level drug prevention committee was set up.
"The economic crisis coupled with poverty and unemployment along with impacts of the COVID-19 pandemic play a key role in the sudden spike in drug use. We have taken several remedial steps, but we need support from people,'' the Jaffna District Secretary K. Mahesan told the Sunday Times. He suspects a mafia network of drug peddlers and smugglers.
There is little support from people when it comes to sharing information, the police said.
"This cannot be done by the police alone. All relevant stakeholders such as parents, schools, civil society and community leaders should work together. Parents have a huge role to play by monitoring the behaviour patterns of their children," the Senior Superintendent of Police (SSP) Jaffna Division A.L.U.N.P. Liyanage told the Sunday Times, while stressing that in recent arrests, most offenders have been either school-leavers or youths aged 18 to 30 years.
He said that except Kerala cannabis, other narcotics such as heroin, 'ice', are smuggled into the North from Colombo and elsewhere.
The national economic collapse has increased the jobless numbers and have pushed them into drugs and illicit alcohol. The unemployment rate in the Jaffna district has risen to 7.5% compared with the national rate of 5.1%, according to statistics from the District Secretariat.
"Many peddle drugs to earn quick money. It seems the locals just realised the grave situation now, but the police have been trying to tackle this for a long time," a police officer of the crime unit of the Jaffna division said on condition of anonymity.
The National Dangerous Drugs Control Board (NDDCB), the principal state agency that works closely with other state and non-state actors, is considering a new therapeutic community approach rather than rehabilitation.
"We noticed an unusual increase of drug use not only in Jaffna alone, but all over the island as well. In Jaffna, there has been a sharp increase near the town area compared with rural areas," the newly-appointed chairman of NDDCB, Mr Shakya Nanayakkara told the Sunday Times.
Under the new therapeutic community approach, he explained that the aim is to empower the wife or mother of the drug-addicted people so they can return to a normal environment. Co-dependent can then be the co-therapist.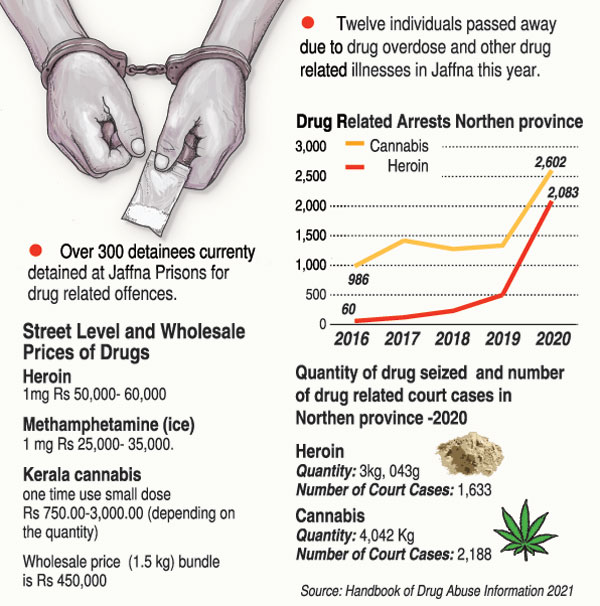 Story published on The Sunday Times – https://www.sundaytimes.lk/221023/news/jaffna-youths-sucked-into-drug-hell-by-the-dozen-crimes-rebound-499775.html
The views and opinions expressed in this publication are those of the authors. They do not purport to reflect the opinions or views of the Sri Lanka Press Institute.